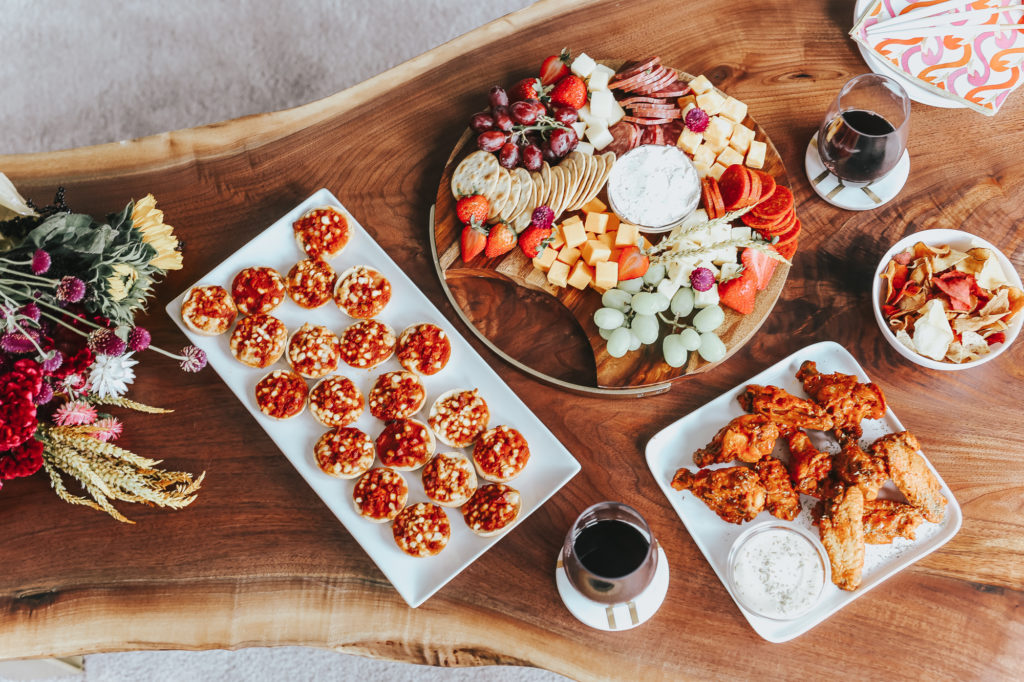 Fall is here which means football is on 24/7 in our house. I love watching my team (Redskins) play but when it comes to some of the other teams, I am pretty indifferent. I do, however, really enjoy the social aspect of football. Aka food and drinks!
I love entertaining at our new home, so I jump at any chance I can get to have my friends and family over. I've found that Football Sunday is a great excuse to get your friends over and with a little planning, you can create a super impressive spread that your girlfriends will even enjoy!
From my experience with feeding large crowds, it's a good idea to make one homemade dish and fake it with the rest. I made these crispy wings from scratch, created a gorgeous cheeseboard (that only involved slicing) that was inspired by good friend @cheatsandmeeses and then went the nostalgic route and heated up some bagel bites! This spread was a huge hit with our friends and even though the wings were delicious and the cheese board was stunning, the bagel bites went the fastest. Which goes to show, you don't have to spend hours prepping for a party to impress your girlfriends. Sometimes the simplest things are what they love the most!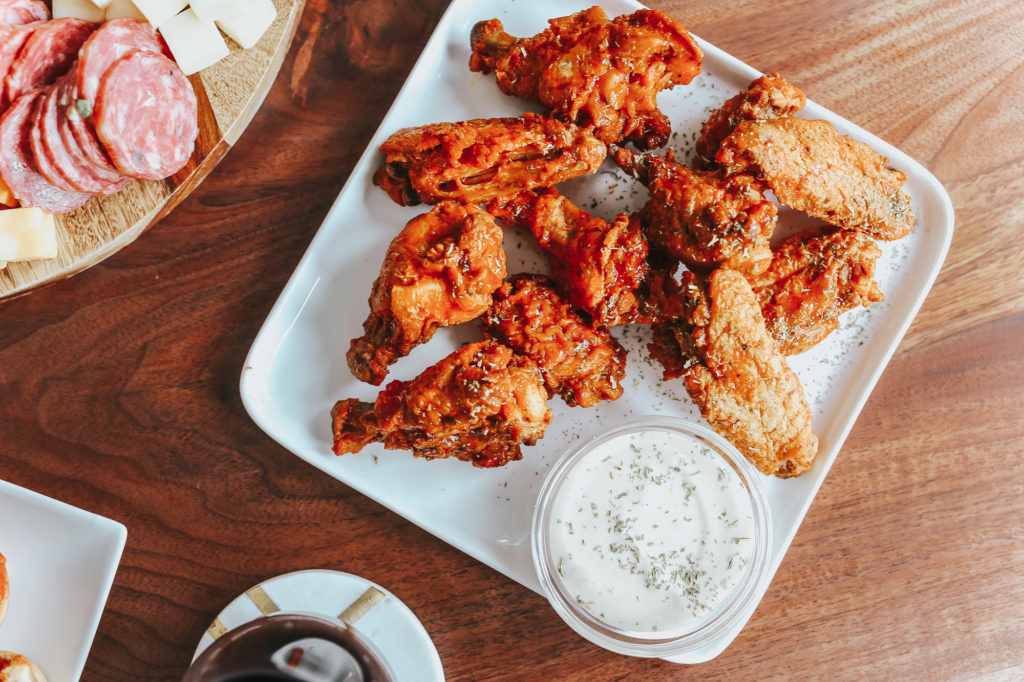 The Easiest Crispy Baked Wings – Ingredients 
Hot Sauce – Ingredients
Dipping Sauces
I recommend purchasing your favorite bottled Blue Cheese or Ranch dressing. Skip the hassle of making it yourself and pour into a nice dipping bowl. No one will know the difference!
Crispy Baked Wings Instructions
Take your wings out of the package pat them dry with paper towels.
Preheat the oven to 250 and place one oven shelf in the lower quarter of the oven and one in the top quarter.
Place the wings in a large ziplock bag and add the baking powder and salt. Shake the bag to coat the wings evenly.
Line the tray with foil and spray the rack on the baking tray with oil. Place the wings skin side up on the rack and bake them on the lower shelf for 30 minutes.
Once the timer goes off, move the tray up to the upper shelf and turn the oven up to 425. Bake for another 45 minutes, rotating the tray at 25 mins. When the skin looks crispy and golden brown, that means they are ready to come out!
Toss the wings with hot sauce (recipe above, instructions below) and serve with Blue Cheese or Ranch Dressing.
Hot Sauce Instructions
1. Whisk together the hot sauce ingredients in a pot on the stove.
2. Heat the sauce until it becomes warm and whisk again to make sure it is smooth and ready to go.
3. Toss in a large bowl with your wings and serve ASAP. The sooner you serve, the crispier your wings will be!
Find this recipe with direct links to shop on FromthePod.Com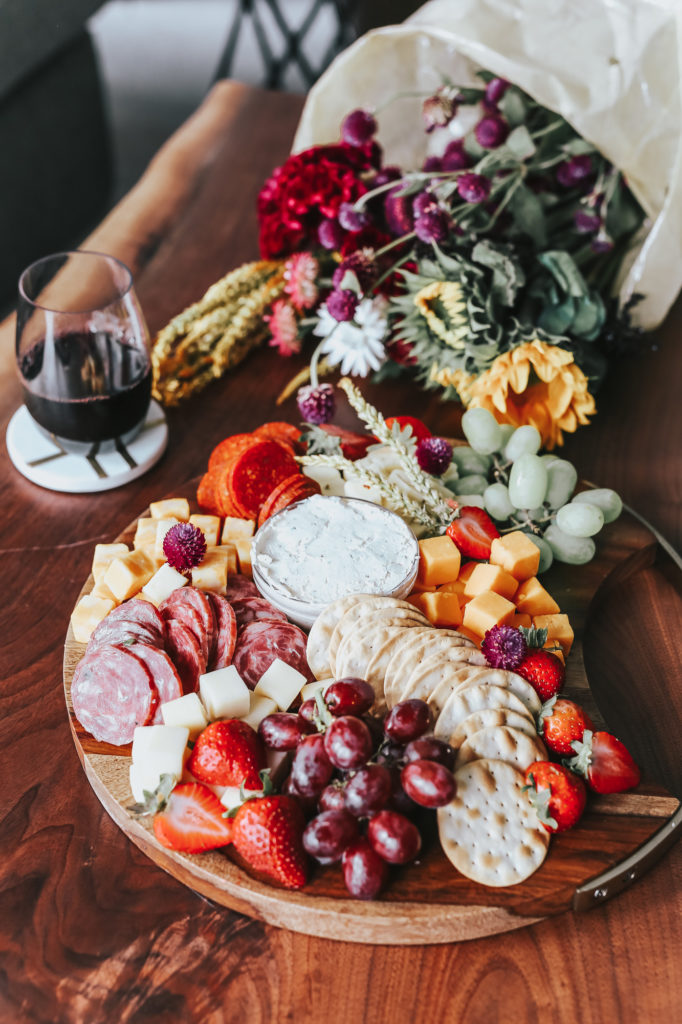 Creating The Ultimate Cheese Board
Cheese boards are always a hit when entertaining, so why not create one that looks like a piece of art for your guests on game day?
When creating this cheese board, I turned to my friend and cheese expert @cheatsandmeeses for inspiration. She creates the most epic cheese boards! Just find your favorite ingredients on Peapod.com and get creative with the way you pile them on your board. The trick is to use every inch of your board and place them in a neat but effortless way. Then top it off with a few pretty fruits and floral garnishes for an extra touch of fabulous! My boards are nowhere near her level of excellence but it was still a crowd pleaser and my friends were thoroughly impressed!
All the cheese you need are featured here.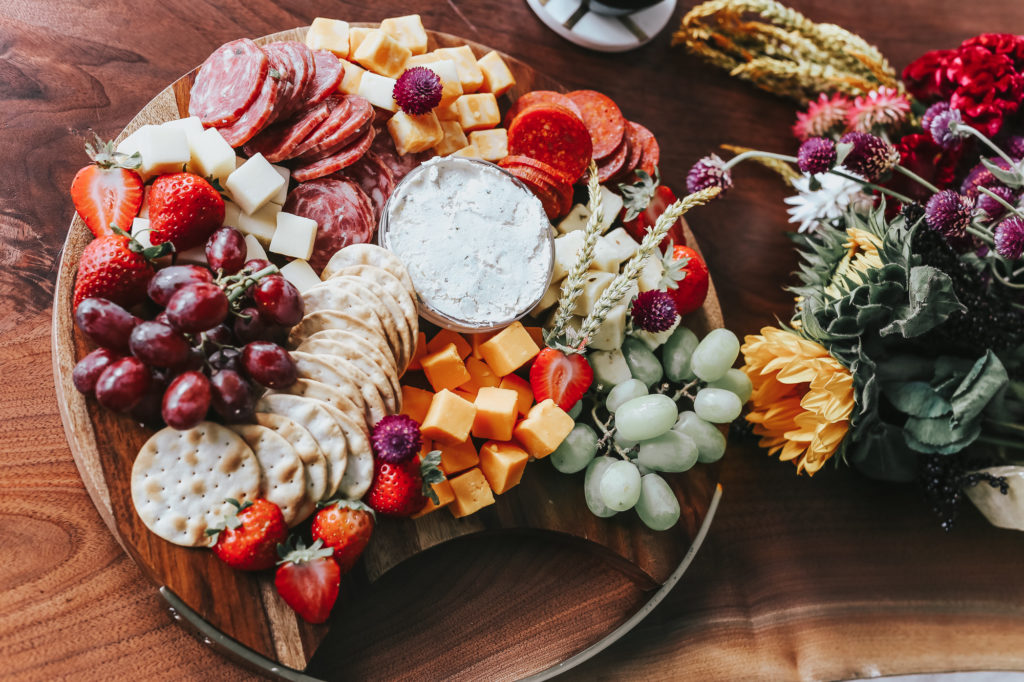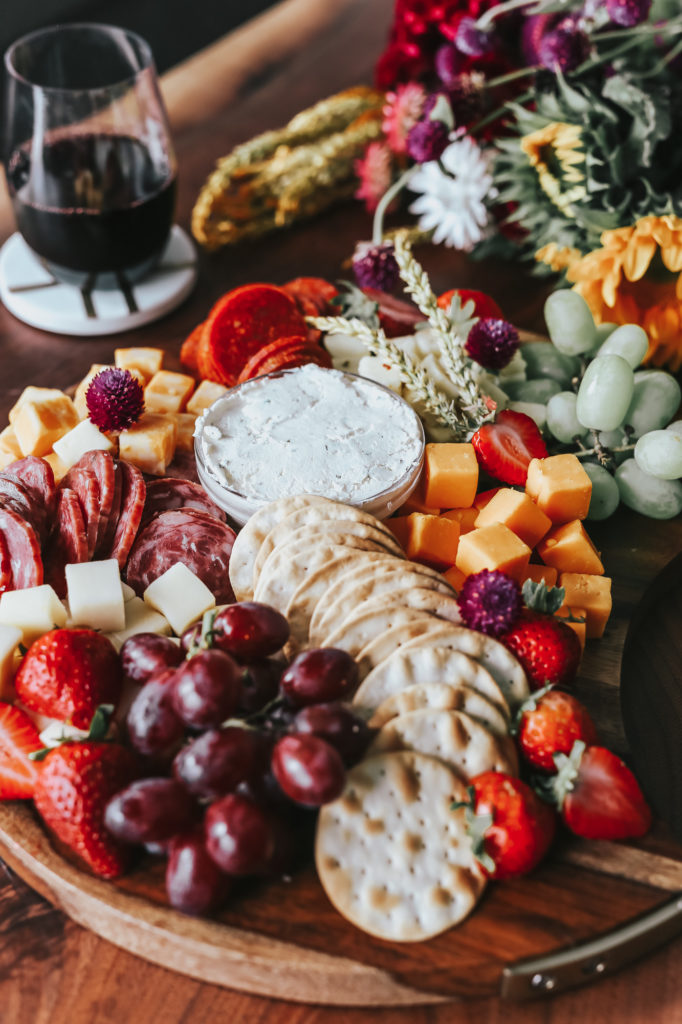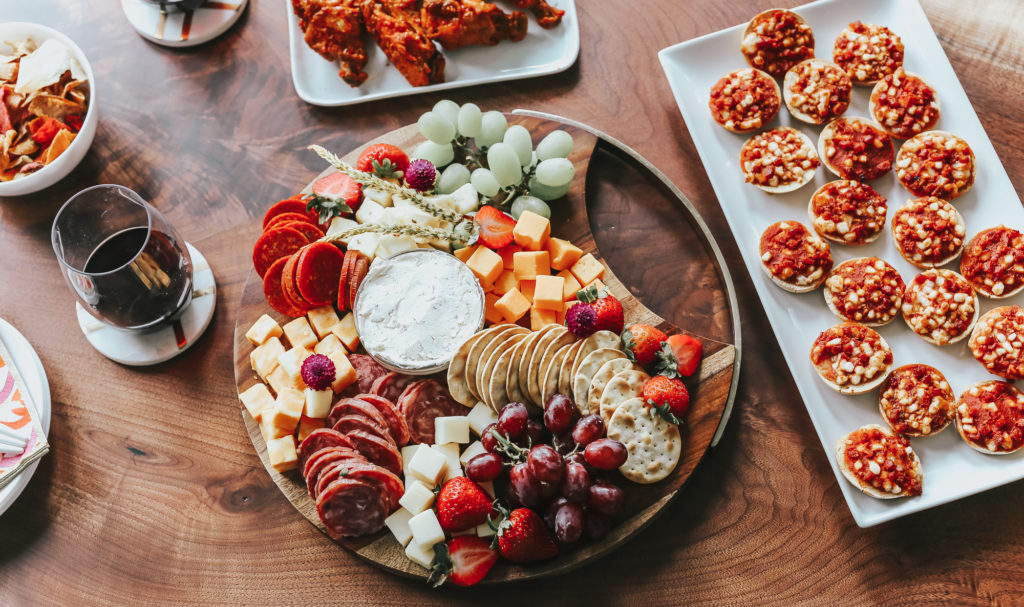 Other gameday prep tips:
Spend your time creating one or two really great homemade dishes and then cheat on the rest! No kidding! Find fun frozen foods that everyone will love, like bagel bites! They are so nostalgic and fun and I guarantee that this will be the first plate cleared! Then fill the rest of your spread with chips and dips that you can buy at the store. All you need to do is amp up your presentation a bit with some flowers, add wine (or beer) and the girls (and guys) will have the best game day yet!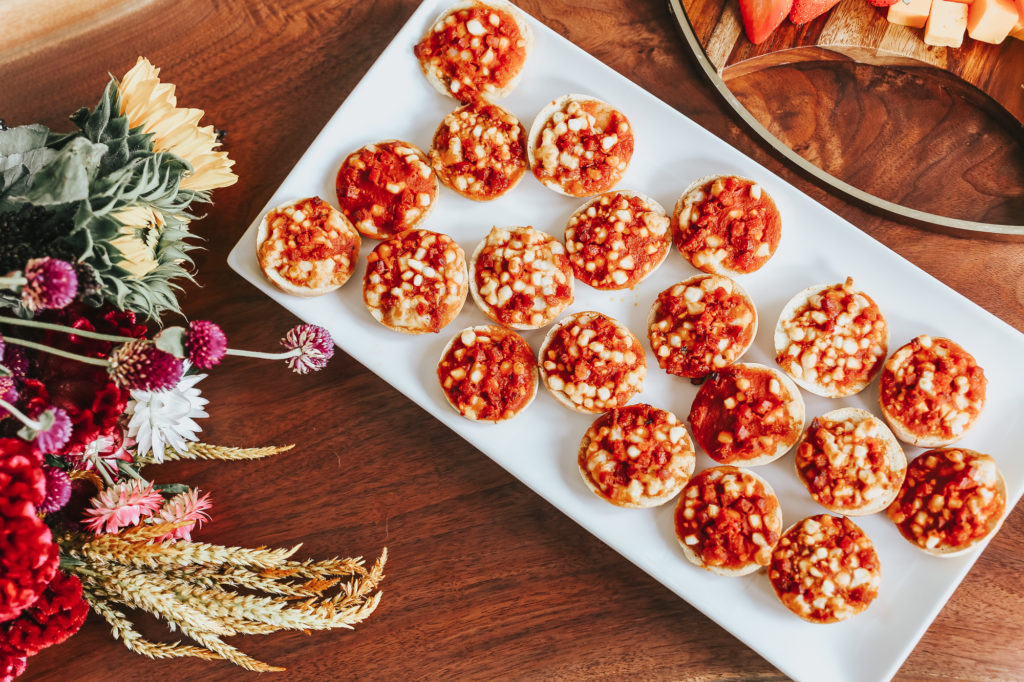 Looking for other fall entertaining ideas? Check out these tailgating picks, fall festival ideas and some of our favorite fresh picks from Peapod!
Use code 52Thursdays20 for $20 off your first order of $75 or more plus 60 Days free delivery!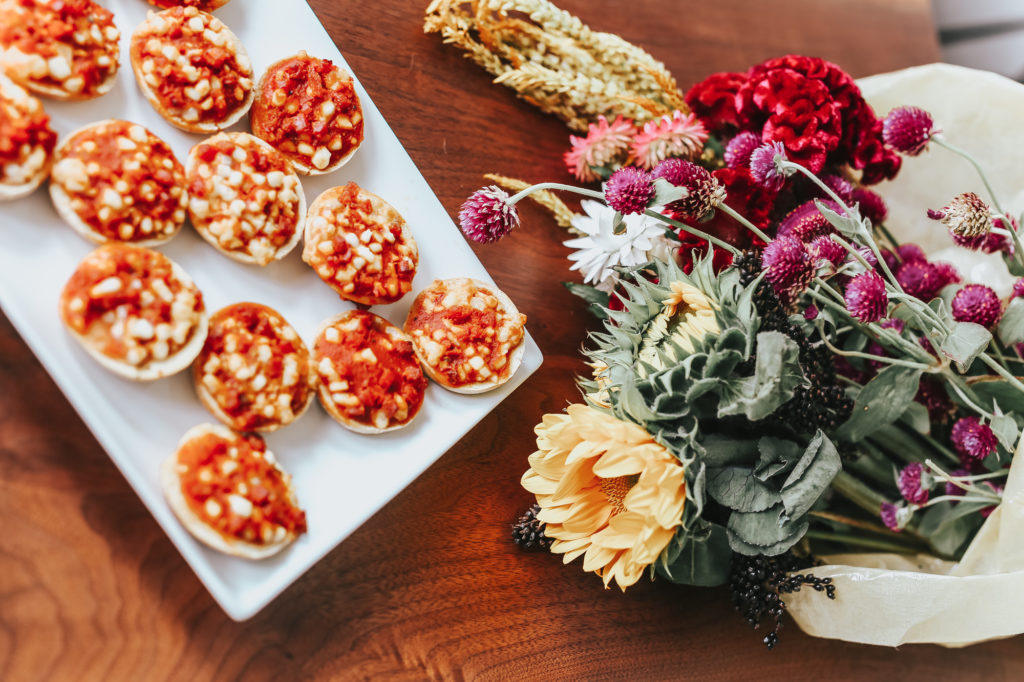 xo
Sarah
This post was done in collaboration with Peapod Delivers. All thoughts, recipes and photos are my own!