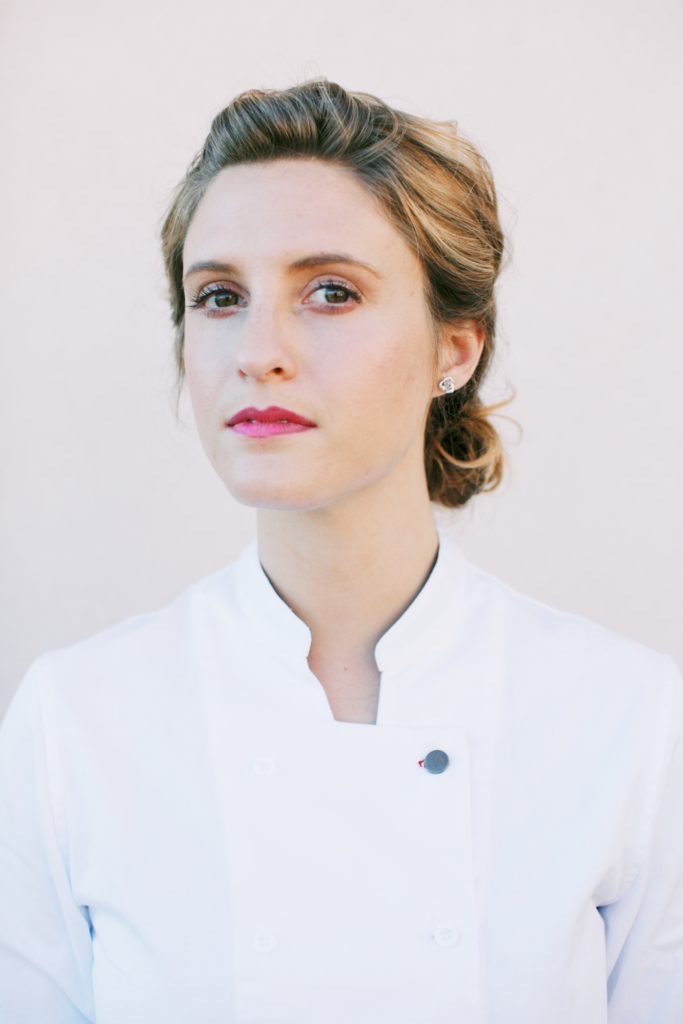 So excited to have my friend, recent Food Network Chopped Champion and fellow Warrentonian on the blog today! Ryan Ross is a badass chef who moved to the Pacific Northwest two years ago from Brooklyn, NY. Ryan has been in the realm of bespoke dining and food–centric events for the last 7 years. She grew up in her Mother's organic healthfood store, The Natural Marketplace, open for 25 years in Warrenton, VA., attended the Natural Gourmet Institute of NYC as well as the Institute for Integrative Nutrition, and is also a certified Holistic Health Practitioner by the American Association of Drugless Practitioners. Health supportive, festive, organic, and local food is her world! Ryan currently resides in Bow, WA., she is a recipe writer, product developer and has consulted for restaurants on Little Corn Island, Nicaragua and Munich, Germany this year. She is a private chef in Seattle Vancouver, New York City, Los Angeles…. and you might just find her throwing a dinner party or two in your neighborhood with her roaming dinner club, Supper Corps! Ryan is The Food Network's recent Chopped Champion, check out her episode, "Light makes Right."
In need of something unique to bring to a holiday gathering but don't have a zillion hours to slave over the stove? Chef Ryan Ross has come to the rescue with her famous Fleur de Chèvre Holiday bites!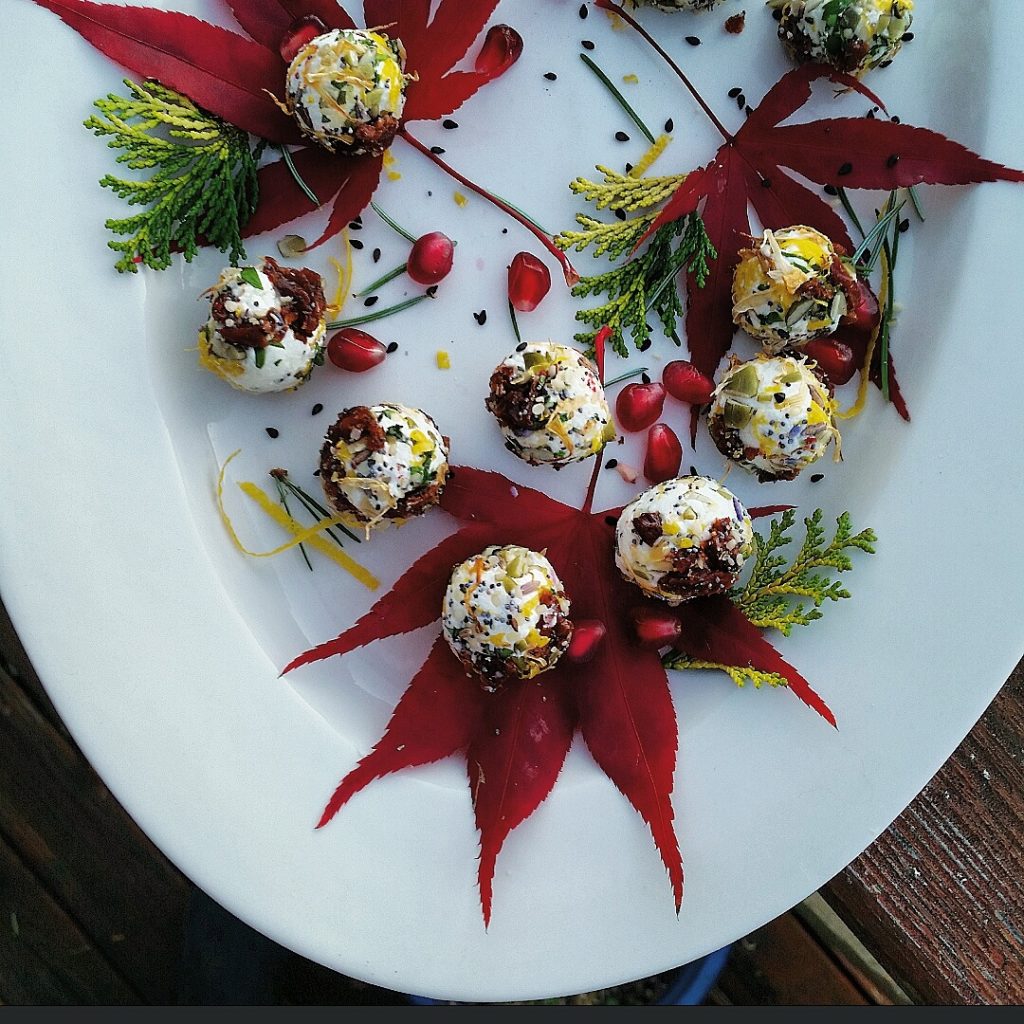 Hi all! I have a cute lil' bite that's great for holiday gatherings. It is a bit of a nod to the favorite, "cheese ball" appetizer. These little "Fleur de Chevre" bites are individually sized, vegetarian, gluten free and are very elegant, but unfussy and unique in the same breath! In the warmer months I use edible petals and fleur de sel,  to wrap and season the little bites. Plain goat cheese is a great blank canvas for all different kinds of flavor profiles, so anything goes! I decided to winterize this little app for the colder months, and save the springy edible petals for the right season. I encourage experimenting with different fragrant herbs and salts, its very fun and you can also showcase your local finds by using local salts, honey, home grown herbs, even foraged items from your very own yard.
Everything I have listed for the dredge is optional. Using two or three items from the list will get you the flavor and effect of a festive little appetizer to bring to a party! – Ryan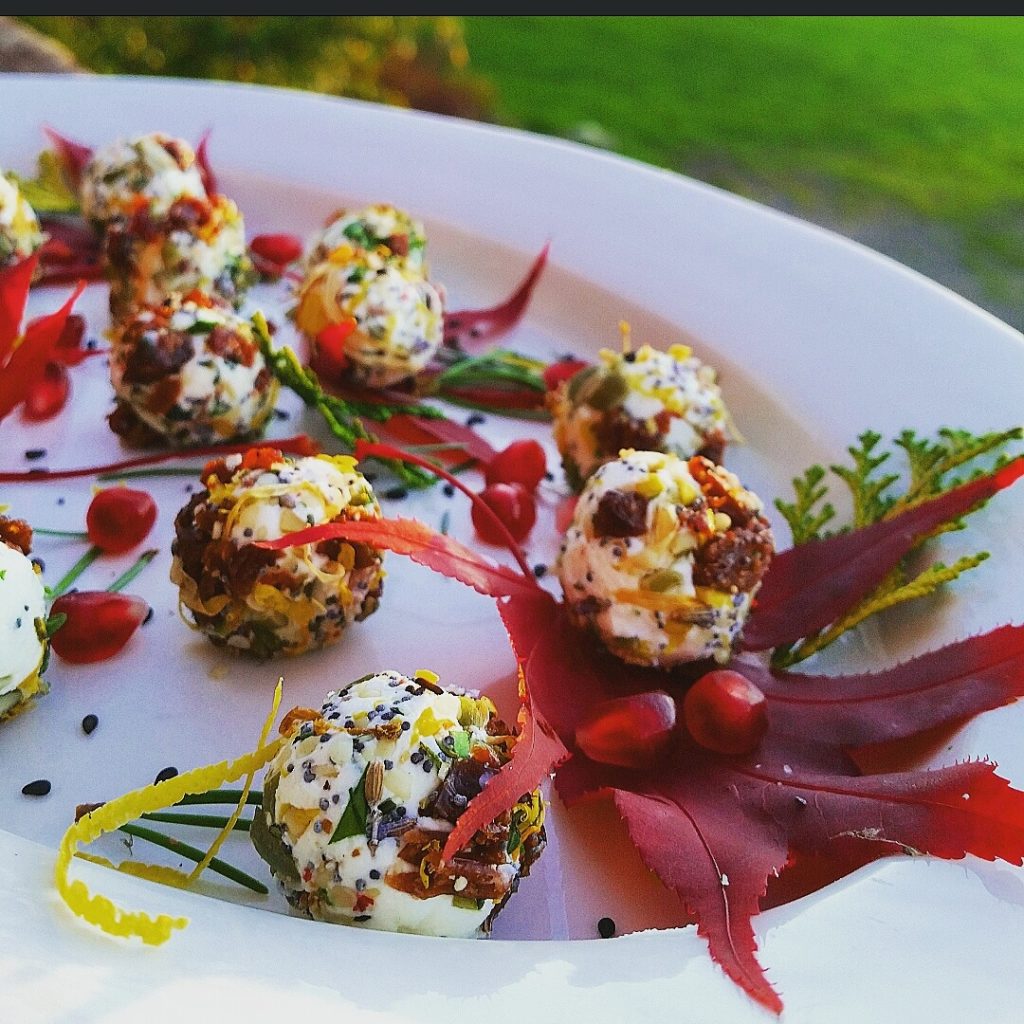 "Fleur de Chevre" for the Winter Season
Serves 6-8
6 oz of plain chèvre (soft goat's cheese)
Let chevre come to room temperature and stir in:
1/2 t sea salt
1 t honey
In a bowl combine:
1 T of dried cranberries or cherries, chopped fine
1T hazel nut, chopped course
1 T pumpkin seed,  chopped course
1 t of each:
 fresh rosemary, chopped fine
 fresh thyme, chopped fine
 fresh sage, chopped fine
 fresh pine needle, chopped fine
 dried lavender buds
 lemon zest
 dried calendula petals
1/2 t  fine sea salt; use your favorite black Hawaiian salt, smoked salt, himilayan pink  salt, fleur de sel, etc.
1/2 t poppy seed
I like to use a plate to scatter my dried herb, seed, and salt mixture on to. Take 1 heaping teaspoon of your seasoned and honeyed chevre at a time, roll into a ball between your palms and then roll into the dry mix on the plate. Coat well and tap off the excess and roll once again very gently to press the herbs, nuts and such into the chevre ball. If your chevre rolling and dredging gets to warm, you can always chill in the fridge for half hour increments to make for easier handling. You may make one day ahead and they will keep in the fridge for about a week.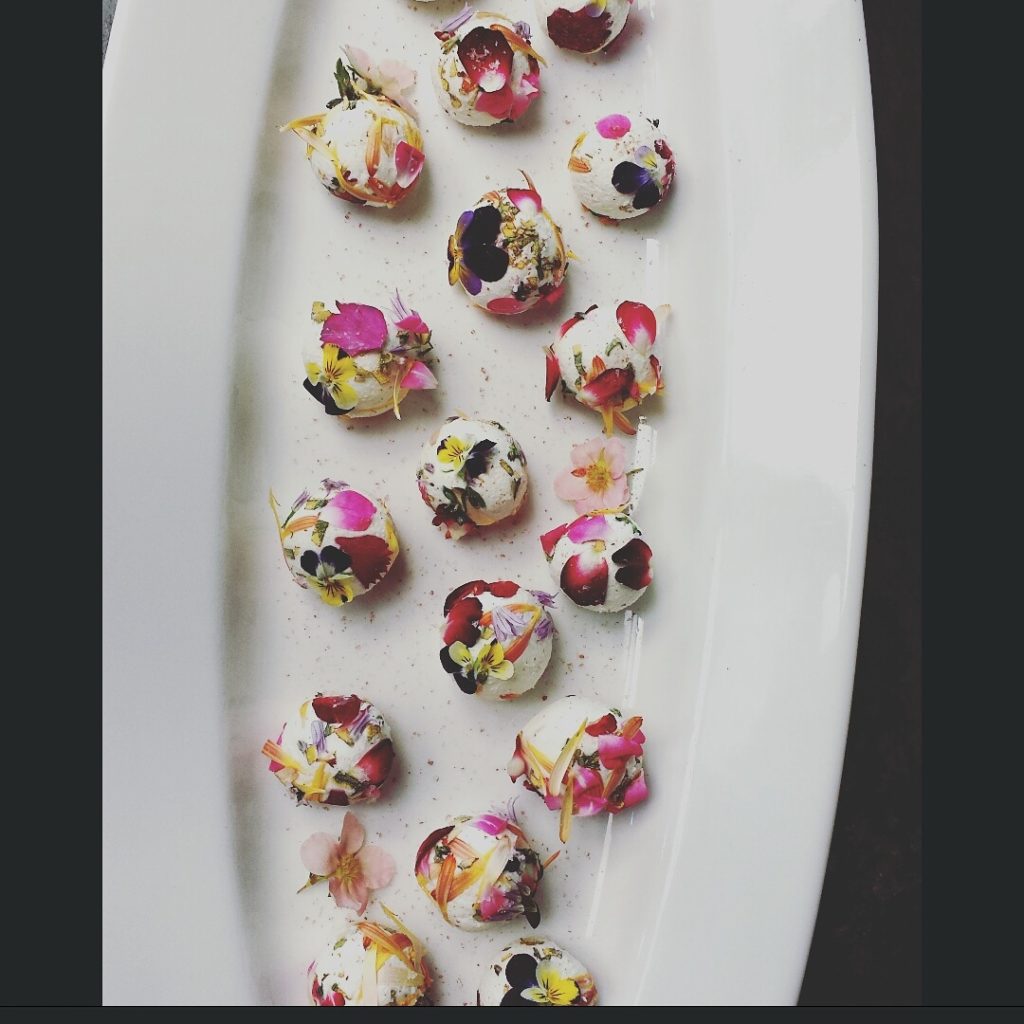 Follow Chef Ryan Ross on Instagram @chefryanross //  Facebook and find her website here