It's official, we have a big sister in training. I knew this day would come, the big girl room transition, I just didn't think it would all happen so fast. Especially looking back at her nursery reveal post, it feels like just yesterday.
Less than two months ago, my little doll baby was sleeping in a crib and wearing diapers like a baby. Today she's in her very own big girl bed, with big girl sheets and pillows and wearing big girl underwear. She's even too big for naps now (which was not my choice …).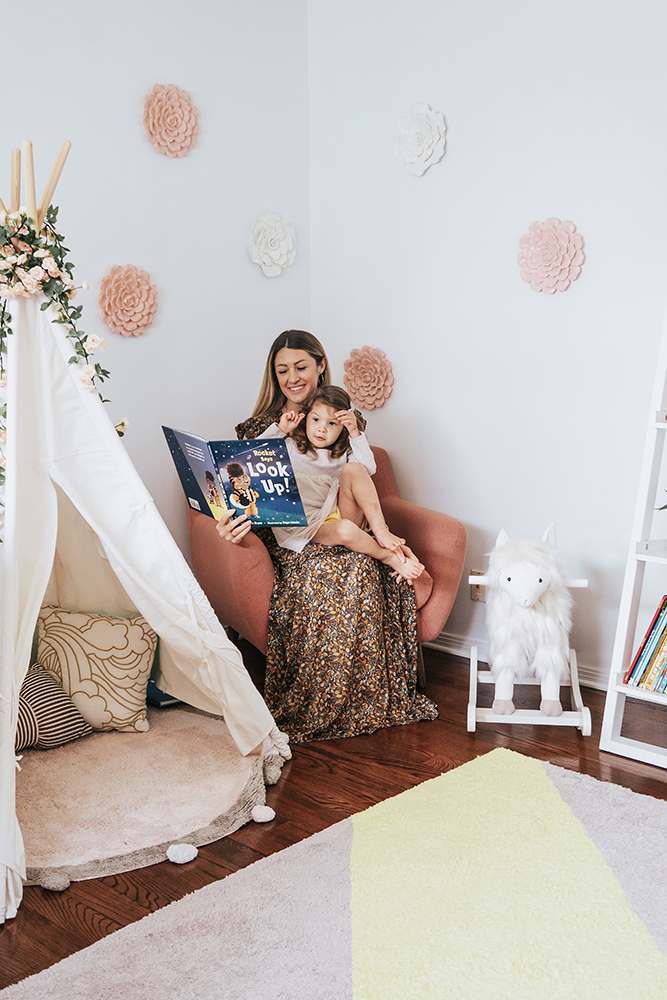 I'll admit I was a bit apprehensive to begin the transition but with baby boy on the way, it gave me a little push to start nesting all around and settle in to the new norm. To my surprise, she took to it all so well! In fact, she was so excited to go to bed that night to sleep in her big girl bed, it may have been a record breaking "night time routine". I've heard horror stories from friends who have had to sleep by (or in!) their bed until they fall asleep or the hours on end it would take for them to keep the kiddo in their bed. We got lucky with this girl in that aspect.
She still talks about how she "loves her new room' and "it's so pretty!". We decided a bunk bed would be a fun way to transition her from a crib to a bed because it still gives her a sense of comfort and shelter as did her crib with a roof and sides while also a great addition for little sleepovers in the future! We purposely chose one low to the ground incase she rolls off the bed, which she does every now and then. The twin mattresses, covers, pillows and duvet all came from Allswell. The same brand we use in our room, so we can rest assure she is resting with the best. And the delivery and set up process was so easy. Check IG for our unboxing video!
As for the decor, we went for a whimsical fairy theme which played off most of the pieces she already had in the room, like her Lorena Canals rugs that she has had since she was a baby. They are all machine washable which is why I love them, on top of being cute. Her pillows, sheets and comforter are from Kip&Co, they have the most fun kid collections pulling this look together effortlessly. We added a reading chair in the corner next to her book shelf for night time readings. She loves it! It has encouraged her to do more "reading" on her own.
Now that our big girl has settled in to her new big girl room and almost diaper free life (haven't braved the night time training just yet), I hope she is ready to settle in to her new role as big sister this coming August!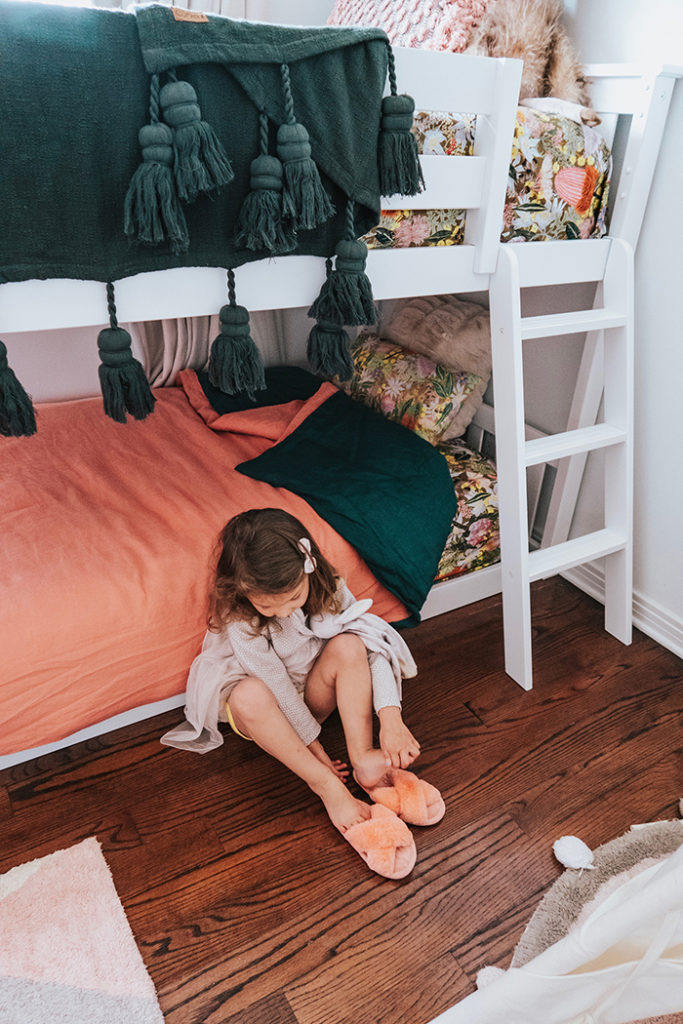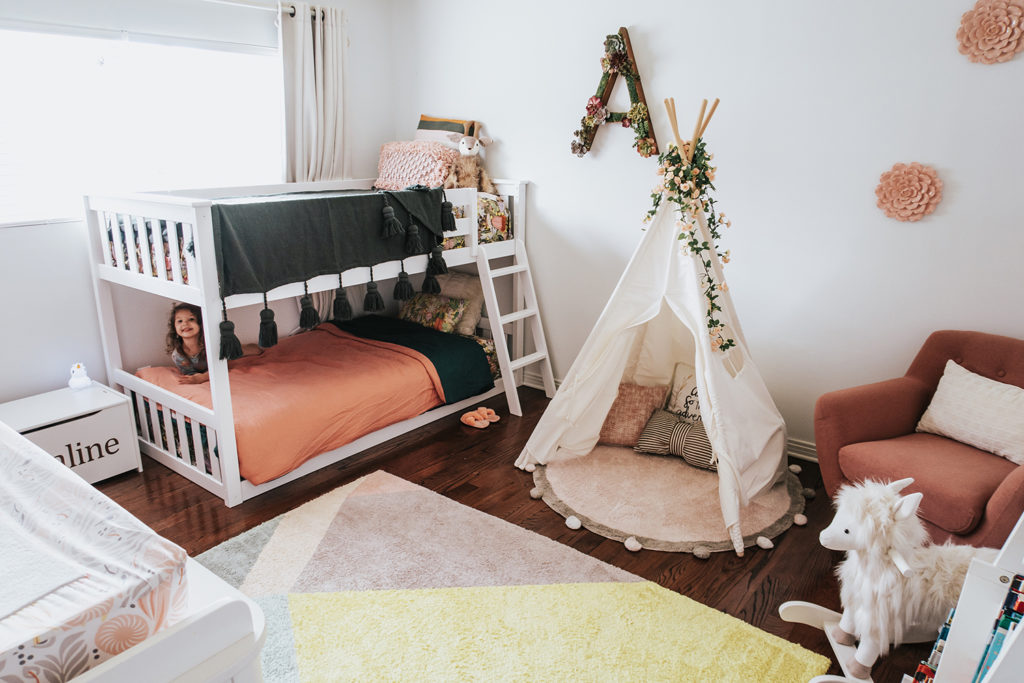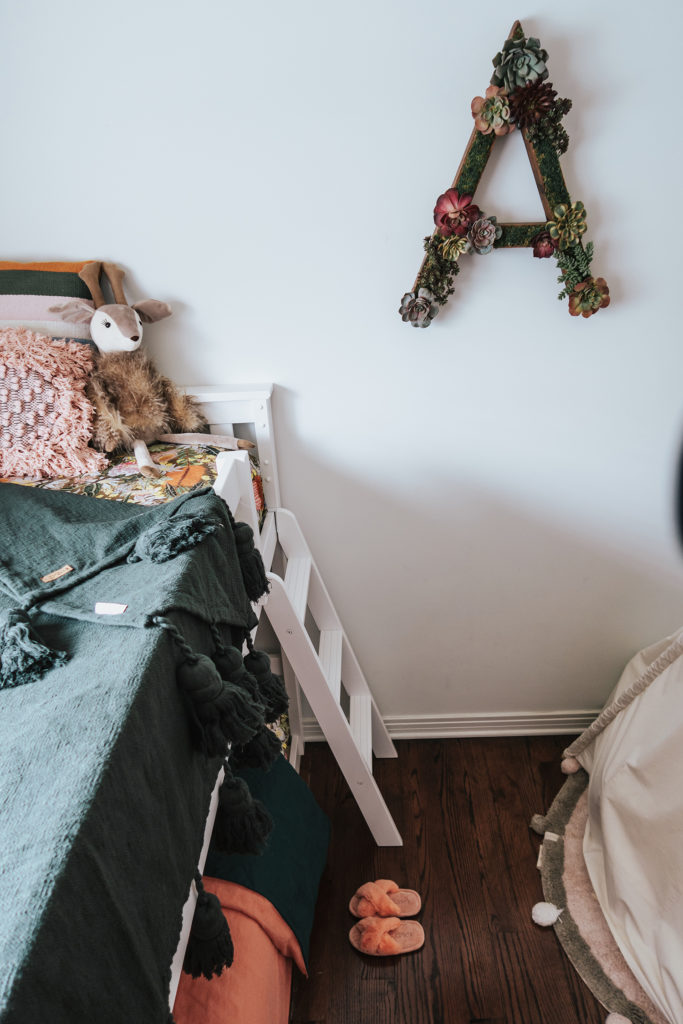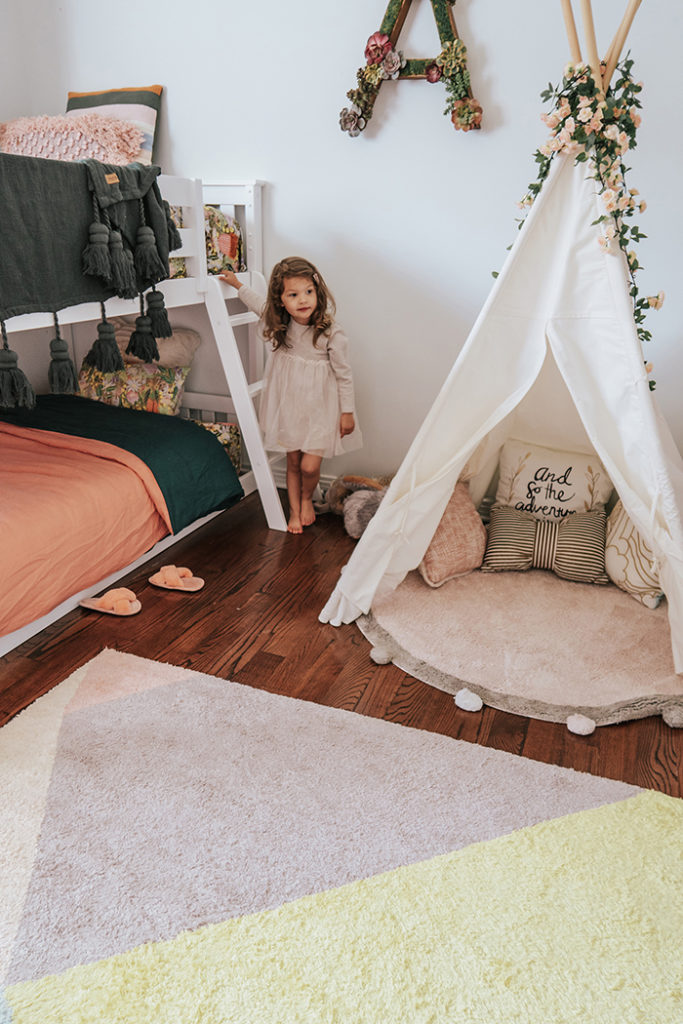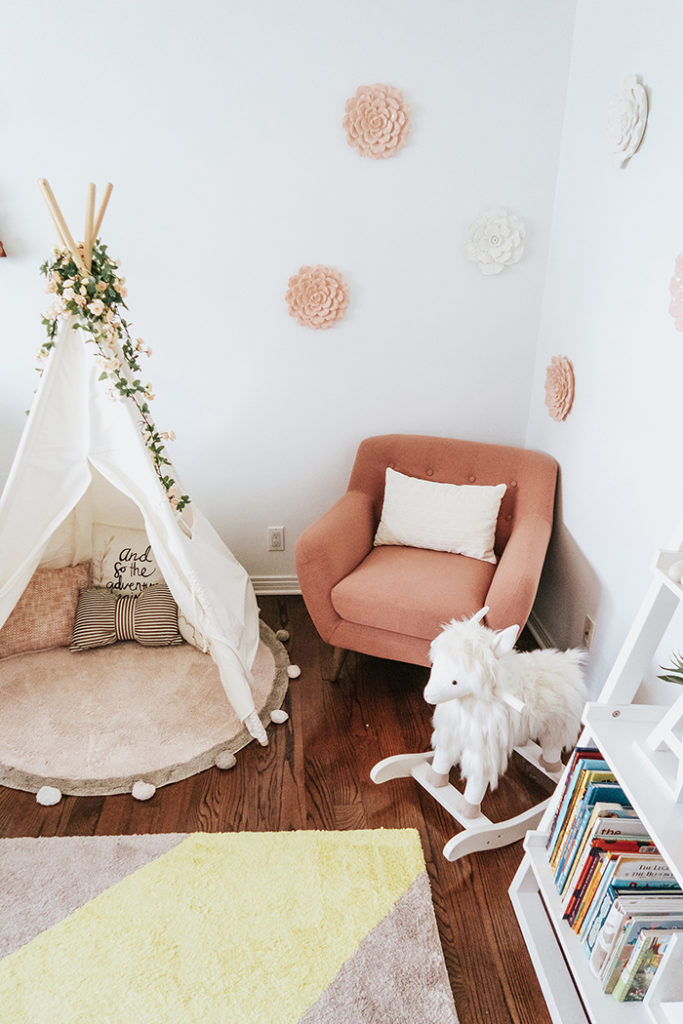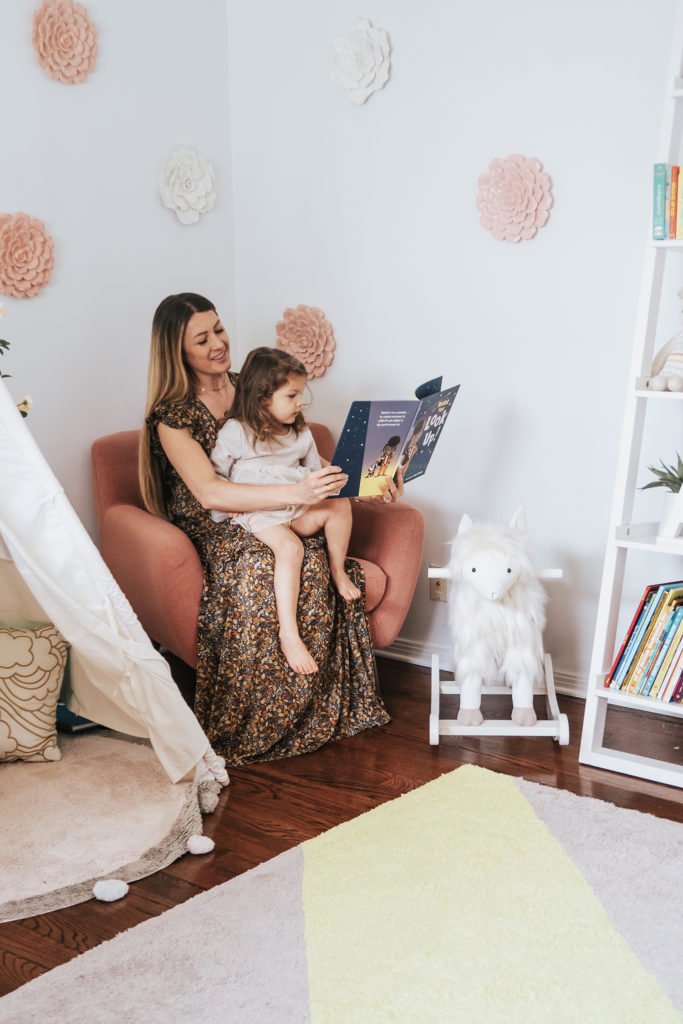 Twin Mattress (Allswell); Twin Starter Bed Bundle: (Allswell); Sheets (Kip&Co); Duvet Cover (Kip&Co); Tassel Throw (Kip&Co); Decorative Pillows (Kip&Co); Slippers (Kip&Co); Teepee (Amazon); Multi Rug (Lorena Canals); Circle Rug (Lorena Canals); Wall Decor (Target); Llama Rocker (Pottery Barn). Chair (Old from Houzz but similar here) Wearing dress by Ba&sh
We hope everyone is staying safe and healthy inside. We are doing our best to keep busy, and this update was a helpful silver lining to our current situation. Now that big sister is all set, on to the nursery …
Xo,
Michelle