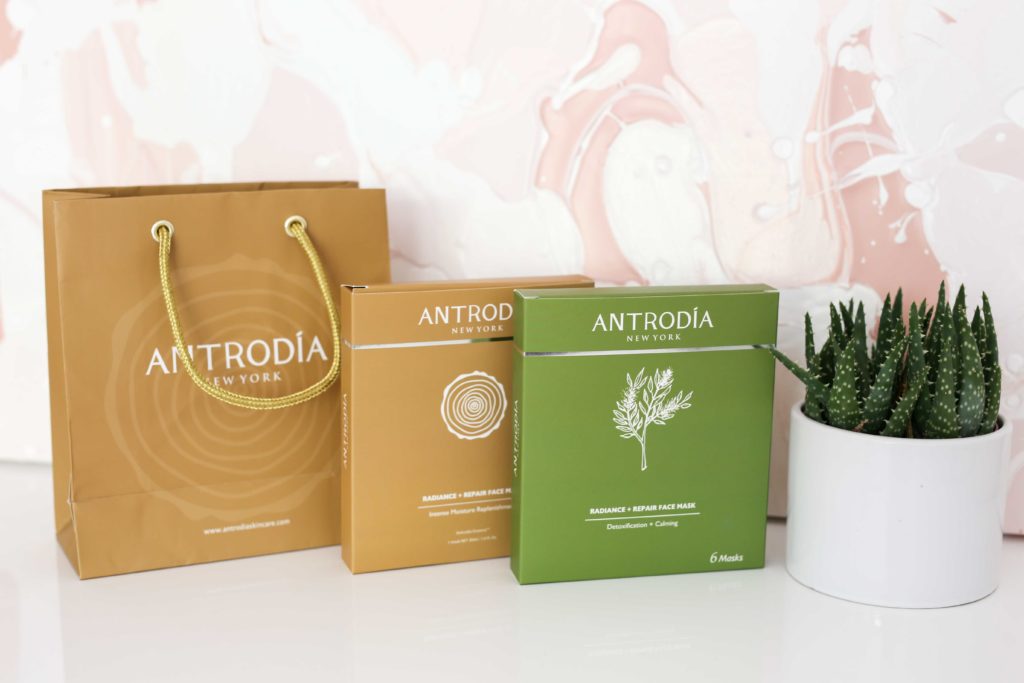 Have you ever looked in the mirror and wondered how in the heck your skin has changed so dramatically in the last few years? Where did that youthful glow go? Why does it seem like we are always look so tired, even when we aren't? It happens to the best of us once we hit a certain age, we know we have noticed some changes in our skin since we both entered the 30s club. We know these things happen as we age but won't settle and accept our changing skin. We know there are ways to help ease the signs of wrinkles forming and slow down the aging process and we have been on the hunt to find the best on the market. So we have been trying, testing and turning ourselves into the equivalent to lab rats to test out all kinds of anti-aging products, not only for ourselves but also to share what we find with you. Although we may not have all the answerers just yet, we feel like we are making strides in the right direction and stumbled upon a face mask that was so good we had to share.
Ever since the first time we tried on one of these masks from Antrodia, we were hooked and we know you will be too. You can instantly feel your skin soaking up all the nutrients from the mask and when you take it off you have perfectly hydrated, plump and rested looking skin. We have been using them on a weekly basis to revive our skin after a long week or to give us a bright boost before a photoshoot. Read more on why this mask is so magical and how to look younger overnight.
The Ingredients:
Antrodia Skincare's profound ability to transform your skin originates from
their careful selection of highly potent ingredients. Each of their ingredients work in harmony to facilitate and energize your skin's natural rejuvenation process.
Antrodia Essence™, their proprietary Cinnamomea extract, is the active ingredient in all Antrodia Skincare products. This coveted ingredient serves to calm, repair and revitalize your skin. This ingredient has been sought after for centuries because of its ability to treat a variety of ailments as well possessing other powerful, health-boosting benefits. Rich in anti-microbial compounds, their tea seed oil extract, found in the Tea Tree Mask, instantly calms inflammation and redness caused by acne and is filled with powerful anti-oxidants to detoxify and repair your skin.
Over the past few decades, Antrodia Cinnamomea has delivered remarkable results in treating inflammatory disorders, hypertension and a wide variety of other ailments. This natural treasure is the foundation for all of Antrodia's beauty products.
How It Works:
Wearing the mask is simple. You take out the paper mask out of the packaging and follow the detailed instructions on the side of the package to put it on. Once you have the mask on, you are supposed to leave it on for 15-20 minutes but we usually leave it on until all of the product has successfully penetrated our skin. Then you simply remove the mask and throw it away. Any excess serum from the treatment can be used to rub on your face or neck, since each treatment starts at $15, we try to get the most out of each one we use. So use every last drop up! We love relaxing in our mask while we watch tv and occasionally we will really treat ourselves to total bliss by pouring a bubble bath and indulging in some wine while the mask does its work. Who needs to go to an expensive spa when you can achieve total relaxation and have a fabulous facial treatment in the comfort of your own home?
Something For Everyone:
Radiance and Repair: Packed with Antrodia Essence™ and other nutrient-rich ingredients, this revolutionary mask activates and strengthens your skin's foundation to reveal a youthful, radiant glow while dramatically reducing the look of multiple signs of aging.
Radiance and Repair Professional: A savior for your skin, the restorative power of our Rapid Response Mask complements your skin's natural healing process. Packed with a highly concentrated dose of Antrodia Essence™, this mask penetrates deeply and rapidly within your skin's foundation to unlock a youthful, radiant glow and restore your skin's vitality.
Men's Tactical Face Mask: A comprehensive, multi-action mask specifically designed for the modern man.  The Tactical Face Mask deeply penetrates a man's skin to energize, rejuvenate and strengthen the skin's foundation and diminish signs of aging.
Tea Tree Radiance + Repair Face Mask: This mask is a comprehensive solution that rapidly penetrates the surface to nourish, hydrate and calm your skin while drawing out impurities. Be confident in your skin as this mask gently exfoliates and refines the look of your pores and delivers a radiant, healthier-looking complexion.
Thank you to Antrodia for sponsoring this post. All opinions and views were our own.
To purchase these masks for yourself, click here.
xo
Sarah and Michelle