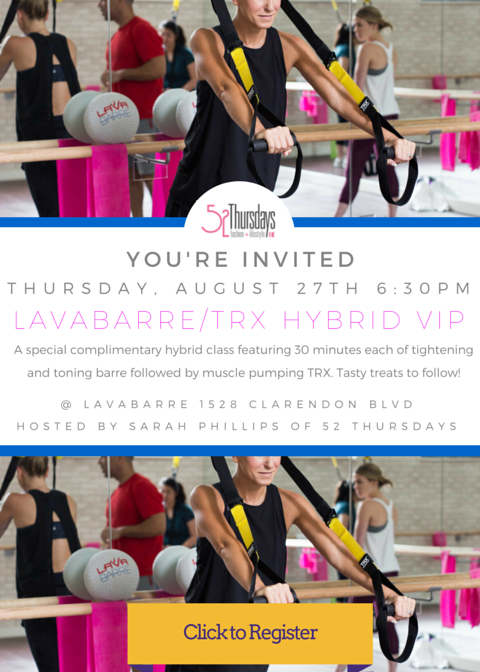 After such an amazing response from the last fitness class I hosted with Swet Ride, I decided that I would make this a more regular thing. I am extremely passionate about fitness and think it is so important to find a form of exercise that you actually ENJOY doing. That is why I am setting out to share every workout method under the sun (cycle, barre, TRX, yoga, crossfit, pilates, etc) with you for free! This way you are able to try out a new class at a different fitness studio and hopefully you will find a fitness method that you absolutely love!
This month I am so excited to be hosting a complimentary Barre-TRX Hybrid class with LAVA BARRE! This class is super unique and guaranteed to burn burn burn! If you have been dying to try a barre class or a TRX class, then this one is for you! I hope that you will be able to come and sweat it out with me on August 27th from 6:30-7:30pm at Lauren and Vanessa's beautiful new studio in Arlington, VA. Our last class filled up within hours, so make sure you sign up fast if you are interested in coming! We invite you to stick around after the class for healthy cocktails, treats and for a drawing for a 5-class package to LAVA BARRE and a special gift from Splits 59 Athletic Gear!
If you did miss the sign-up window, please add your name to the wait-list and there is still a good chance you will get in. More classes coming soon and be the first to know about them when you sign up for our weekly e-newsletter. Click here to sign-up for VIP status !
to 52 Thursdays Fitness Series – LAVA BARRE
xo
Sarah