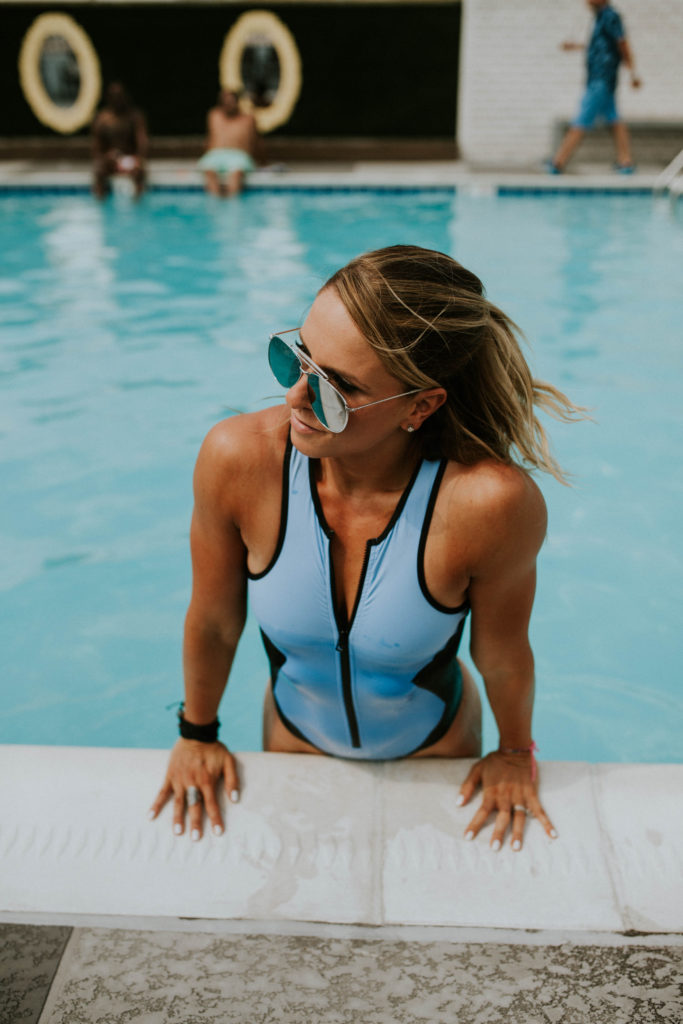 Holy hotness it has been a scorcher here in DC this summer.  Beating the humid DC heat can be hard this time of year so I have been trying my best to hide out indoors or by submerging myself in any cool body of water I can find. One of my favorite pools that I frequent in DC is the rooftop pool at Embassy Row Hotel. They have such a cute setup and my favorite part about this pool is that they have a bartender that delivers the best cocktails right to you in the pool. Doesn't get much better than that!
I have been hitting the pool as often as I possibly can, especially since I have endured a hip injury that has made me take a step back from working out as much. You might be able to see the bruising on my right hip in some of the photos which was from a PT appointment that I had the day before this shoot. After realizing PT wasn't doing the trick, I went in for an MRI where they found that I had torn my anterior labrum in my right hip.  Which means I am currently weighing my options and getting as many opinions as possible to see what the most logical next step is to remedy this thing.  Speaking of which, if anyone has had a torn labrum or knows any good orthopedic surgeons in the area, please comment below, I would love your opinions! Also, it looks like I will be spending much more time at the pool than I had orginally anticipated. Who knows, maybe I will take up water aerobics, synchronized swimming or I could just stick to cocktail drinking and pool lounging (which I have years of experience at and am quite good at, I might add).
Sarah is wearing: Swimsuit (Sold Out – similar Tavik), Sunglasses (Forever 21), Bracelet (Chan Lu ).
Shop my Nordstrom Summer Sale picks plus a few items from the Anniversary Sale below:

Photos taken by Emma Weiss Photography and special thanks to Embassy Row Hotel for hosting me at their rooftop pool this summer and helping numb my hip pain with their delicious cocktails!
xo
Sarah