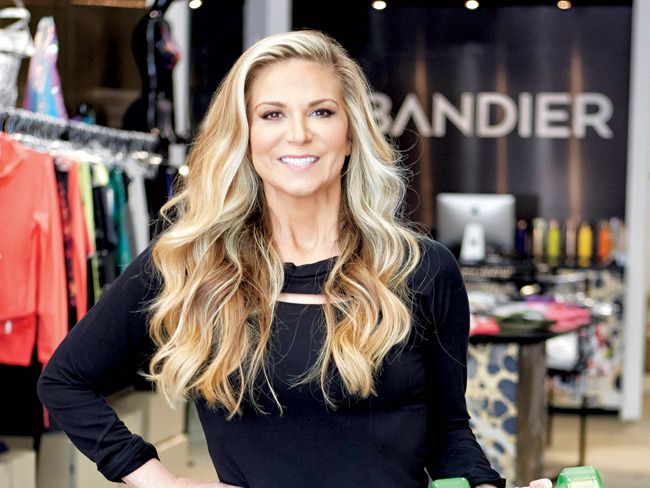 It's no secret that we are fitness obsessed. We can't get enough of the healthy benefits, the stylish gear and the lifestyle that goes along with being active. Since we both spend much of our time in our workout clothes; running to the gym, running errands and then to grab coffee or lunch with a friend or colleague after, its important that we wear gear that we feel and look great in. So when we discovered the high fashion women's fitness retailer, Bandier, we knew immediately that we needed all of the clothing they sold and that we needed to meet the brainiac who founded this fitness haven.
Not only is Jennifer Bandier an accomplished business woman, she is also beyond gorgeous, and super sweet! We were so happy to have a chance to interview her to get to know more about how she started Bandier and where this innovative company is headed. Find our interview with Jennifer below plus some photos of Sarah in a Bandier look at the end of this interview.
1. How did Bandier come about? What was your vision and goal when you started?
I broke my foot in 2013 and could only wear clothing that fit comfortably over my cast. When the cast came off, walking was the only form of exercise that my doctor allowed, so I started walking multiple miles each day. Needless to say, I spent a lot of time in activewear. I realized how limited my options were and decided to look for more fashion forward pieces that represented my personal style.
While I found amazing new activewear designers online, none of the brands were available in one centralized store location. I decided to create
BANDIER
, which stocks the best selects from emerging and established activewear designers from around the world.
My vision was to provide a place where women can shop for activewear pieces that really stand out and blur the lines between fashion and fitness. We hope to motivate women to be healthy by looking and feeling their best.
2. Bandier seemed to be ahead of the athleisure explosion and carries all of the top fitness brands in the world, how did you know which brands would be right to partner with and how do you keep your selection fresh?
Our timing was fortuitous. We opened the first BANDIER store in May 2014 just as many new activewear brands were launching. We've worked with most of these companies since their launch and, in accordance, we have built extremely strong relationships.
Initially, I sourced new brands by researching online and by attending every trade show. Now, many brands come directly to us. I choose collections that speak to me and that represent personal style. We are also increasingly working with brands that create exclusive merchandise for BANDIER. Lastly, all items we sell have to fit well and perform. 
3. Bandier began only a few years ago and now everyone is wearing your gear from bloggers to well known celebrities all around the world. What do you attribute your quick success to?
I attribute BANDIER's success to a few things:
1) There is no where else to find our meticulous industry edit of the best activewear items from around the world. People want to stand out and express themselves with personal style choices. You shouldn't have to sacrifice fashion just because you lead an active lifestyle.
2) We engage customers with an immersive in-store shopping experience and an interactive online presence. This builds community and brand advocacy.
3) The health and wellness market is booming. Boutique fitness and the wide-spread enthusiasm for living an active lifestyle all contributes to BANDIER's success.
4. What's the biggest risk you've ever taken?
Starting BANDIER was a huge risk. I had no experience in retail and there are major costs associated with starting a business. However, passion outweighs risk. Within 18 months of launching our brand, we will have four stores and an e-commere business. I am so excited to get to work every day and am involved in every aspect our growth. No risk, no reward!
5. What are some of your favorite pieces this fall?
Brands that I wear often include Alala, Zara Terez, L'urv and Vimmia. This fall, I am very excited about our exclusive collaboration with Ultracor, which includes a legging, bra, jacket and puffer vest in a black and white camo pattern. We also recently teamed up with Strut This and We Wore What on a small capsule collection in dark palm and black marble prints, which are great for fall. My favorite active outerwear piece is BANDIER x Blanc Noir mesh inset reflective puffer vest. This is a great item for running outside as the days get shorter and weather gets cooler. Lastly, I love our custom Shop Private Party tanks and tee shirts. My team and I select all of the featured sayings and we have a lot of fun with the process.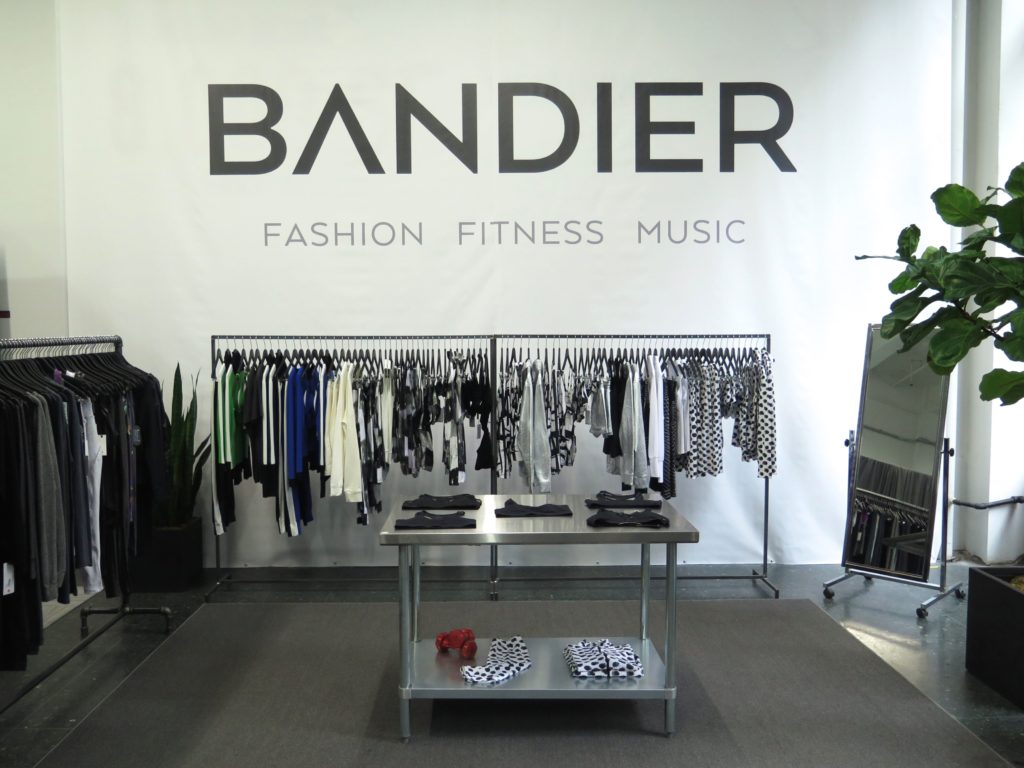 6. What trends can we look forward to in the athletic market for spring? 
Activewear trends are increasingly coming directly from the runway! Some of my favorite trends for spring include white, a lot of cutouts, and more pastels. We are excited to launch some exciting collaborations in 2016. Stay tuned!
7. What fitness or diet trends do you wish would die? 
I'm over the term "athleisure." It doesn't properly represent our clothing or the use case for wearing them. Our customer leads an active lifestyle and needs clothing that performs. We like the term "fitwear." Other than that, I am a big supporter of entrepreneurs who are working to make our world a healthier place. It's so amazing to see such a mass focus on wellness.
8. If you had one piece of advice for someone who is looking to start their own company, what would it be? 
One of the most important things you can do when starting a business is to surround yourself with a strong and passionate team. 
9. What was the biggest obstacle when starting the Bandier brand?
The biggest obstacle when starting BANDIER was that I had no prior retail experience. One of the first strategic decisions I made was to bring in our Chief Merchant and COO who both have amazing track records for building retail and fashion businesses.
10. People are focused on their fitness and health more than ever now and there are so many more options for attractive activewear, what do you see is next for the fitness industry?
The activewear industry will continue to grow and there may be some consolidation in the market. Over the past year, it seems that every apparel brand has launched an active component, which may not be viable long-term. You will see much bigger and more exciting creative collaborations as the activewear market evolves and as fashion and fitness become even more closely intertwined.
11. What do you think the key is to living a fit and healthy lifestyle?
I think the key to living a fit lifestyle is to be positive and have fun. Set personal goals and work towards them at your own pace. Continue to do what makes you feel happy and fulfilled. Get enough sleep and hydrate!
12. What's next for the Bandier Brand?
Bandier is growing so rapidly! We opened a store at the Americana in Manhasset, NY on October 20th and we our third store will open in Dallas at Highland Park Village this November. In 2016, we plan on opening three additional stores and launching several exciting artist, designer and influencer capsule collaborations.
Shop some of our favorite BANDIER pieces by scrolling below.

xoxo
Sarah and Michelle