ALICEANNA: Made in LA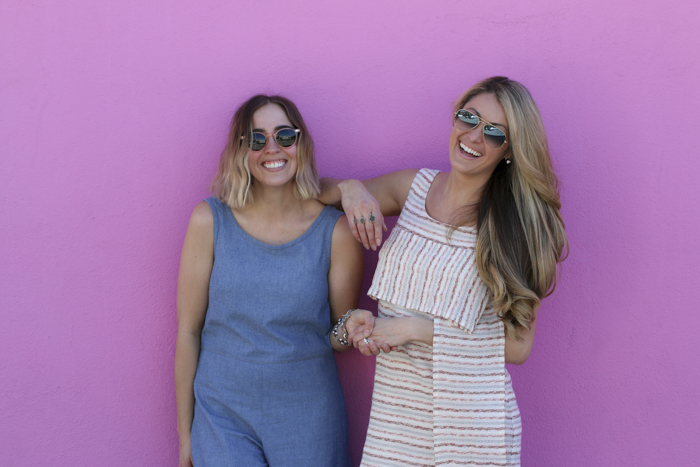 As most of you may know already, Sarah and I both graduated from Radford University with BA degrees in fashion. Although I didn't strictly follow the career path with my design degree, my friend and colleague Patrice Gentile did. The three of us practically lived in McGuffey square, the Fashion building where you would, and still do, find students diligently working away on their master pieces at all hours of the day. It was here that our creativity was built, sculpted and brought forth in to the art of fashion. These memories are something that I still hold dear to my heart.
Between the blog and work, I practically live and breathe fashion; however, the creation and design process of fashion take place on another level and it's that foundation that I miss dearly. From sketching, picking out fabric, draping and finally sewing your piece, all your hard work, sweat and tears will live forever in your garment. I know this may sound cheesy, but it is the sincere truth and Patrice can testify to this.
Patrice moved to LA about 4 years ago to be closer to the fashion market and continue her line, ALICEANNA. Naturally once I made my way out to LA, Patrice and I welcomed the chance to finally catch up. And boy was there so much to catch up on after almost 10 years!! I'm so proud of her and all her work and of course I had to share it with you!
For this post, Patrice and I wanted to feature her latest pieces from ALICEANNA's Spring collection. Pieces that can can mixed and matched to fit anyone's style. Scroll to the bottom for a short Q & A to get to know the designer behind the creations.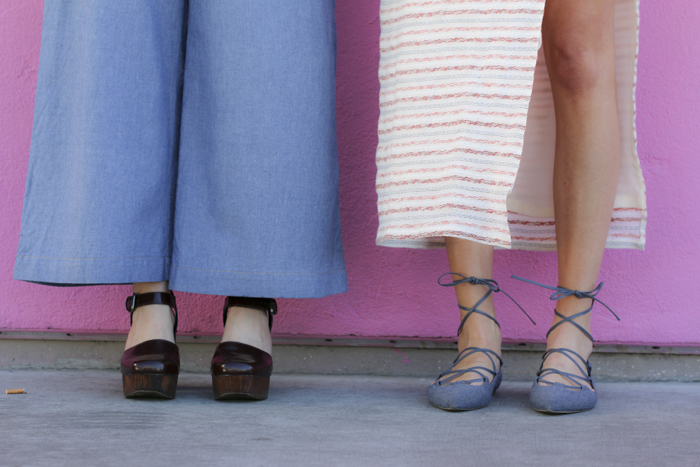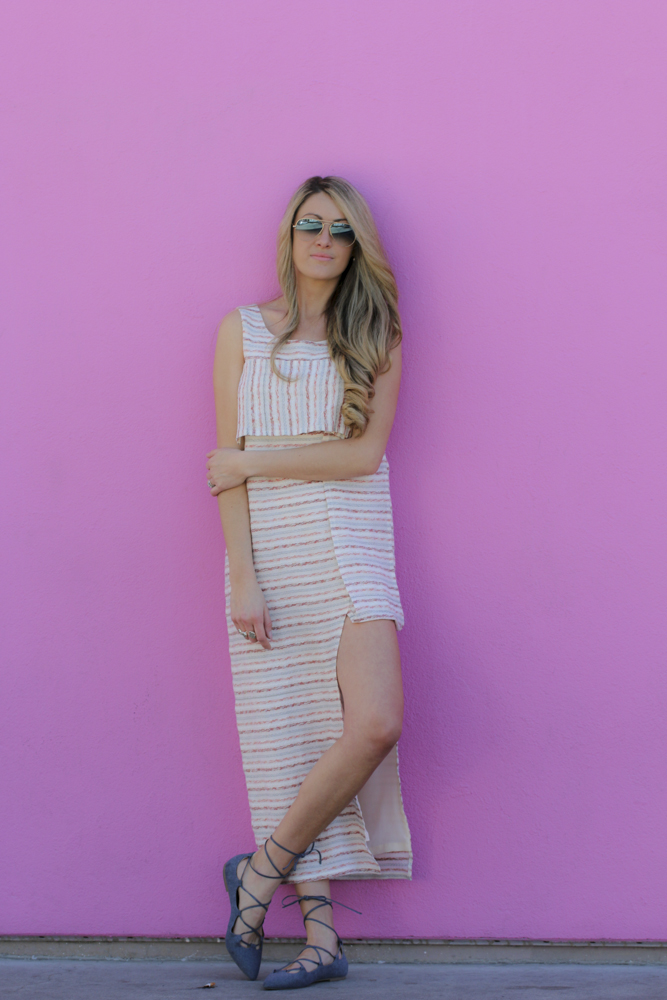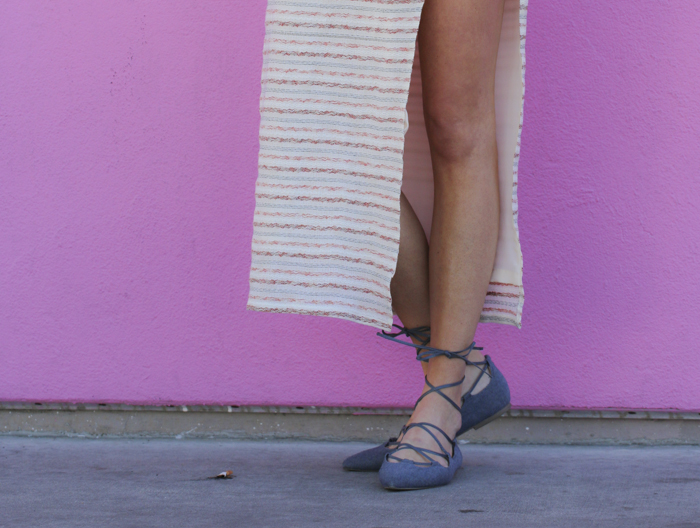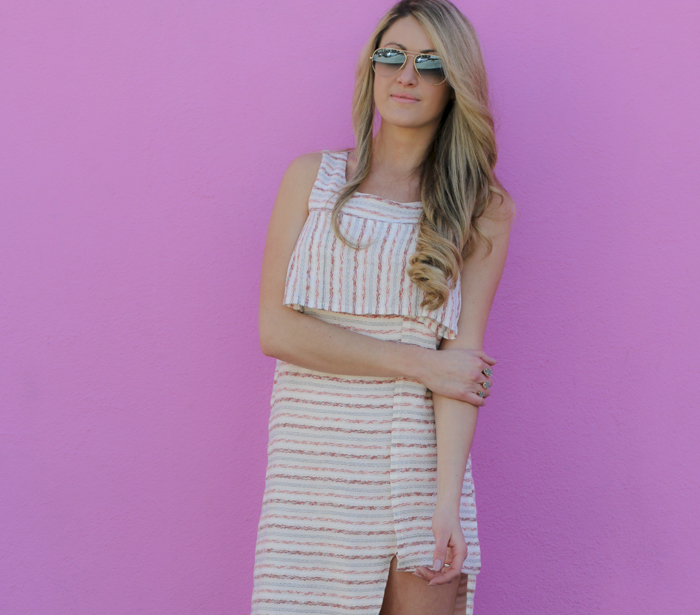 Michelle is wearing – LOUISE Dress (ALICEANNA); Shoes (Gap; sold out- similar here); Sunglasses (Ray-Ban); Ring (Kendra Scott).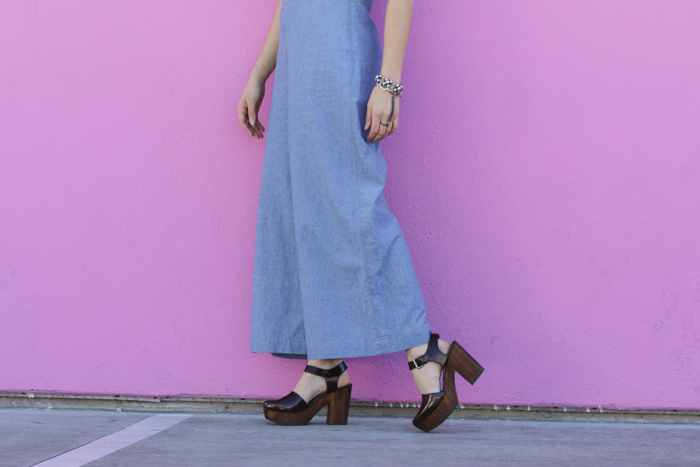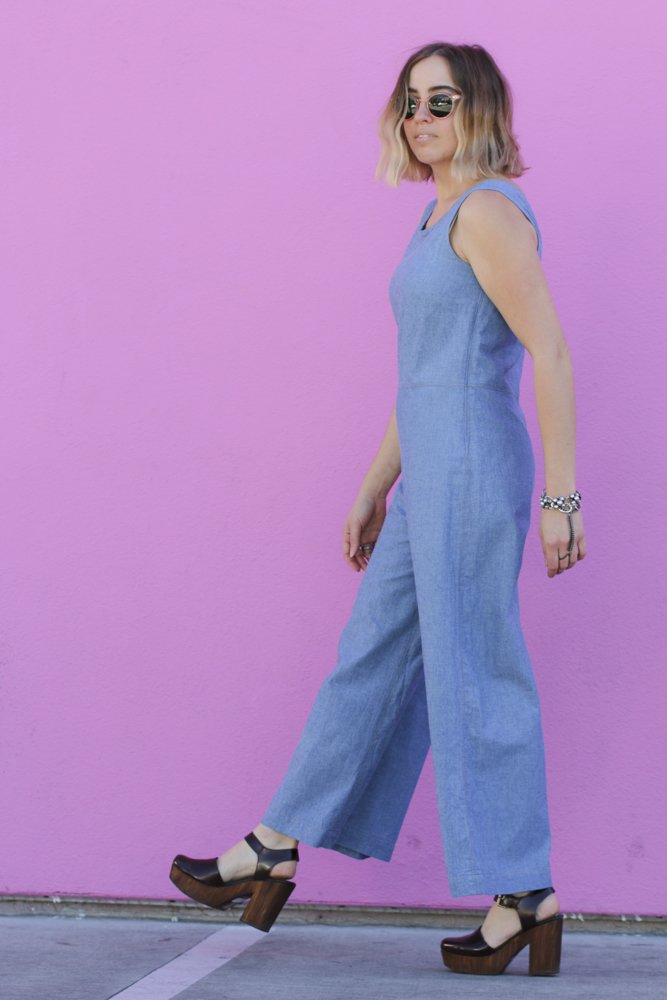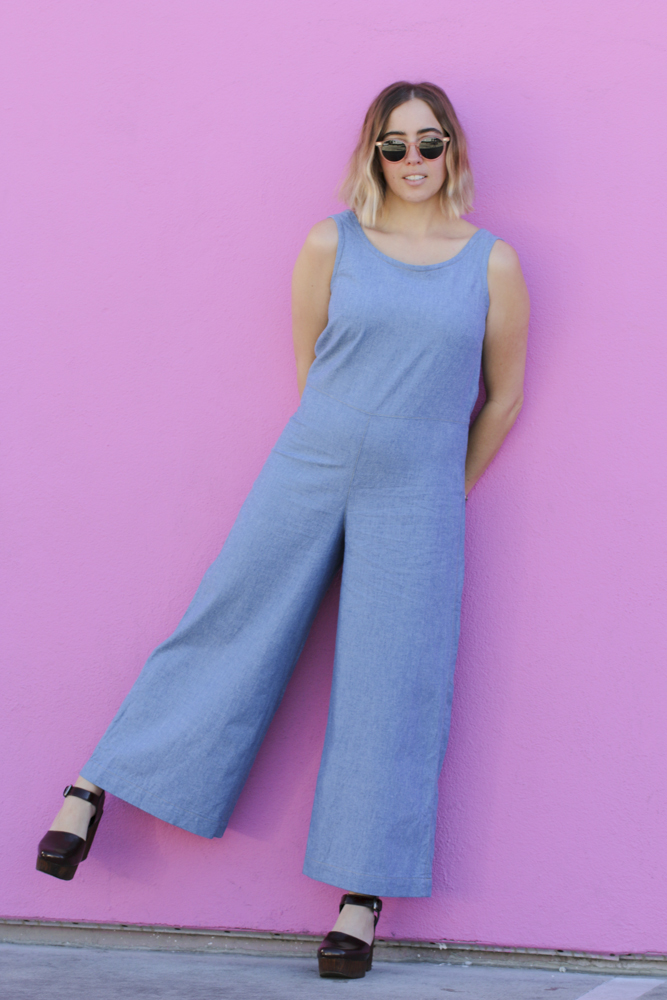 Patrice is wearing – FILOMENA Jumpsuit (ALICEANNA); Sunglasses (J.Martasand)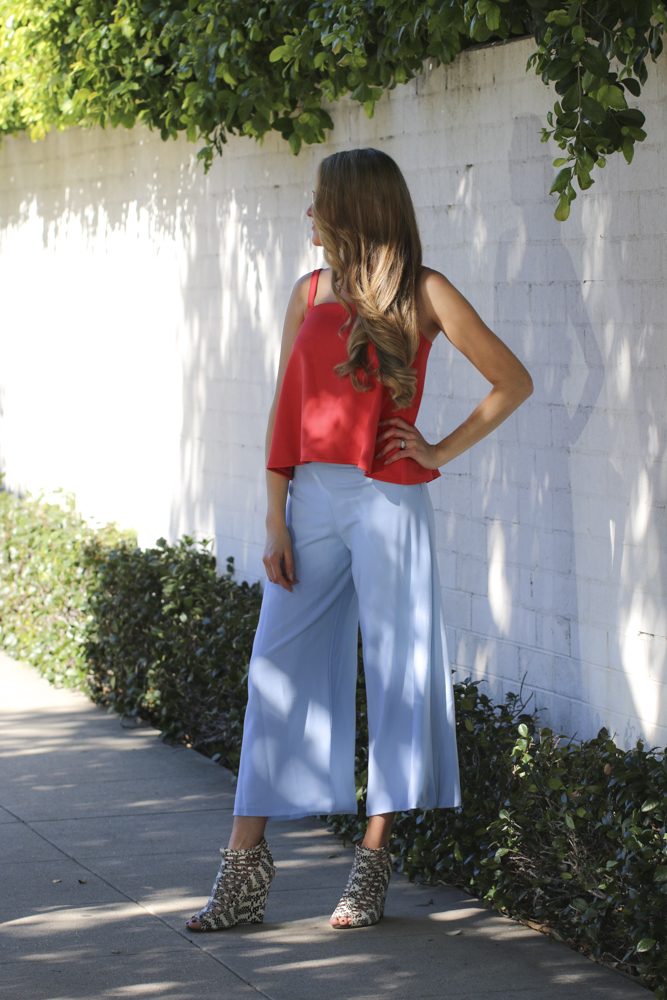 Michelle is wearing – ALVA tank (ALICEANNA); JAMES pants (ALICEANNA); Sunglasses (J.Martasand).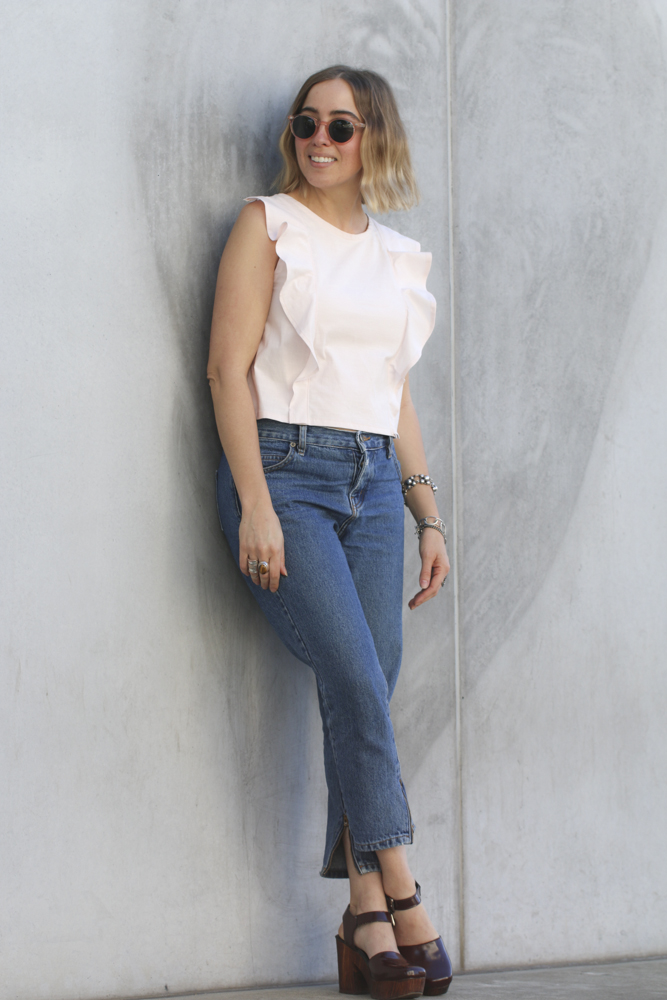 Patrice is wearing – LIBSON tank (ALICEANNA); Jeans (Objects Without Meaning); Sunglasses (J.Martasand); Shoes (Top Shop; sold out, similar here).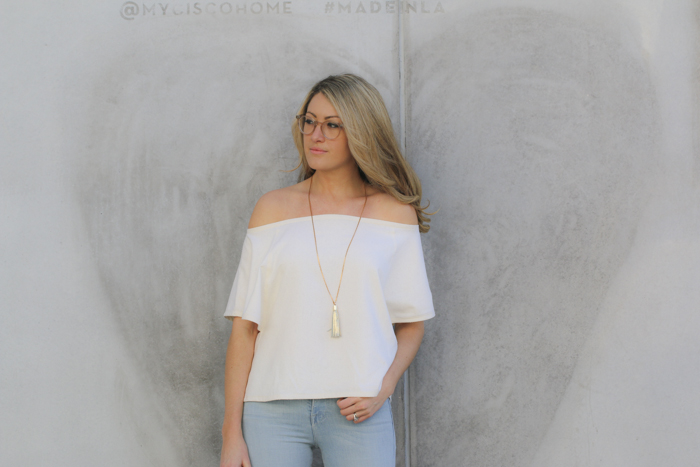 Michelle is wearing – DENA top (ALICEANNA); Jeans (Frame); Necklace (Marrin Costello); Optical Glasses (Champagne Style: J.Martasand).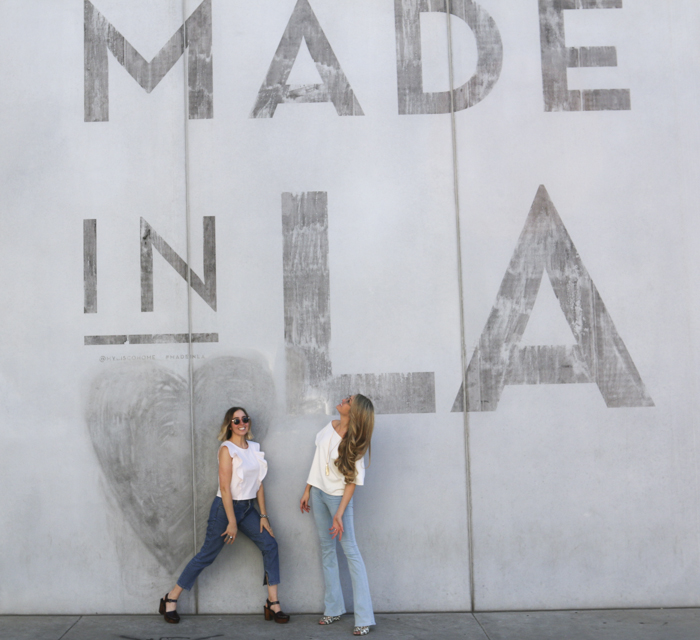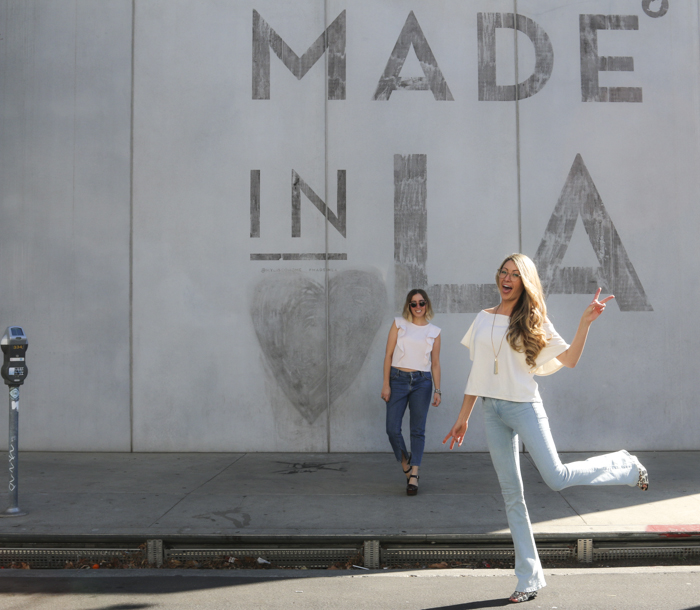 Meet Patrice Gentile …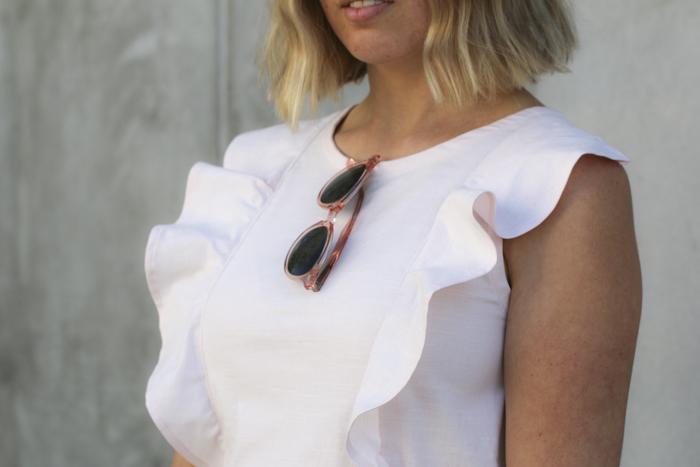 Why did you move out to LA?
When I decided to start my own label, it was important to me that it be produced here in the US. That basically meant New York and LA. I had already lived in New York after college and I had friends and co-workers constantly telling my that I was better suited for the the west coast. So I took the hint.
What was your inspiration behind your latest collection?
I read a book on French beauty and the author admitted that most French women despise the gym, wear little to no makeup, drink wine everyday and believe in a life of leisure. It was so inspiring to me, and it also made me ask myself "wait a sec, am I French?"
My inspiration is this idea of a woman who cares about her appearance, but doesn't let it get in the way of her leisurely, relaxed lifestyle. A little bit of make-up; hair styled but slightly undone; effortless style.
I always try to incorporate color and clean lines when I design. For this collection I designed breezy pieces that can transition from running errands to an evening out with friends. I used a color palette of vibrant reds, blues and neutral hues. Anna-lisa, my model for SS16, is effortlessly chic and showed up to set wearing no makeup with her hair down and undone, wearing an oversized coat and YSL mules. She was the perfect choice.
What motivates you to begin the design process?
In order to even sit down to begin the design process, I need everything to be neat. Bed made, no dishes in the sink, clothes folded and put away. I am at ease and in my most productive state when things are tidy.
As far as what motivates me to design, it could be a particular color palette, a book I'm reading, a weekend trip to Ojai or some other Southern CA gem.
What are a few of your greatest accomplishments?
Moving out west and starting a new life on my own. Building a clothing label with no outside help. Adopting my dog. Cultivating my circle of friends. Teaching myself how to cook, and actually being good at it.
What is the meaning behind ALICEANNA?
ALICEANNA is a joining of my grandmother's names: Alice Falugo and Anna Vaccaro. I haven't been fortunate enough to spend much time around them, but I share many traits with both of these women. My mom will tell me "you're just like Alice", or growing up my dad would say "you look like my mother when she was a young girl". When we are younger, our upbringing and environment shapes us, but I believe so many qualities are inherently a part of us, passed down through family. This label is an homage to my family and a celebration of those qualities.
What is your favorite piece from your latest collection?
I would have to say the DENA top, a neutral-colored raw silk off the shoulder top. It was 90 degrees here in LA the other day and I had to run errands all afternoon so I threw my DENA top on. It felt like I was wearing nothing. That piece is so lightweight and soft and comfy. It's definitely going to be my summer staple.
What's your dog's name?
Roo. She's a rescue basenji/chihuahua mix. My parents and I are obsessed with her. They live in Maryland and we text photos of her back and forth constantly. For Valentine's day my dad texted me a photo of Roo swaddled in a red velvet blanket. He takes so many photos of her when we visit them in MD and then randomly sends them to me when I'm in LA. I laughed so hard when I saw it.
Where are your favorite hang out places here in LA?
I usually hike Elysian Park with my dog 2-3 times a week. I'll stop after at Dinette for an almond milk latte or Fix for a post-hike everything bagel with vegan cream cheese (and sometimes a plain scrambled egg for Roo).
On the weekends, I'm usually at Kitchen Mouse in Highland Park. My boyfriend and I will split about 4 dishes and then drive a few blocks over to Donut Friend. My go-to is a glazed donut filled with Nutella, drizzled with olive oil, and topped with vanilla glaze and sea salt. Ridiculous.
I live a train stop away from downtown so I spend a lot of time there. Bar Ama is one of my favorite restaurants. They have killer Tex-Mex food and make one of the best margaritas I've ever had. My boyfriend and I love going to DAIKOKUYA for ramen and fried rice and pot stickers. The wait is always an hour. but so worth it.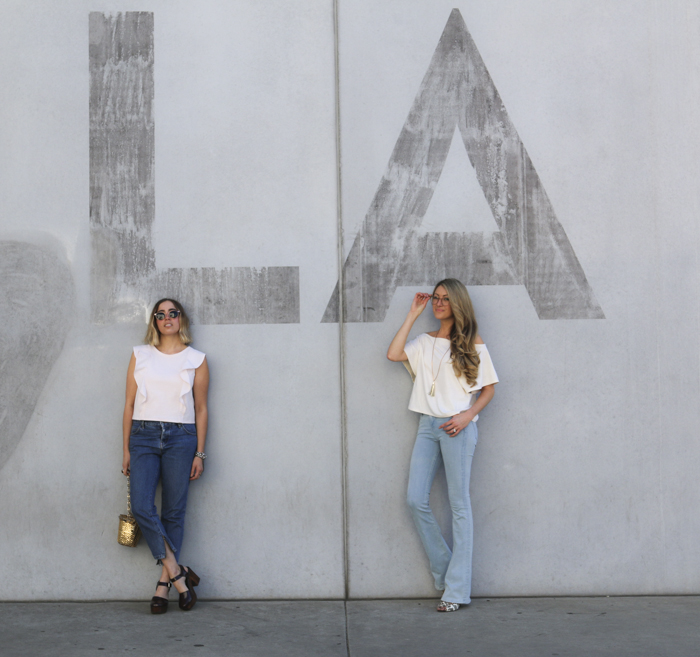 Follow your dreams luvies!
xo
Michelle