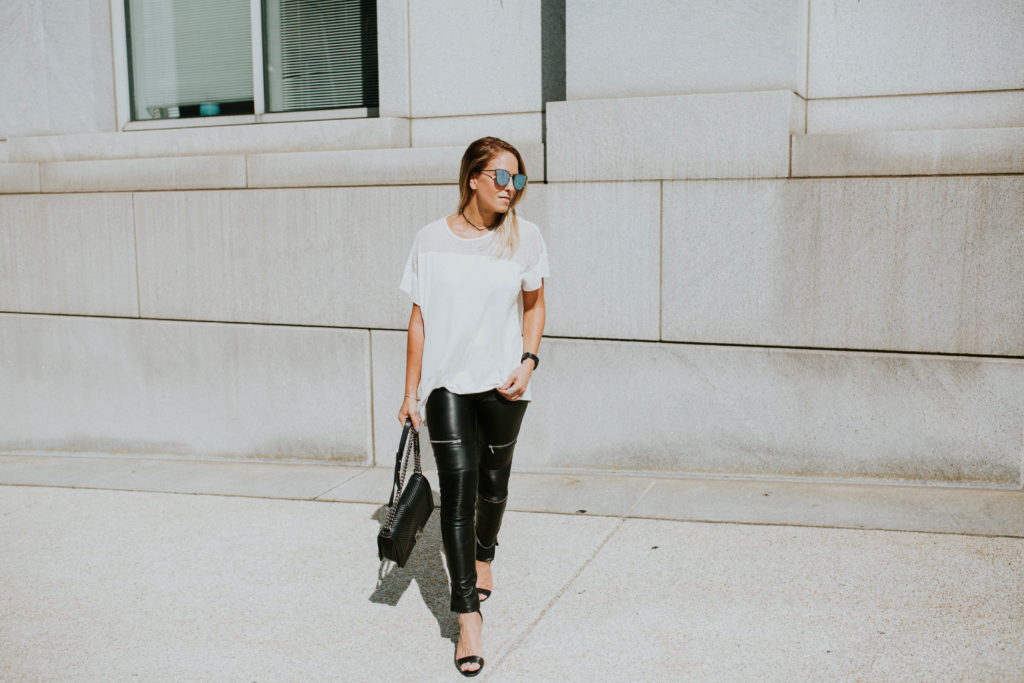 If you haven't noticed, dressing sporty is kind of my thing. Whether I am heading to the gym or I am off to have drinks with my friends, dressing with an athletic twist is kind of my thing. I am sure the athleisure movement has contributed to my sporty chic obsession, that paired with the fact that I practically live in my activewear since I spend so much time in the gym. Regardless, adding athletic details to my everyday looks has been my go-to lately.
When shopping for new sporty pieces to add to my wardrobe, I try to steer clear from overly trendy items. I have enough clothing as it is with hardly any place to put it, so when I add a piece to my wardrobe, I make sure I will get optimal use out of it. I found this asymmetrical mesh top from VIP ME and have been OBSESSED! I love the mesh details on the shoulders and the long flowy back, which gives it a bit of edge. It looks great with leather pants or ripped denim, I love how versatile it is.
This outfit is the perfect balance between masculine and feminine, which I love. I'm not a fan of overly girly looks, so sticking with clean, modern and minimal details helps things stay stylish yet edgy. I am also crazy about leather or vegan leather pieces come fall. Once temperatures start cooling down, I will be back to living in my favorite leather pieces, especially these vegan leather pants from Zara. Can we talk about the zipper details?! They look great with strappy sandals for a fun night out or with Adidas sneakers for a more casual day look.
So if you are a bit of a tom-boy and you love the sporty look then you will want to shop some of my favorite sporty options below!
Sarah is wearing: Top (VIPme c/o), Pants (Zara sold out similar here), Heels (Nasty Gal), Sunglasses (Quay), Watch (Christian Paul Watches c/o), Choker (Forever 21) and Purse (Chanel).
Use code Thursdays146 at www.vipme.com to get $5 OFF on Orders Over $50
Photos by Emma Weiss Photo – Check out her new site!
xo
Sarah