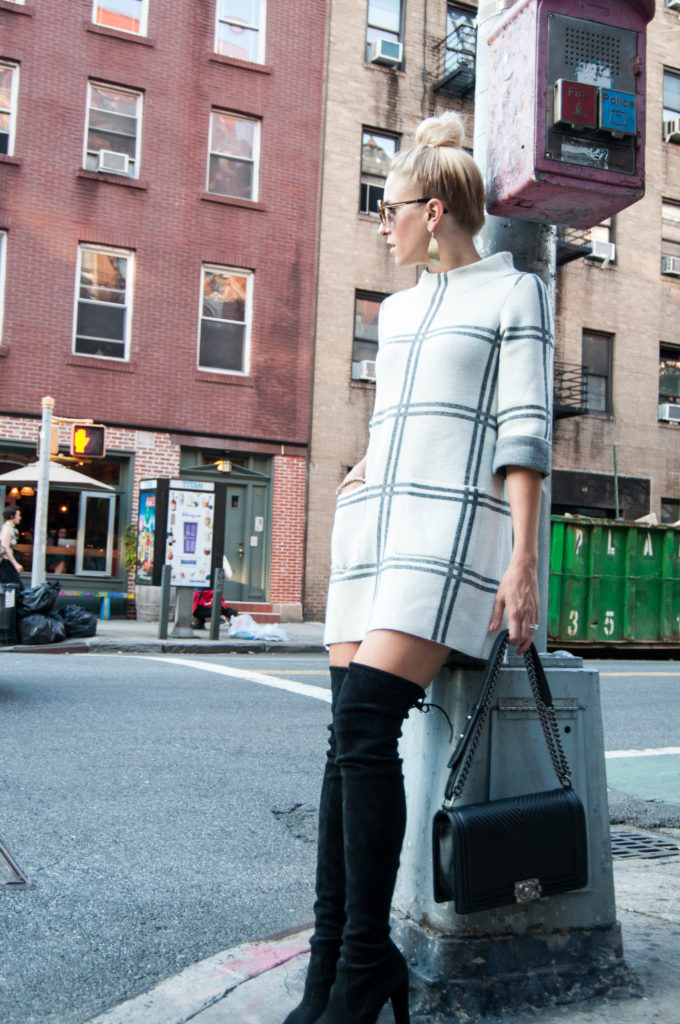 Days have become a bit cooler, leaves have begun to fall and pumpkin spice lattes are being served at every corner coffee shop. All signs that fall has arrived. There is just something about this season that makes you feel all warm and fuzzy inside and make us gravitate towards cozy clothes that you could practically curl up for a nap in. This sweater dress is one of these pieces.
I wore this cozy 'Mod' look while attending fashion week and while the weather hardly felt like fall at the time, I pushed through anyway (to photograph this look) and came out practically unscathed. All in the name of fashion. I went for a mod look and paired this shift sweater dress with my favorite over the knee boots, round sunglasses and finished the look with a sleek top knot. I hope Twiggy would be proud.
This look is easy, requires little to no thought to put together and is perfect for practically any occasion this fall/winter. I usually air on the side of simple when it comes to getting dressed and sweater dresses and shift dresses make life a ton easier for me in the cooler months. Just throw a dress on, add boots and voila you are dressed and ready to take on anything that the fall months throw your way.
Sarah is wearing: Dress (Anthropologie), Boots (Stuart Weitzman), Sunglasses (Le Spec), Bag (Chanel), and Earrings (Found Co Shop).
Shop this outfit and other similar styles below:

Photos and Hair by Amanda Deprez of 8112 Studios
xo
Sarah