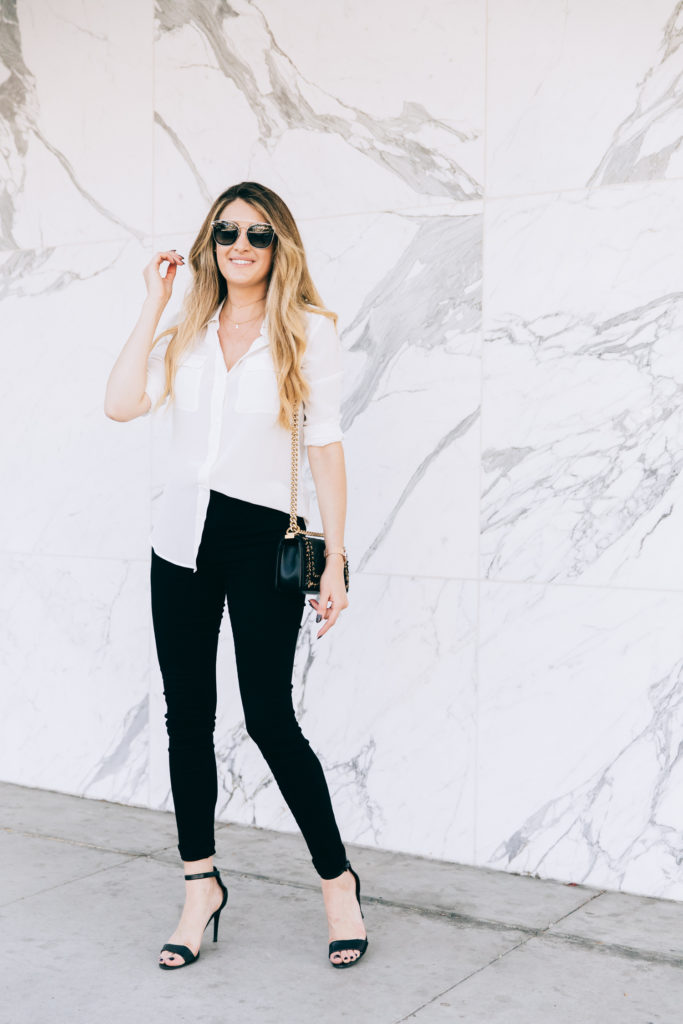 Let's get back to the basics, shall we? With so many trends coming in and out, it really does become a bit exhausting to keep up with. From the basket bag that everyone and their mother owns to the Gucci belt that's wrapped around every blogger's waist. Now don't get me wrong, as I have caved in to many of these trends but sometimes I find it difficult to constantly splurge on pieces that I have no clue how long they will be in style for or quite frankly, the way I feel about the basket bag, get sick and tired of seeing! (Sorry to those who own the Cult Gaia clutch but it really is everywhere!)
With a baby, my priorities have completely flipped. I still love fashion and discovering the next trend for the season but I need to be waaaaaaay more conscious of what I spend my money on. So I'm trying to get back to the basics and as MissionEdit so eloquently put it, "discover meaningful additions" to add to my closet and life. Mission Edit is a new online clothing boutique that aims to help ladies that feel just lost in the fast paced world we call fashion. Whether it's because you don't have the time or don't have the patience, with so many trends, store fronts and online boutiques it can be a bit overwhelming and I personally don't have time like that to shop anymore. I have to feed, burp, change, snuggle and love on a little mini me (well she is a carbon copy of daddy but soon enough she will be my mini me). Their well edited assortment of high quality basics and carefully thought out trends help ladies curate a style that is uniquely theirs.
I put together a look from their site with intentions to wear in multiple ways and on multiple occasions. These Bombshell skinny jeans from Parker Smith are THE most comfortable pair of jeans I now own. I'm new to the Parker Smith game, and I'm so happy to have been introduced because I'm in love. They feel like my second skin which is perfect for a lady who just had a baby almost 4 months ago. It can be hard getting out of my sweat pants these days! And who doesn't love a long sleeve button down, like this one from Ginia RTW. Talk about a classic, it's something I've always advocated on owning because it's effortless alone and perfect for layering in the fall and winter.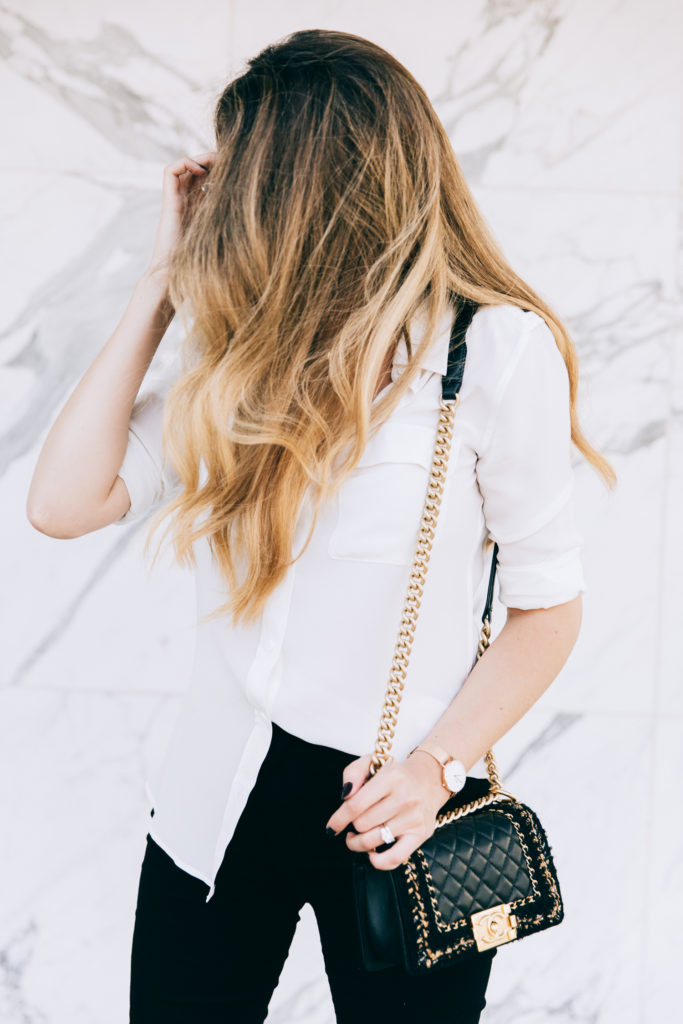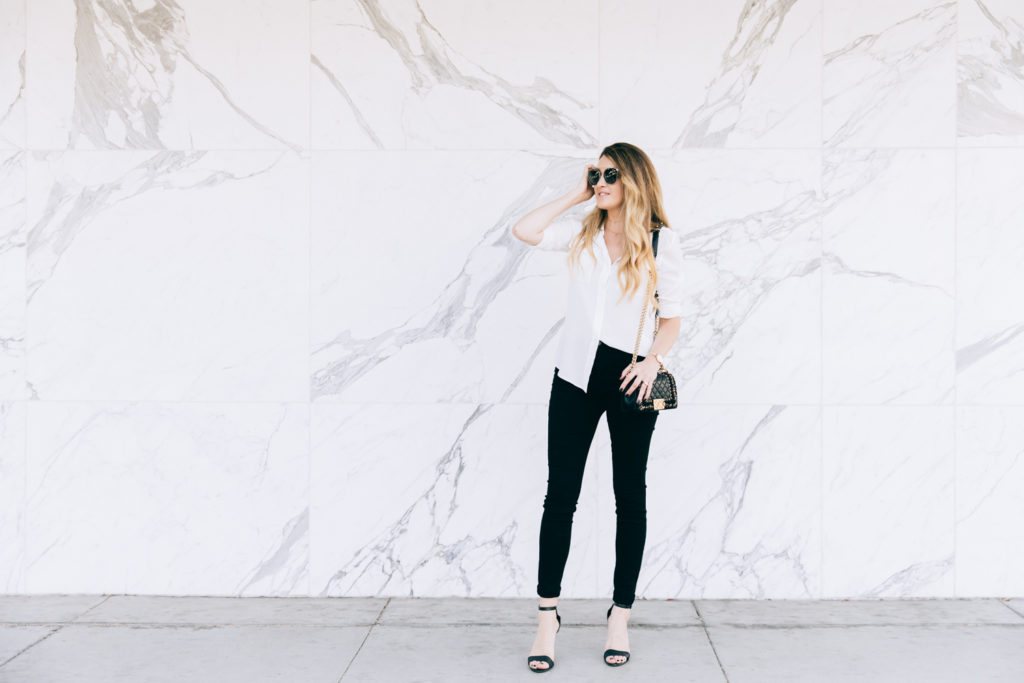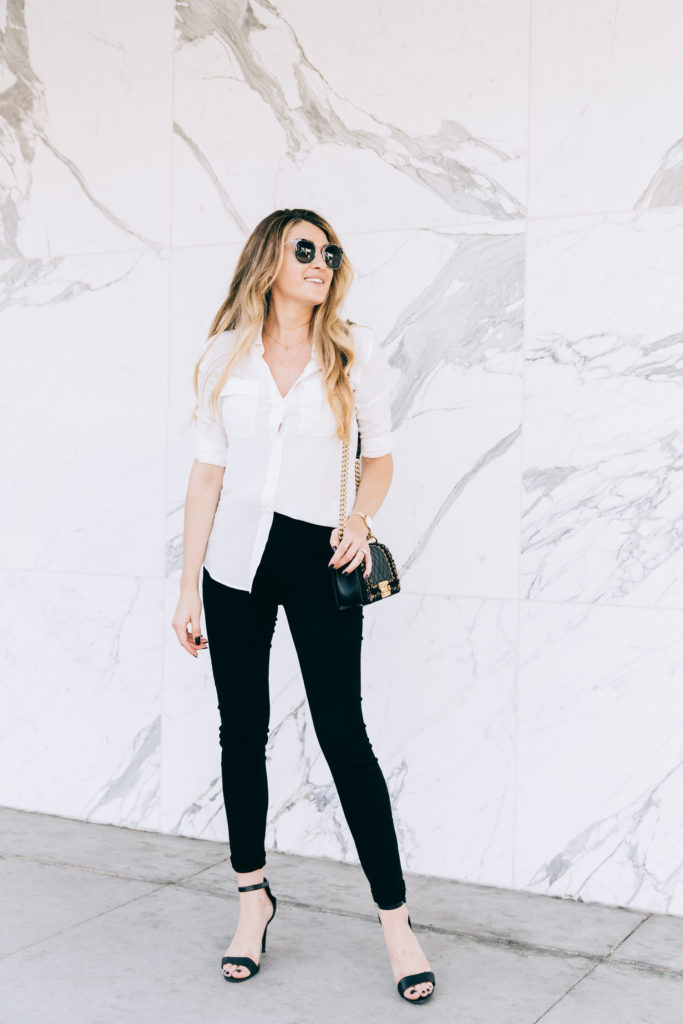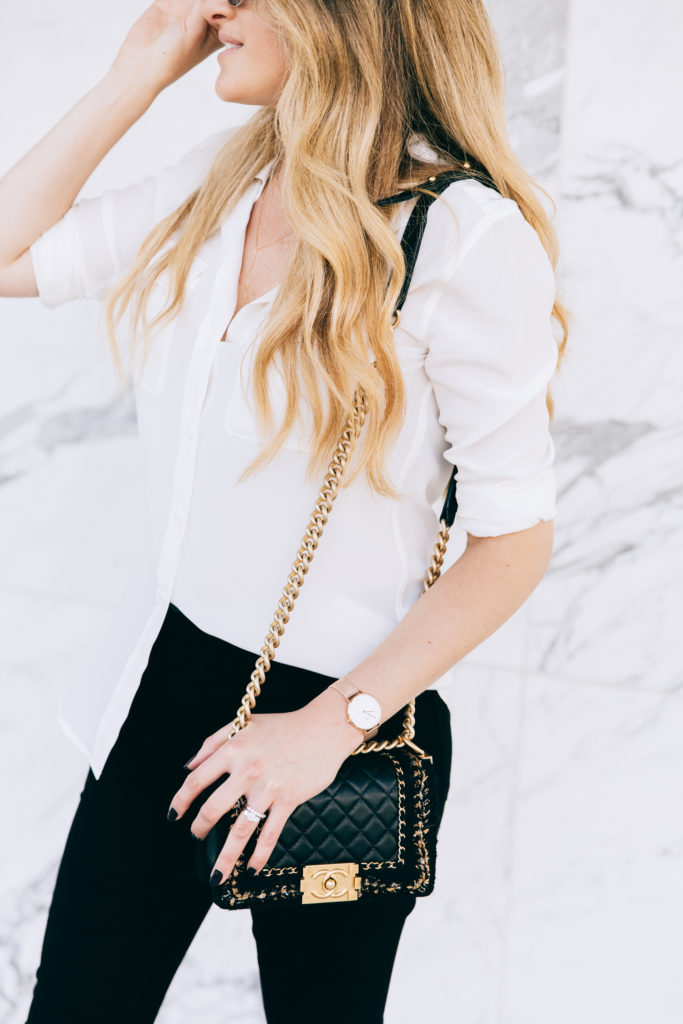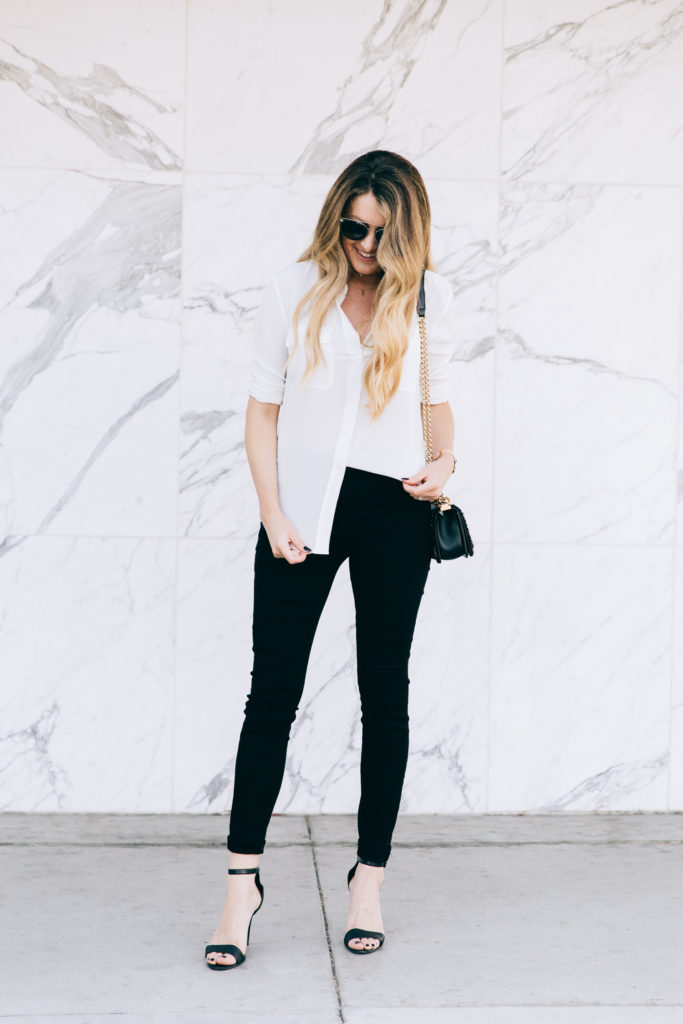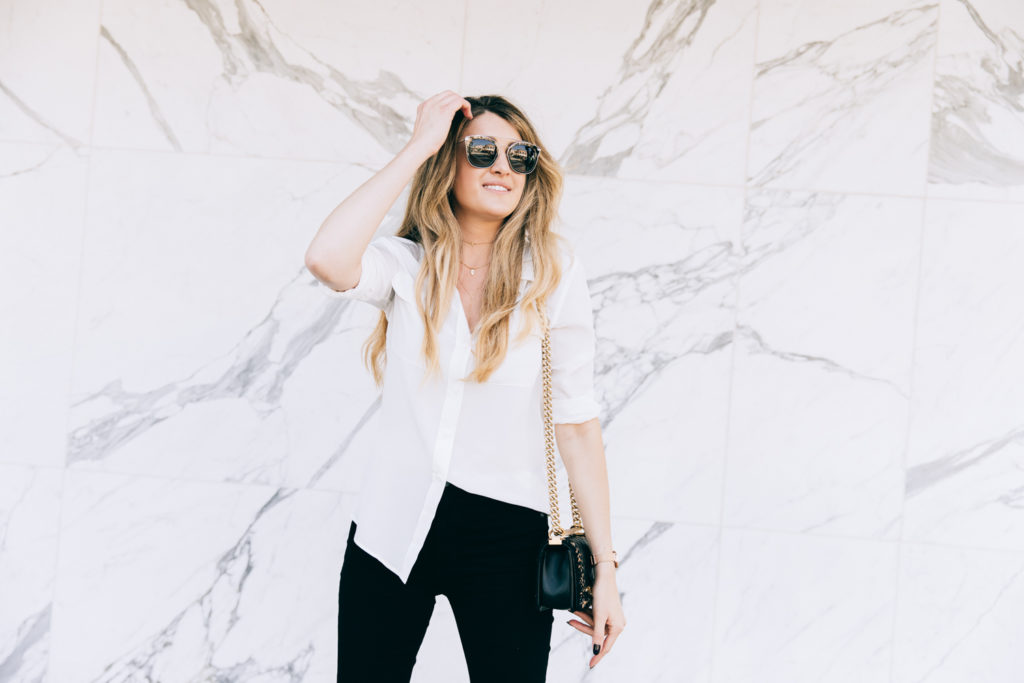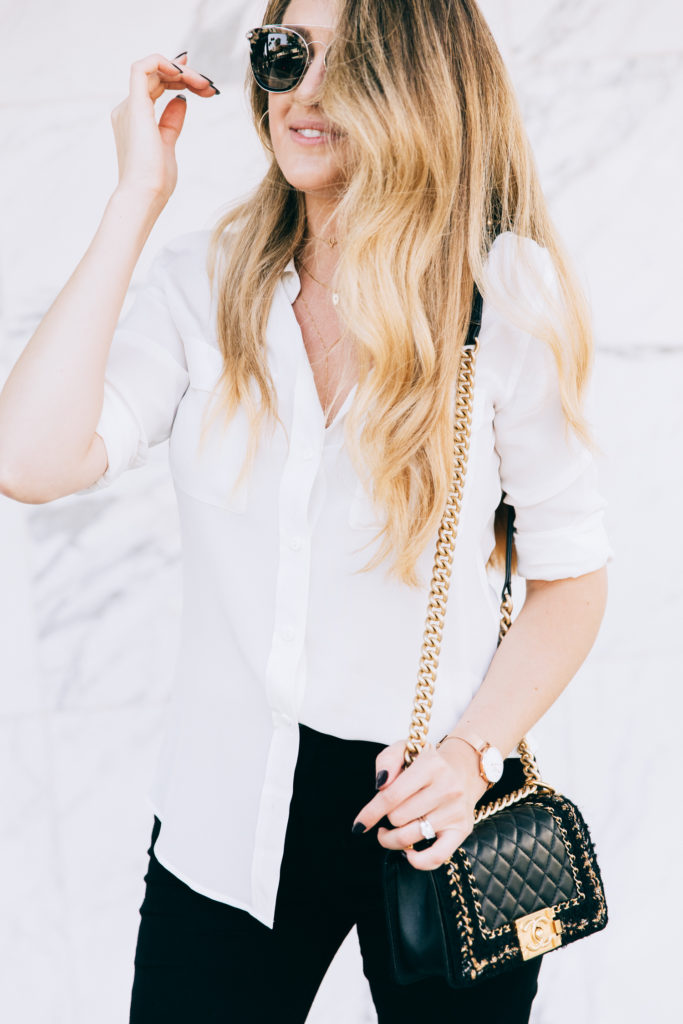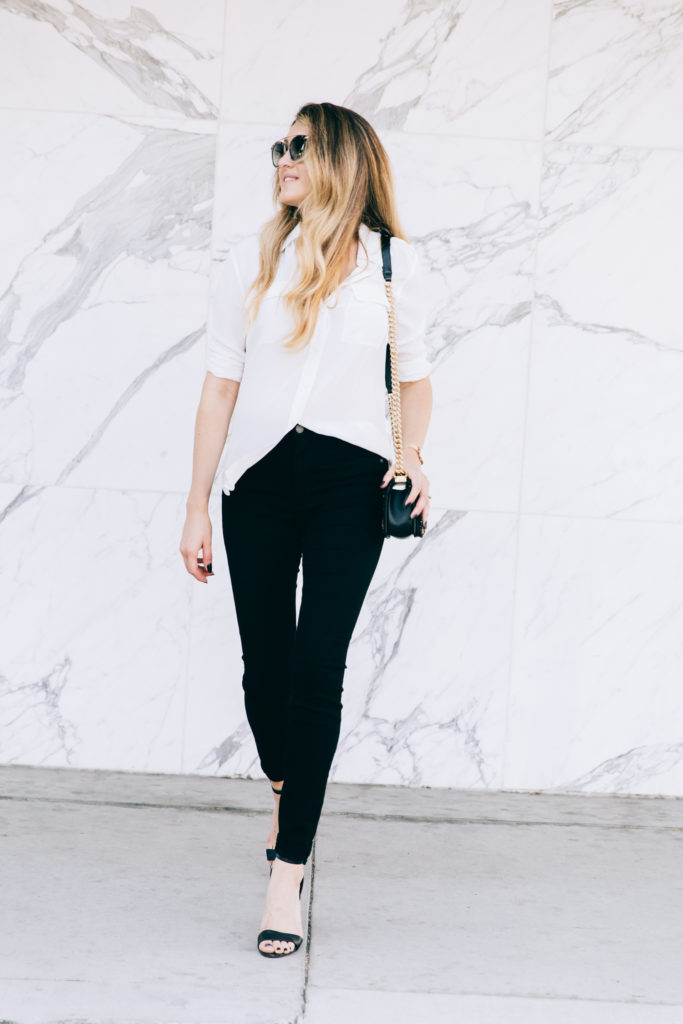 Wearing – Top (Ginia RTW via Mission Edit); Jeans (Parker Smith vis Mission Edit); Sunglasses (Diff Eyewear); Necklaces (Bauble Bar); Earrings (Jenny Bird via Mission Edit); Watch (Daniel Wellington); Bag (Chanel via BBOS); Shoes (Old – similar here).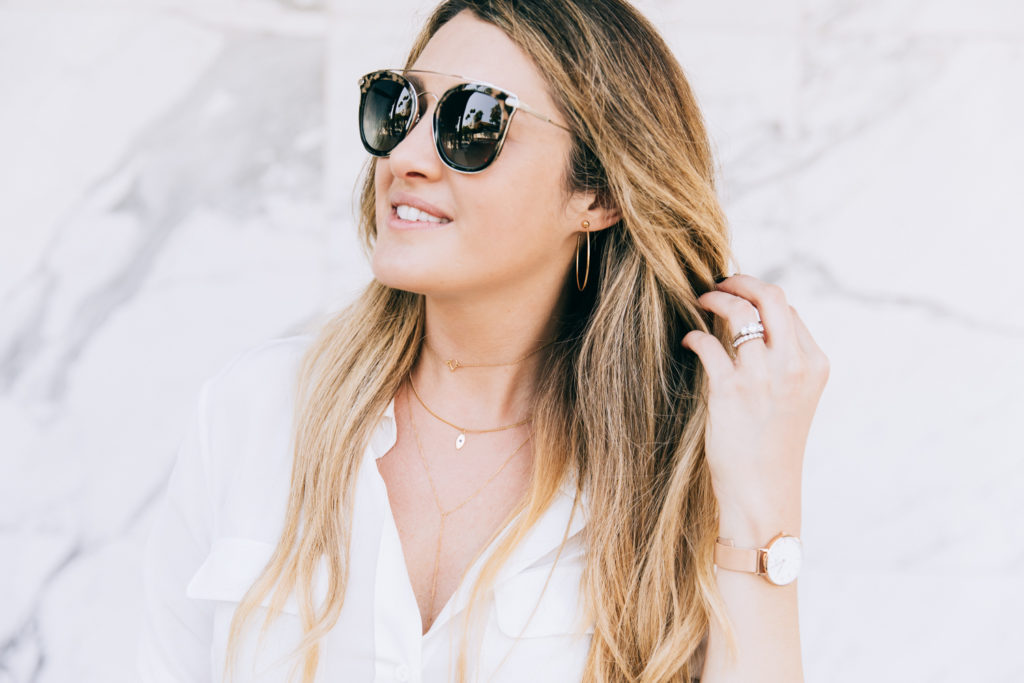 I'd like to think this look will take you from day to night and from season to season. Always buy the must have basics and splurge only when needed on the trends. Your packed closet and hungry wallet will thank you. Promise.
xo
Michelle