On the go with Lo & Sons …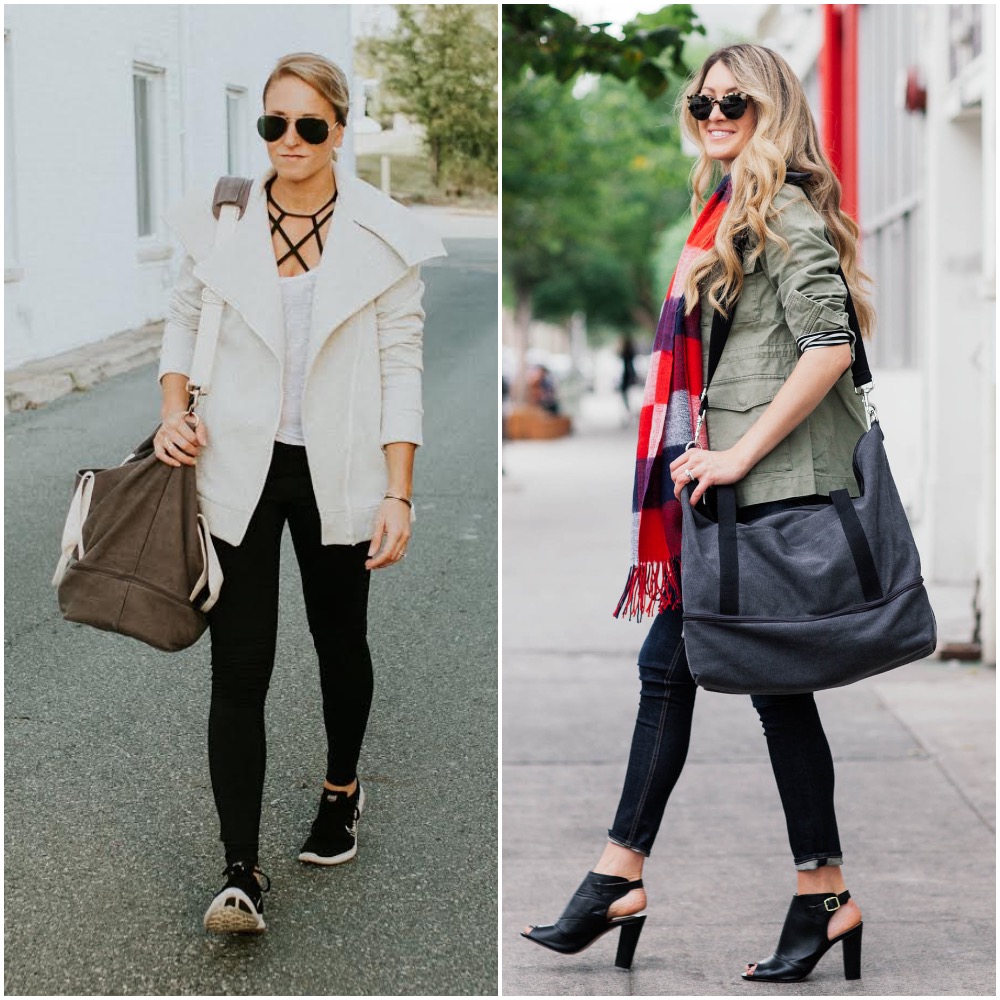 We are always on the go. Sometimes it feels like life just isn't slowing down. With busy work lives, husbands, pups, family near and far and our attempt at keeping a personal life, it can be a bit exhausting. But hey we will take that as a positive thing as we are very blessed, with no complaints! We were just in need of something stylish and innovative to keep up with our daily lives.
We found that in Lo & Sons. Each bag was built to travel light without having to compromise the most important things which are functionality and style. We both loved The Catalina Deluxe style. It really is the ultimate weekender bag with the right amount of compartments to stay organized and sane for a seamless, smart travel!
See how we each put these bags to the test.
Michelle: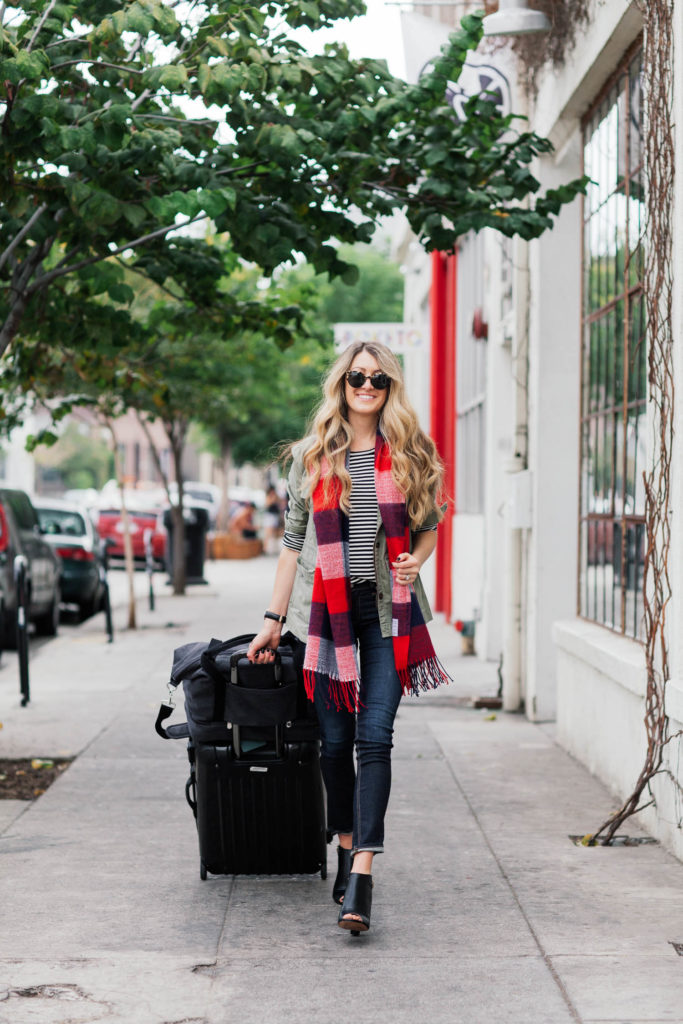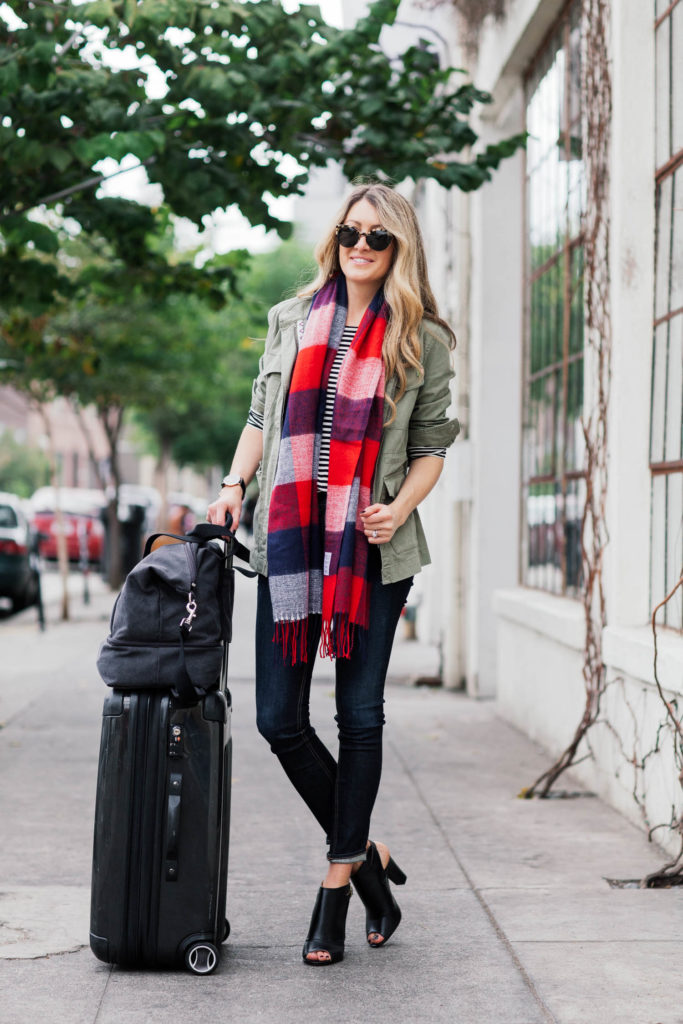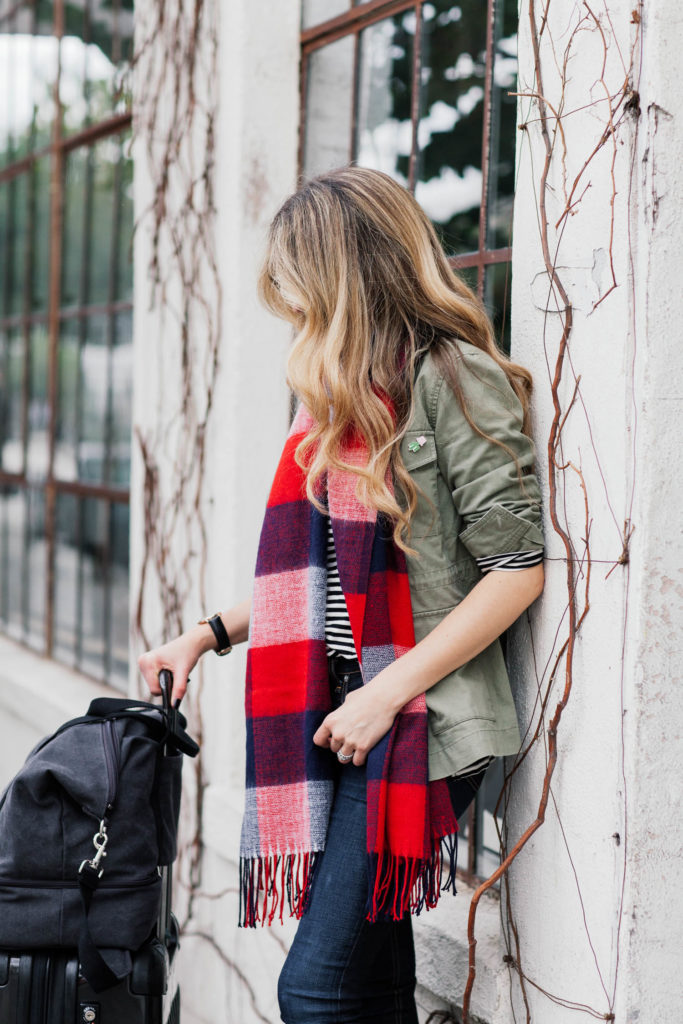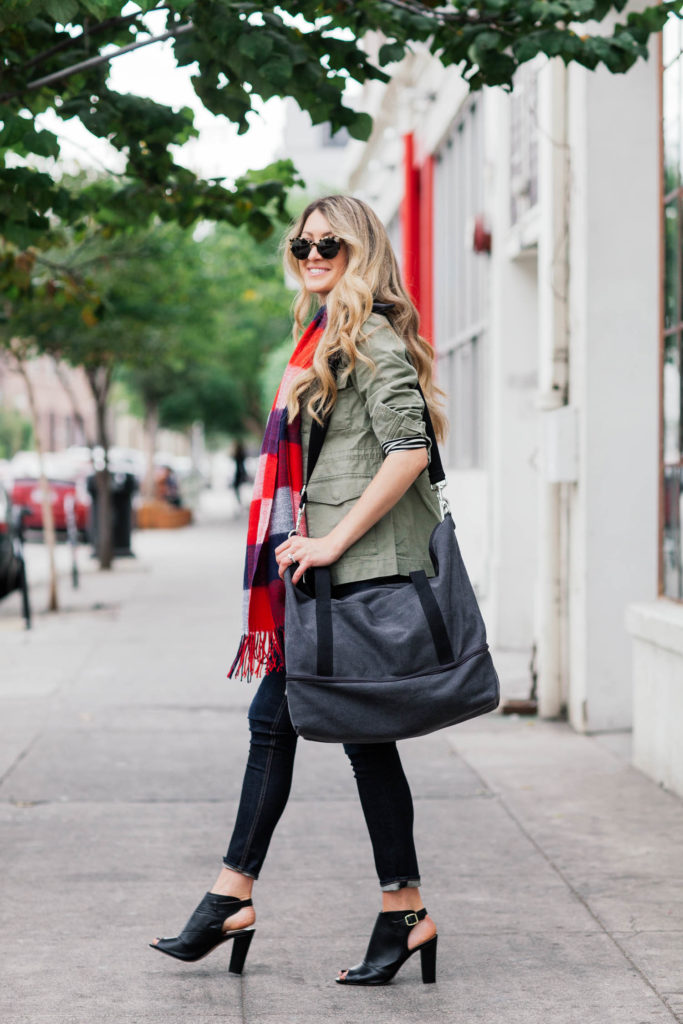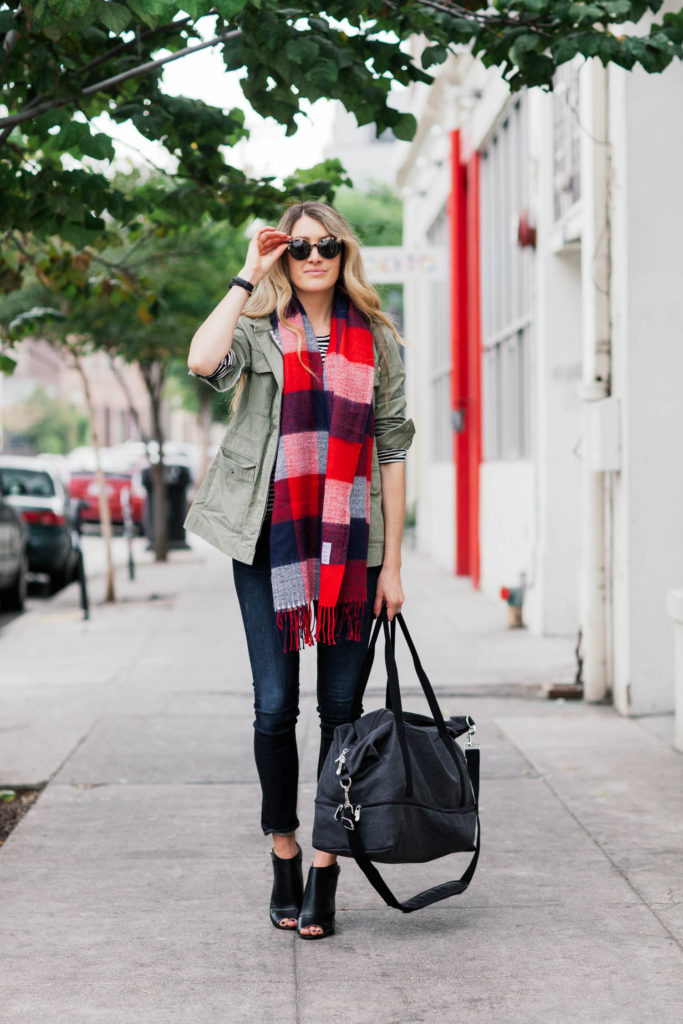 Michelle is seen wearing – Jacket (Marine Layer); Shirt (Marine Layer); Scarf (Marine Layer); Denim (Rag & Bone); Shoes (Angelina); Watch (J. Beverly); Sunglasses (Super)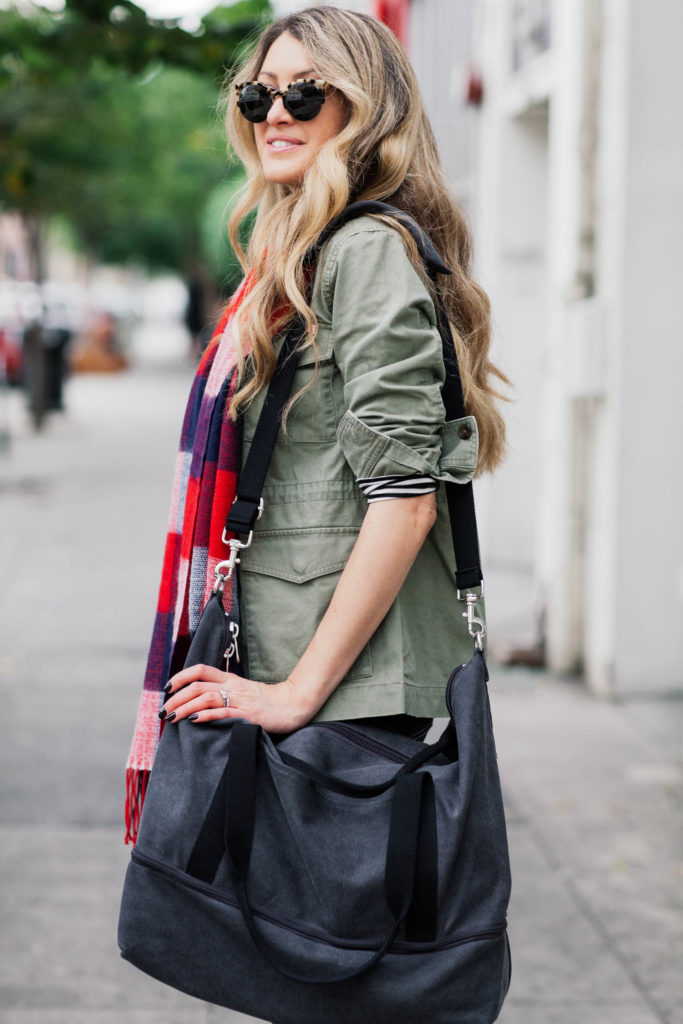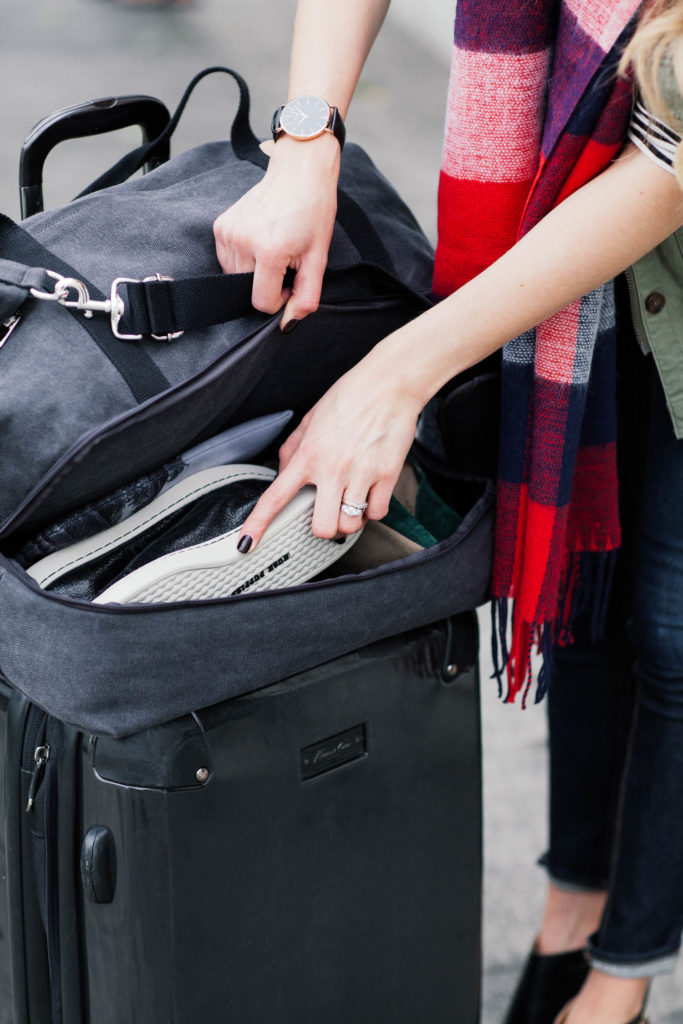 My husband and I went to San Fransisco to see family for an extended weekend and of course I always over pack so carrying on The Catalina Deluxe bag made for perfection. I packed all the immediate necessities in my weekender so I wouldn't have to unpack as soon as I got there. With such a short flight and what seemed like an even shorter trip we left little down time to make more room for exploring. As soon as we landed, I was able to freshen up and change to the next look with all my go-to's packed away neatly in my bag. No need to scrummage through the suitcase and come home to a mess. The smoothest travel transition ever! Did I mention the adjustable sleeve for sliding over my suitcase?? Made my life a million times easier while traveling the airport hallways. Less fumbling and juggling while attempting to pull out my ID each stop. I'll never travel with out this bag again.
Sarah: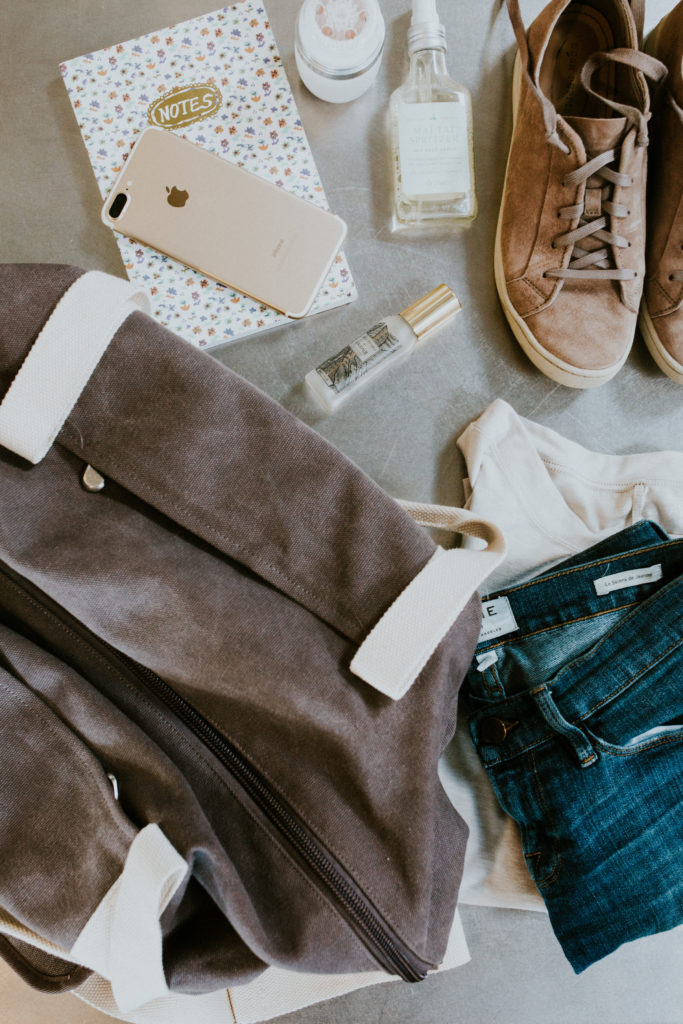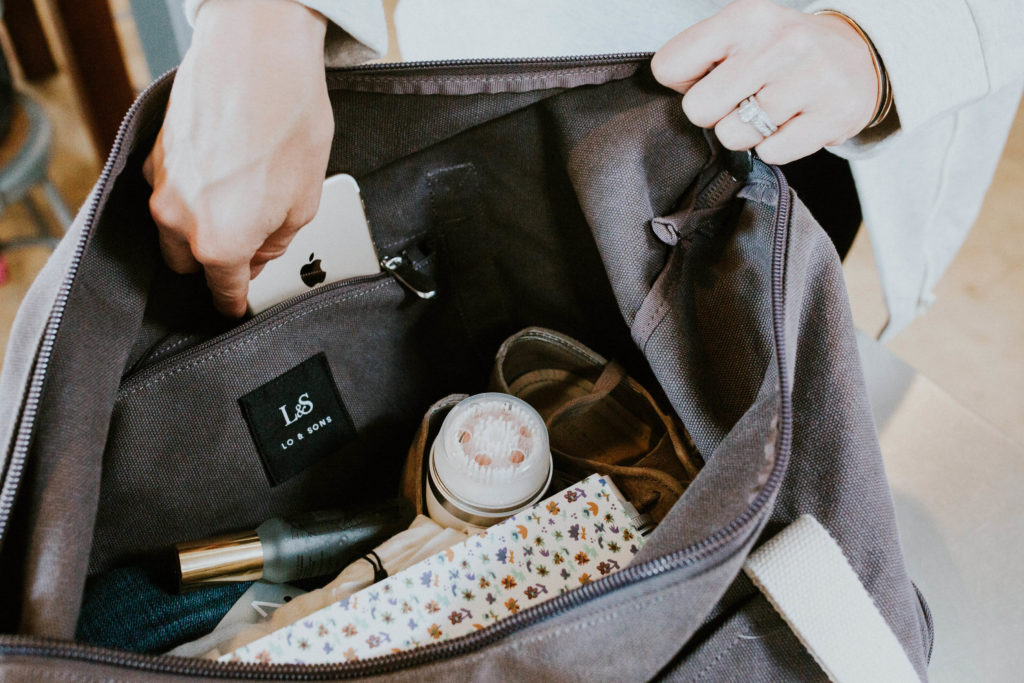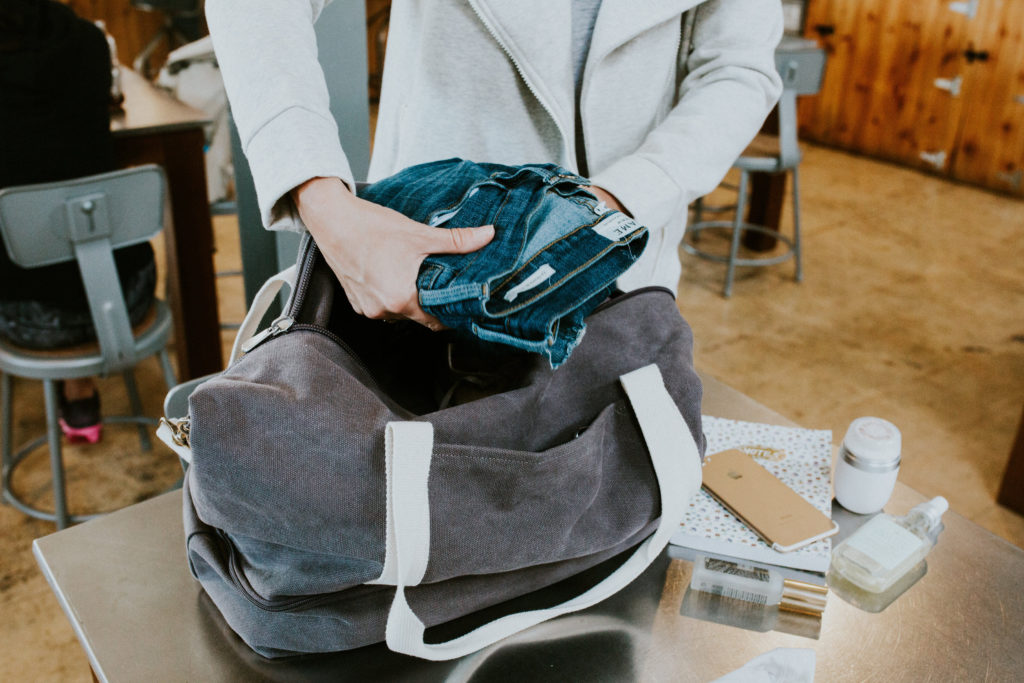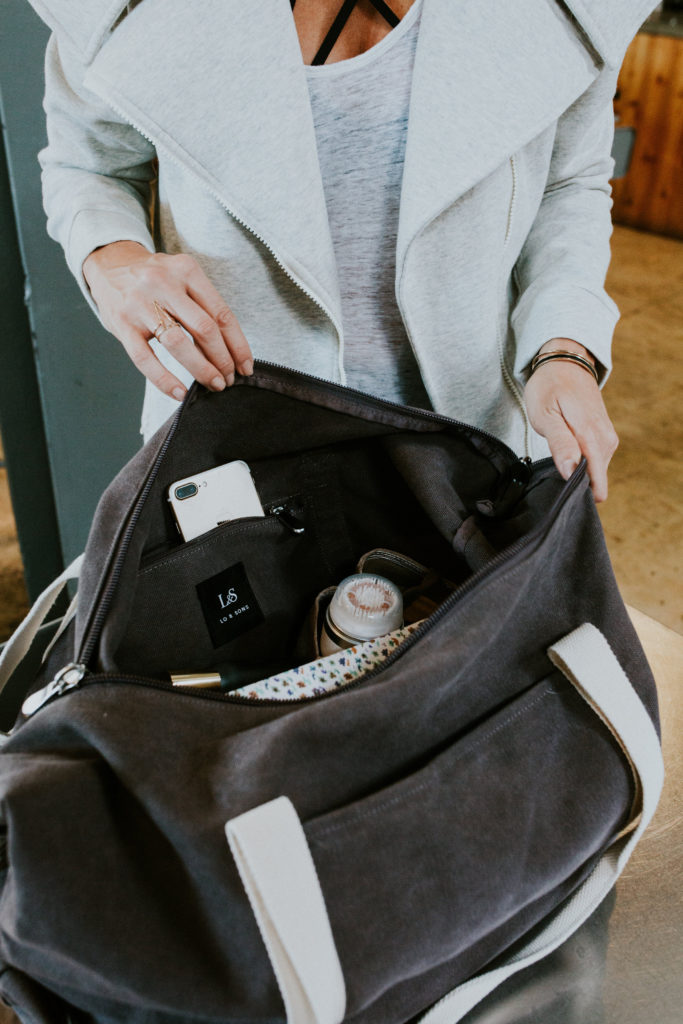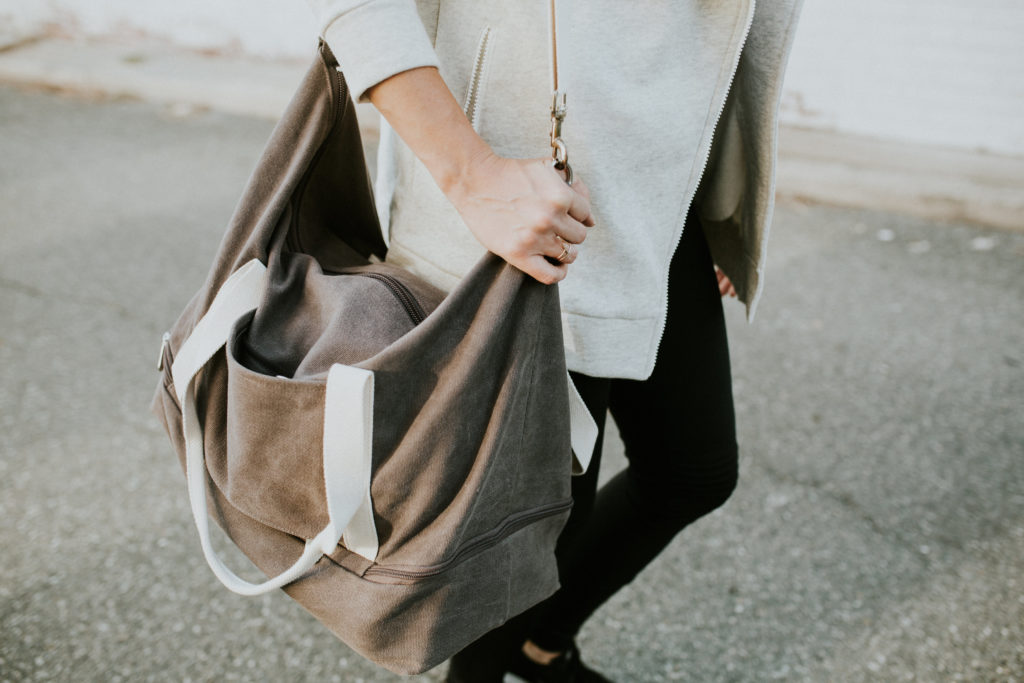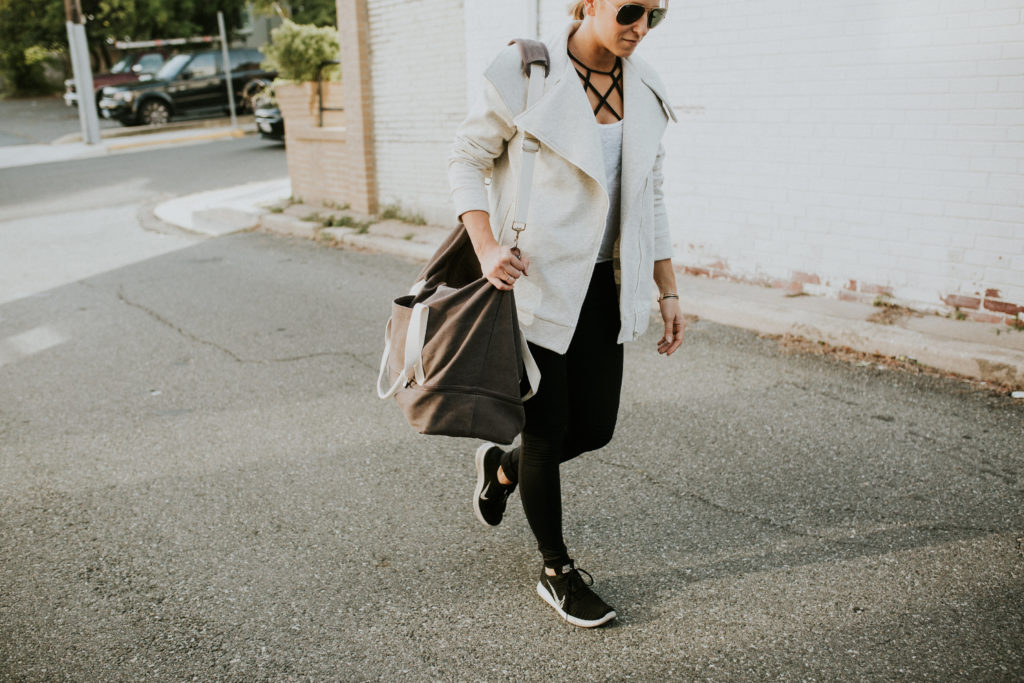 Sarah is wearing: Jacket (A Ruby), Leggings (A Ruby), Tank (H&M), Bra (Reebok), Sneakers (Nike), Glasses (Rayban), Bag (Lo & Sons).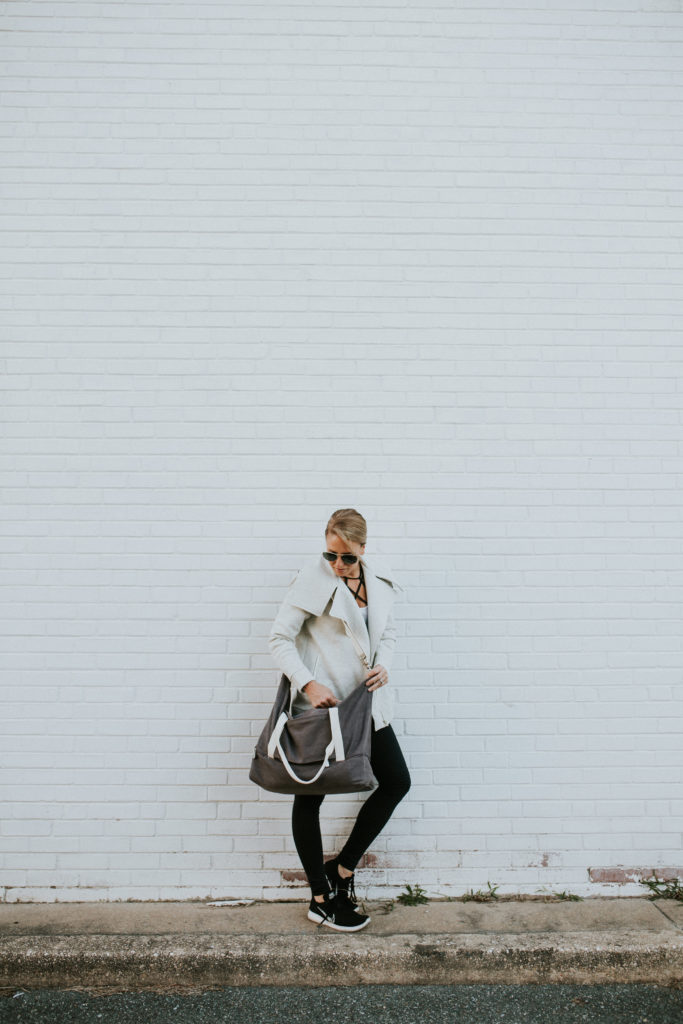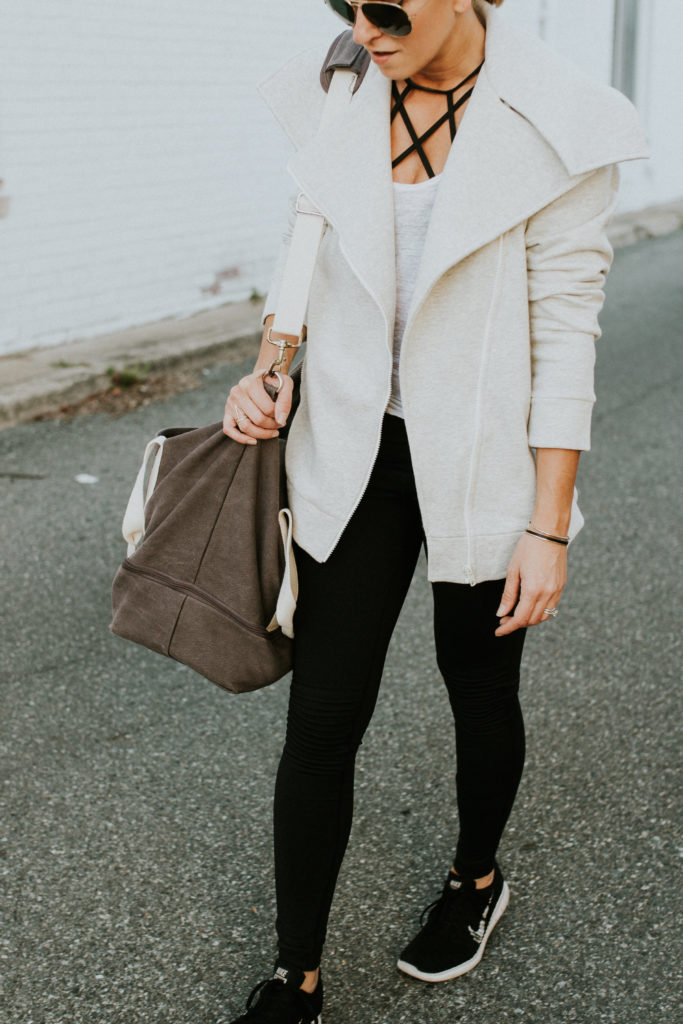 My average day consists of running from a client meeting or a shoot directly to the gym. Sometimes I have time to swing by the house to change and others I am in a rush to make it to my workout class on time, so having a bag on me packed with my workout essentials is a must for me. I used to carry around a workout bag that I thought could handle all I had going on but when I realized I couldn't even zip it or fit an extra change of clothes in it, I knew it was time for an upgrade. What I love about the Lo & Sons bag is that it has a secret compartment under the bag for shoes, laptops or whatever else you need extra space for. Since I use multiple pairs of shoes at the gym (lifters, metcons and sometimes running shoes) I am in need of all the extra space I can get!
This bag can handle all my shoes, jump ropes, weight belt, shaker bottles, wrist wraps and possibly a few protein bars in there too (yes, I'm that crossfit chick). Best part is that when I change out of my work clothes, I even have room to put my clothes in the bag without anything spilling out! Because having your bra hanging out of your gym bag isn't a good look. I even have room to leave a few toiletries in the inside pocket so I can freshen up after class, in case I head to lunch or to grab that occasional beer after class. This bag has definitely become my new gym bag go-to but I have also found myself dumping it out and taking it on weekend get-aways too, it's that good! Maybe I need two?!
Discover Lo & Son's and the many options they have to offer for seamless travels in style.
xo
Sarah and Michelle
This post was done in collaboration with Lo and Sons. All opinions are of our own.