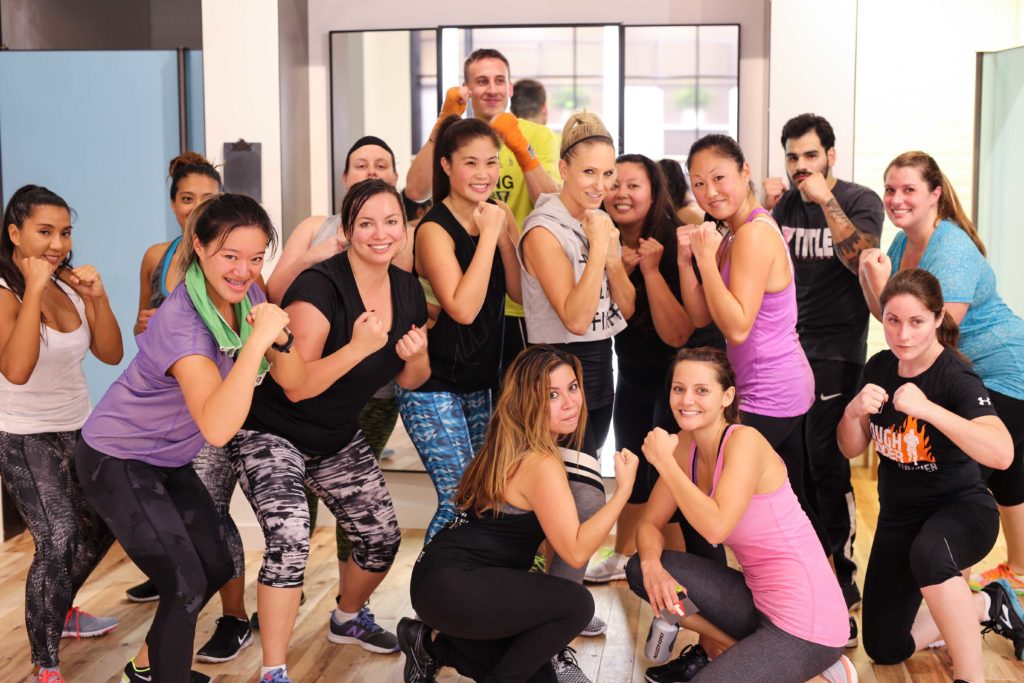 Last week we kicked off another successful 52 Thursdays Fitness Series event, this time in partnership with my favorite fitness boutique, Chelsea Collective and Title Boxing. We had a packed house full of energetic women, some familiar faces and some brand new, that were ready to kick some serious butt! Title boxing put us through a strenuous hour long workout that included cardio, body weight exercises and we even got to put on the gloves and practice our hooks and upper cuts on the trainers. After 60 grueling minutes of boxing we were all spent and ready to devour the treats that Seasons 52 so kindly provided for us. Detox to retox right?
Even if you missed the event at Chelsea Collective in Tyson's Corner last week it doesn't mean you can't drop in to see what they are all about. I immediately fell in love with this boutique activewear store the moment I walked in the door because not only is their store gorgeous, they also carry the best brands and even have their own fitness studio in the back of their store. Which is super unique! They designed the store this way so that they could host classes for their clients and also so shoppers could put their gear to the test by trying it out on the store treadmill, ballet bar or by practicing yoga. You can tell they take great care to carefully curate a diverse collection of fitness gear that will appeal to women of all fitness levels and disciplines. But you will just have to check it out for yourself, drop in the next time you are in Tyson's Corner and tell them 52 Thursdays sent you!
First time hearing about the 52 Thursdays Fitness Series? Here is the low down. The 52 Thursdays Fitness Series began a few months ago with our first class being held at Swet Ride in Alexandria, VA. Since our first cycle event we have been to Lava Barre where we had a barre/trx hybrid class, Chelsea Collective for boxing and we have True Health, Barre Tech and Spark Yoga up next! Hosting these classes and being able to connect and meet our readers has been a dream come true for me. I am able to share my passion for fitness with others all while experiencing new exciting ways to workout and stay fit. Did I mention that they are always FREE?! I look forward to hosting many more classes in the DMV area and hope to meet you at the next class!
Make sure to sign up for our newsletter to be the first to know about our monthly workout series by entering your email when you first enter the site. Also I would love your feedback on past classes and suggestions on classes you would like to see in the future, so please comment below.
Our giveaway winner! Congrats Marisa!
Photos by Sarah Kaufman – 52 Thursdays Intern
xo
Sarah