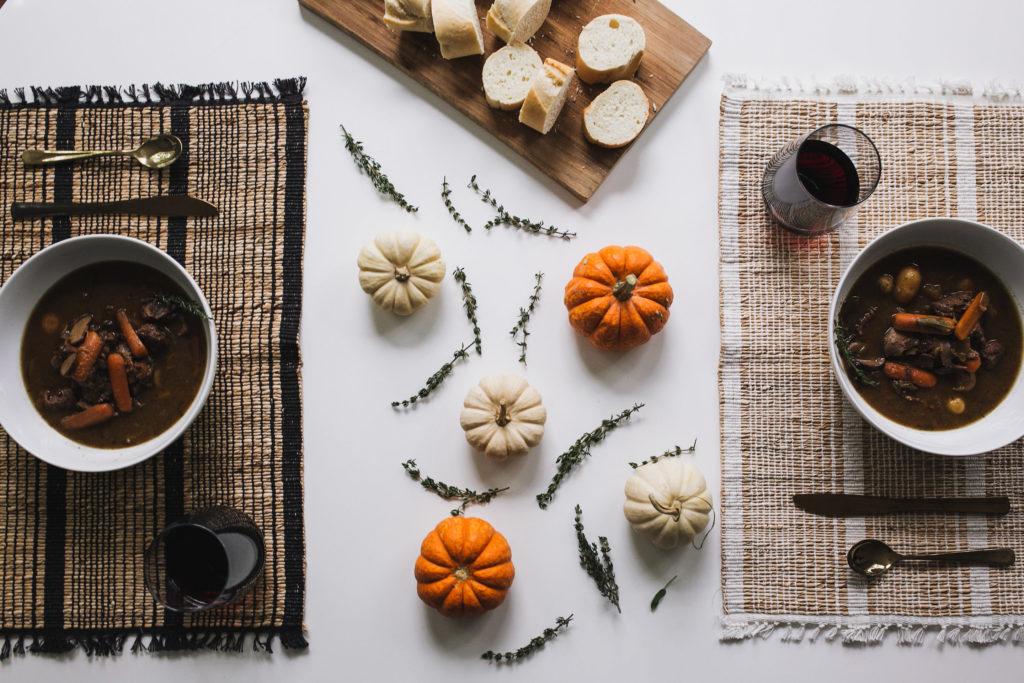 I have a few go-to recipes I make on repeat during fall/winter in my house. Boeuf Bourguignon is one of the few that is on heavy rotation purely because I love the process of making it, my husband thinks it actually tastes good and I usually make a giant pot so that it lasts us all week (which means less cooking for me). Since returning from our trip to France and the cold weather arriving, I have been craving this dish even more than usual.
Boeuf Bourguignon is much more than beef stew with a fancy name. This dish is so wildly loved because of the layers of flavor that build over time. Which means it needs time for those flavors to grow and meld together. So if you are looking to make this dish in a rush, you better think again. This dish only gets better with time, so patience is key!
As much as I love the process of cooking this French comfort good, it does take the better half of a day to get it right. So this time, I decided to break out the crockpot to cut down on the amount of time I had to babysit this dish. I was a bit weary that the crockpot wouldn't quite do the trick that my trusty Le Cruset does but I was actually very surprised to find out it was the perfect spot to let it simmer away without supervision. The French aromatics still fill the house and when you sit down to devour it, it is just as satisfying as when done in my Le Cruset. I even think Julia Child would approve.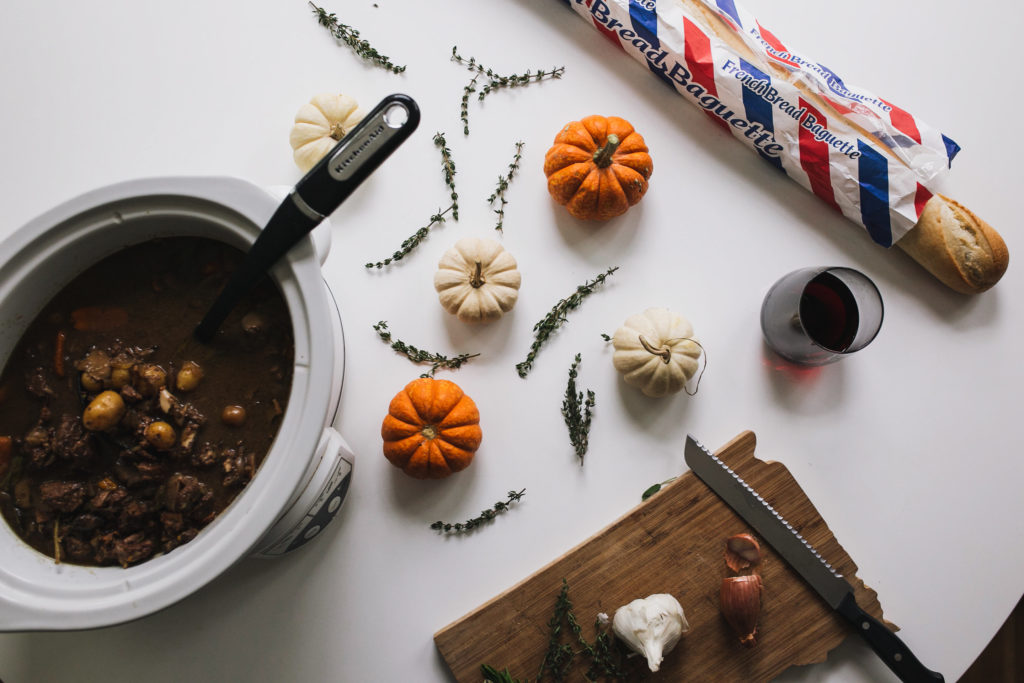 Find my Boeuf Bourguignon Crockpot Hack Recipe Below: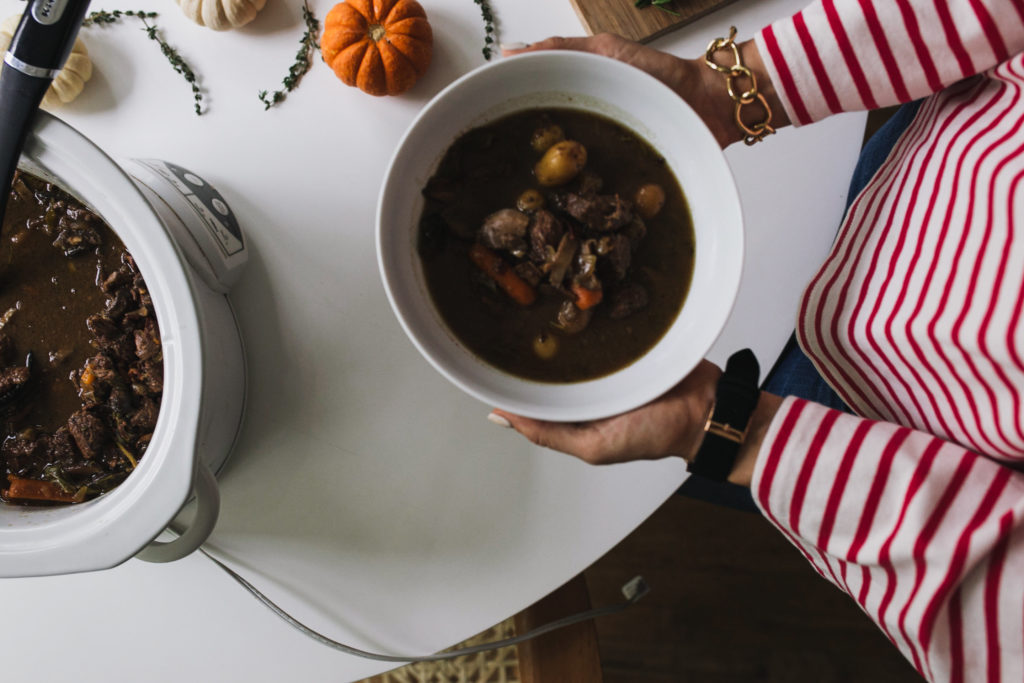 Ingredients:
Serves 6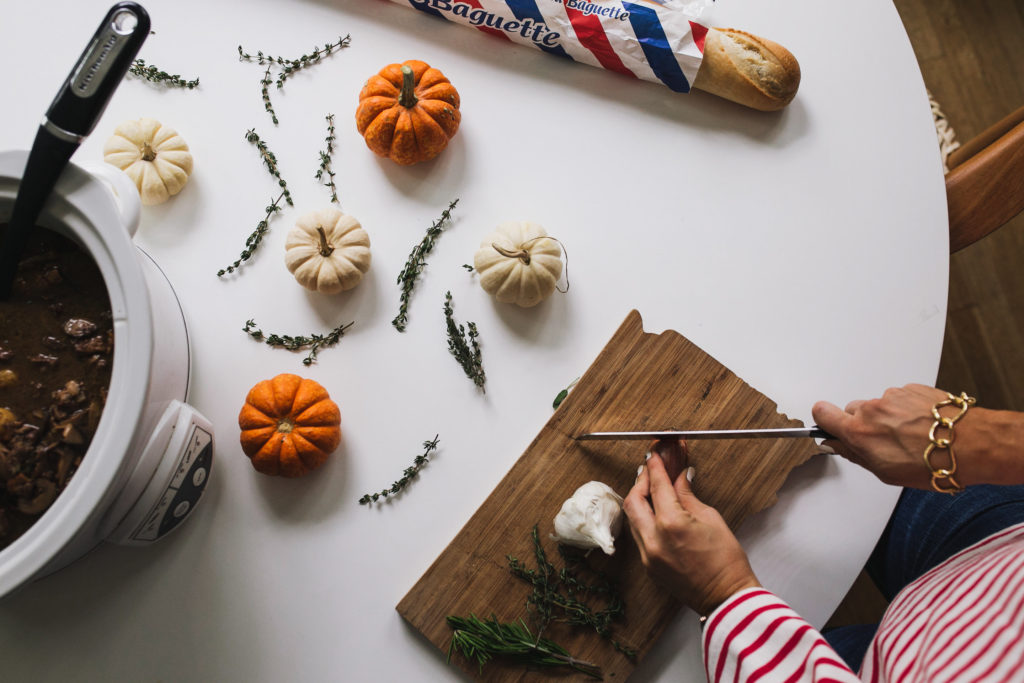 Directions:
Remove the beef from package and pat it dry. Then toss all the beef in a large ziplock bag with about a cup of flour and shake around until all beef is evenly coated with flour and set aside. Heat up a large saute pan and drop in your chopped bacon until it is browned. Remove and set to the side. With remaining oil in pan, place beef chunks so each piece has room to sear. You might need to do this in two to three batches. Once all beef is seared on each side, place beef in your slow cooker and pour in beef stock and red wine. Deglaze the pan with 1/4 cup of the wine. Scrape the dark glaze and any crispy bits from the bottom of the pan as the wine simmers. When the pan is clean, pour the wine over the seared meat in the crockpot.
Add in some of your reserved bacon fat and saute veggies and season with salt and pepper. Once veggies are cooked mostly through and are translucent add the garlic, herbs and tomato paste, and cook until fragrant. Transfer the vegetable mixture to the slow cooker and make sure you add another layer of salt and pepper for seasoning. Saute your mushrooms in the last bit of bacon fat, add salt and pepper to taste and reserve.
Make sure you have enough liquid to cover 3/4 of the ingredients. If you need more, add in wine or beef stock and be sure to add in more salt and pepper as well. Set your slow cooker to low and let it go for 6 to 8 hours. In the last hour add in the bacon and mushrooms.  Then ladle it up and enjoy! Top with a sprig of rosemary, some crusty french bread and a nice glass of vino!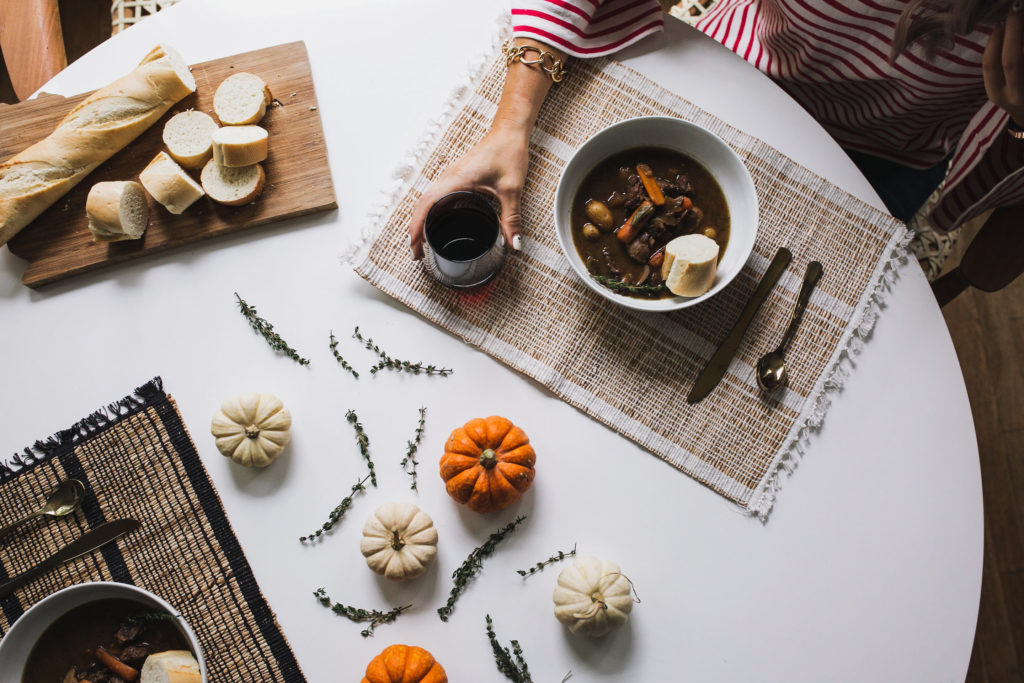 Pairings:
Pairs nicely with a toasty french baguette. Try smearing roasted garlic on your bread with a little butter and flake salt.
Wine Pairing: Tis the season for Beaujolais! Keep it fun and very Francais with this red wine pairing with you can find at Giant in the month of November.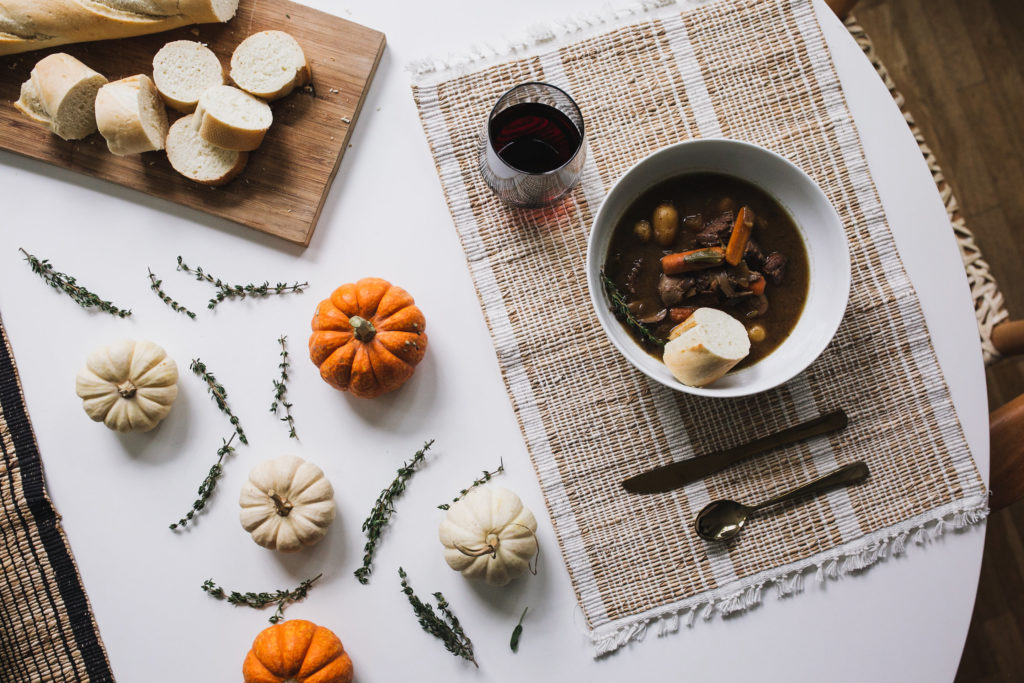 This post was done in partnership with Peapod Delivers. The recipe, words, and opinions are all my own. 
Photos by SloDak
xo
Sarah