I got the baby blues and 5 things I need to get over …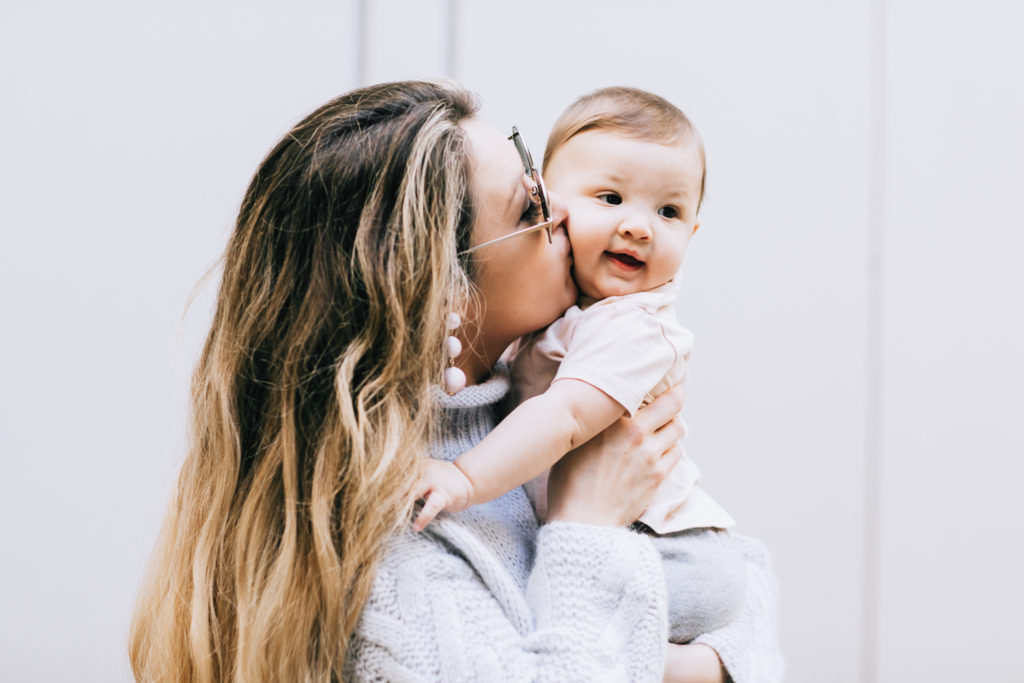 I am very thankful that I never suffered from post part depression. I have had a few friends who did and of course read up on it before pregnancy in fear I may develop it. It's a very common, real and  difficult thing, especially since the very first few months should be some of your happiest moments ever.
I will say that I have had some baby blues simply created from my new found role as mom. It's THE most, BEST, amazing role to ever take on but being a "Mom" and the caretaker of another human being, well it's flat out hard. It's A LOT of stress! Imagine loving something so much, yet fearing for their well being at all times.
Yes, I may be a bit of a worry wart for those who know me well, but it's all good intentions. And because of that I wanted to share a few things that I have learned along the way now that baby girl is almost 9 months old to help any new mama's or pregos to digest before they fall in to the light baby blues like I did.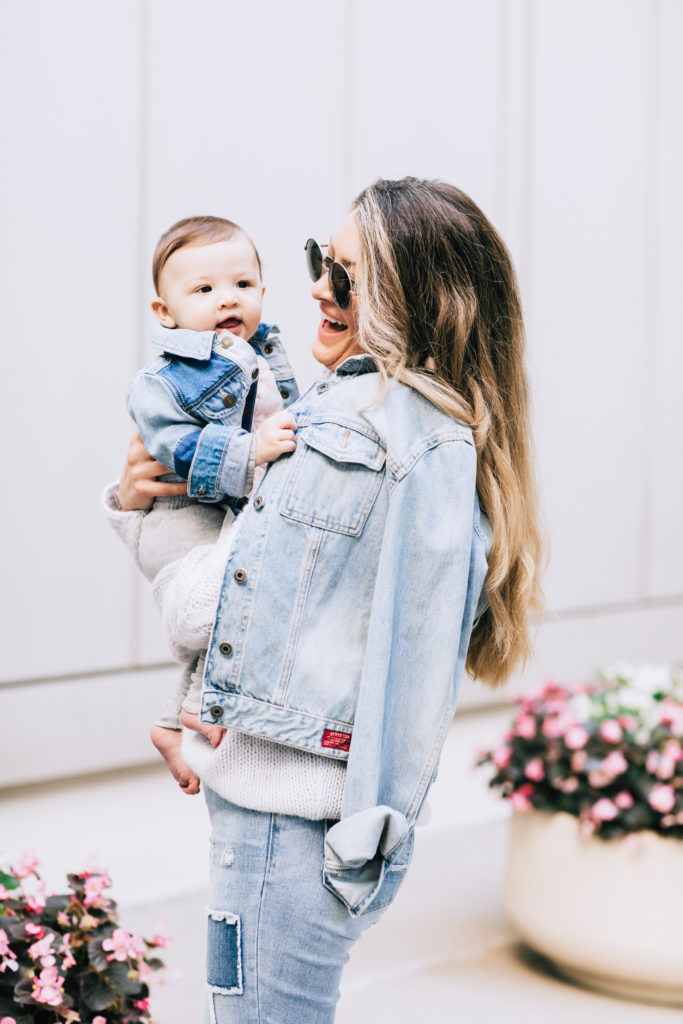 Do NOT EVER compare your after body to any other mother's post-partum body. I fell waaaaay too victim to this following other mommy accounts on IG and would wonder each night why I hadn't dropped the weight. We all have different body types and recover on our own time. I am still 10 lbs over pre baby weight and have stopped comparing myself and simply continuing on my path of health and wellness at my own rate. I mean come on, I just popped out a human being, I should cut myself some slack.
It's OK to be utterly, completely exhausted. I have 2 full time jobs. Mom is my first job and area visuals is my second job. Oh and then I'm a blogger. Does wife count? Because as of lately that job has taken on a lot more since baby. Two cups of straight black coffee doesn't cut it anymore. Excuse my messy hair, half assed make up and baggy eyes. Deal with it.
Stop worrying what others think! Woah. So this is something I'm still working on. I was at lunch the other day at a place that looked very kid friendly. Long story short, Adaline was teething and being abnormally fussy as we sat next to an overly botoxed 50 year old woman and her maybe 80 year old husband. She was rolling her eyes and making comments about my parenting under her breath until my husband accidentally knocked over her tortilla basket as he left the table with baby in hand and she flipped shit. Like. I think she thought he had real koodies because she straight vomited in her mouth at the sight. We were all babies at one point, right? Because I can't afford 24/7 care, my husband and I are not allowed to enjoy our time out with baby? Ok. Obviously still upset about this situation, clearly, but this has helped me cope and learn that there are just straight up jerks out there. Who cares. I'll never see you again. Bye Felicia.
Fussy baby? Adaline was bit colicly up until 3 months and then from 3-7 she was an angel. In fact, I felt bad for other mothers as I watched Adaline nap, eat, sleep and sit up playing so well behaved. Well … that all changed around 7 months. The teething took a turn for the worse. I can't change a diaper with out signing a song while holding my phone up in the area for her to try and grab. I went from saying "I will never let her play with my phone" to Sesame Street's "what's the number of the day" on repeat. Point being. Every baby is different. Every baby developes differently, and as you should never compare a mama's body as stated previously, you should never compare a baby.
Now this may not relate to everyone, but I've got to tell you … since having a baby my relationship between my husband and I has never been more difficult. We never have time for each other as we both work and come home to take care of our numero uno, then once she is asleep it's clean, clean, clean, clean … sleep. Repeat. Yup. So with all that comes frustration and unf. arguments. Remember, you two developed an amazing little human being. TOGETHER! Together, you can get through the hard times and savor the best.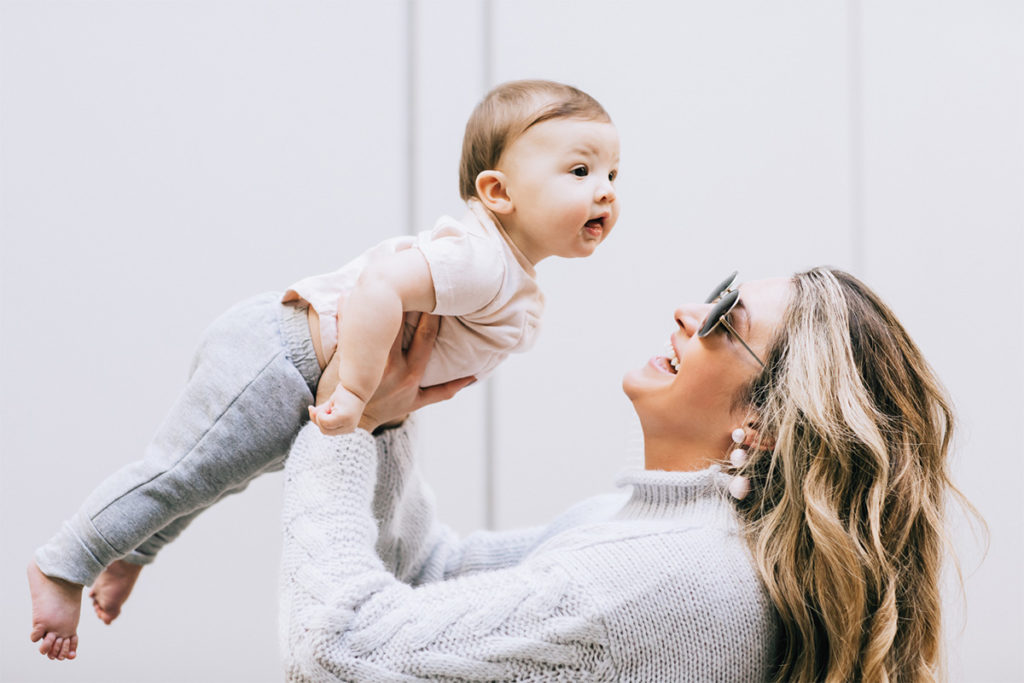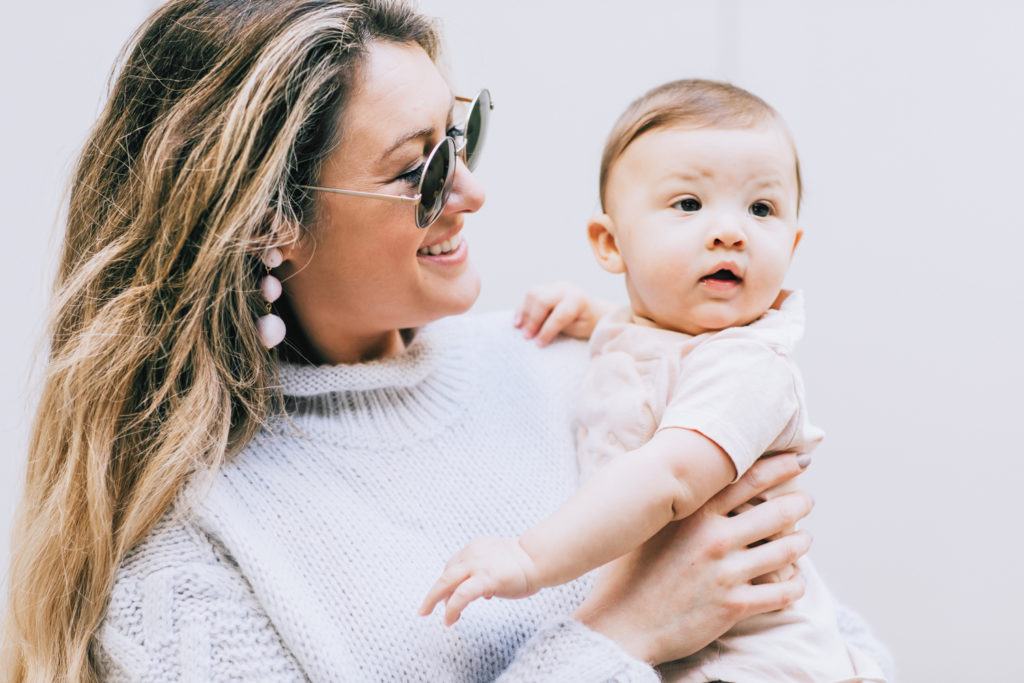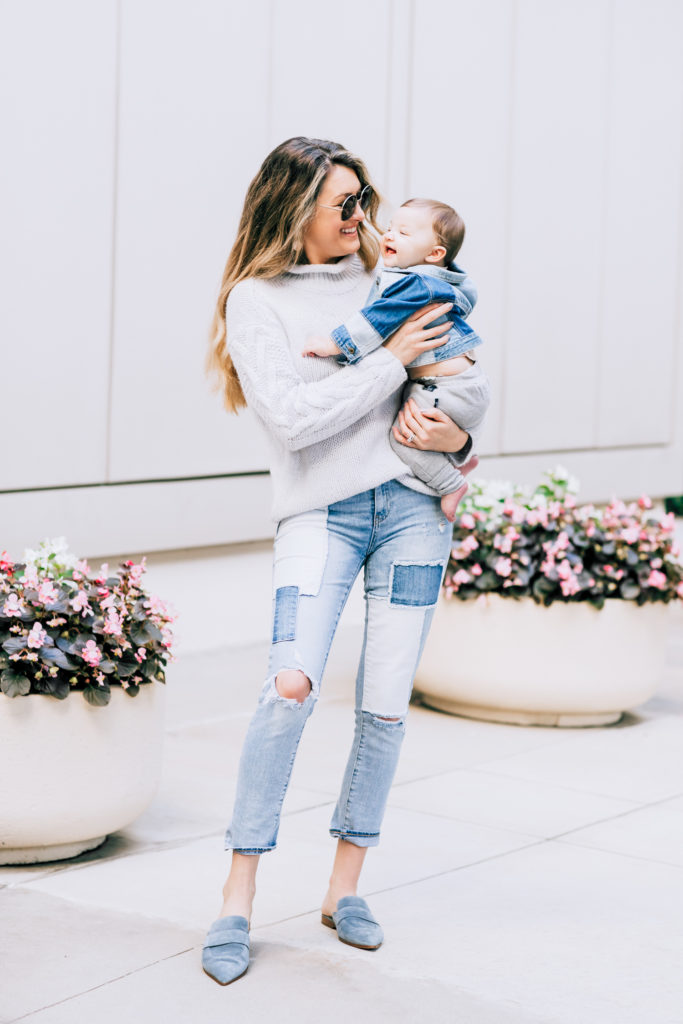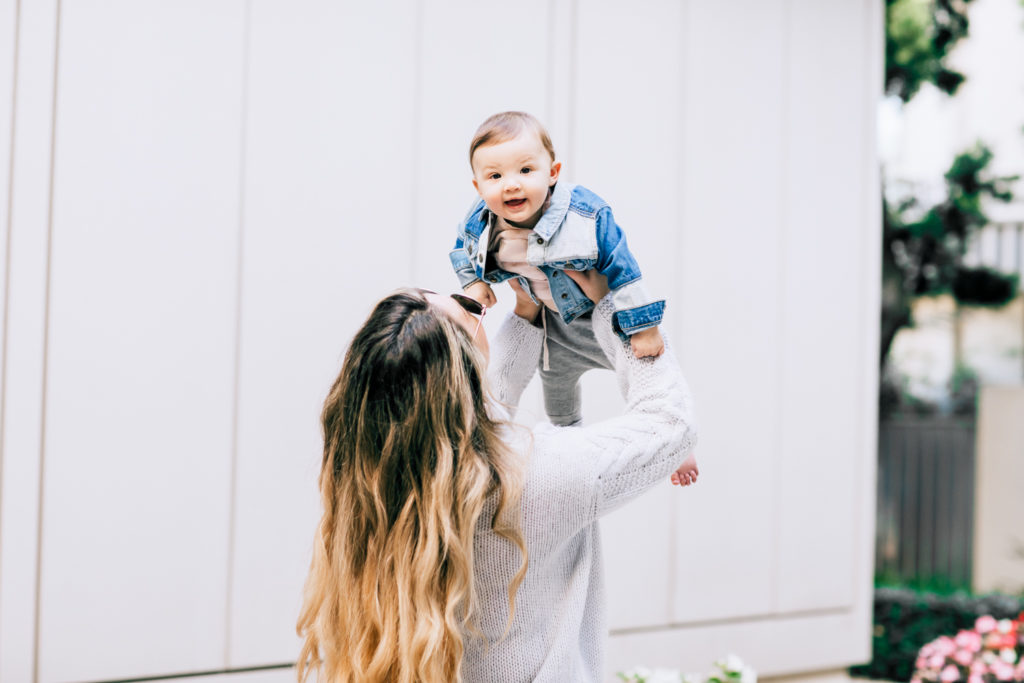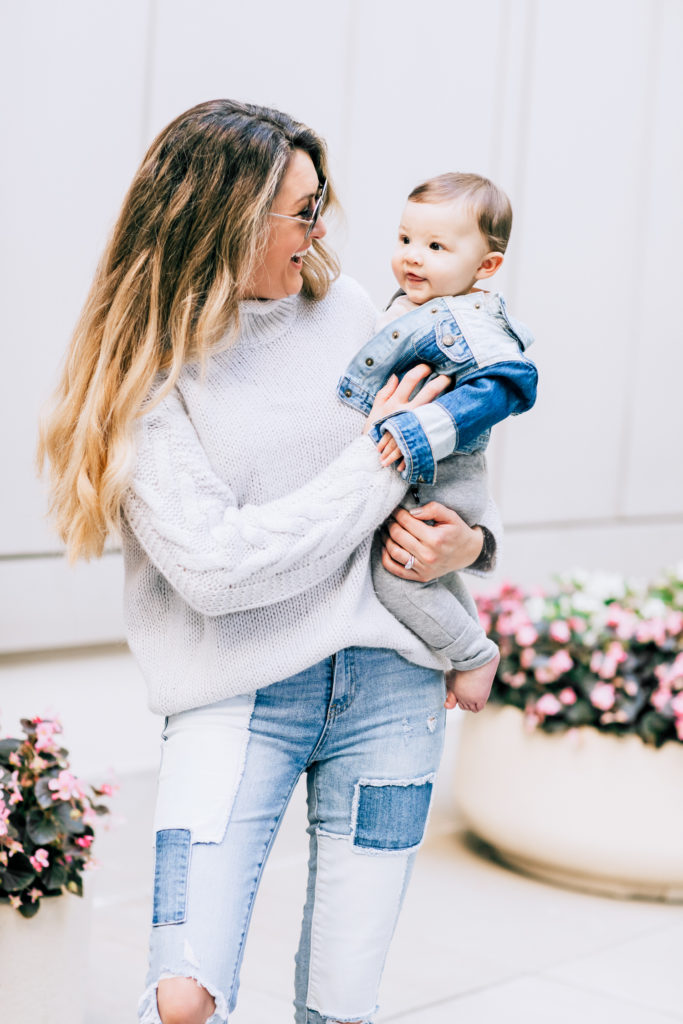 Mama is wearing: Jacket (old; Guess); Sweater (Barbour); Denim (Gap); Shoes (Franco Sarto)
Baby is wearing: Jacket (Gap); T Shirt and Leggings (Hux Baby)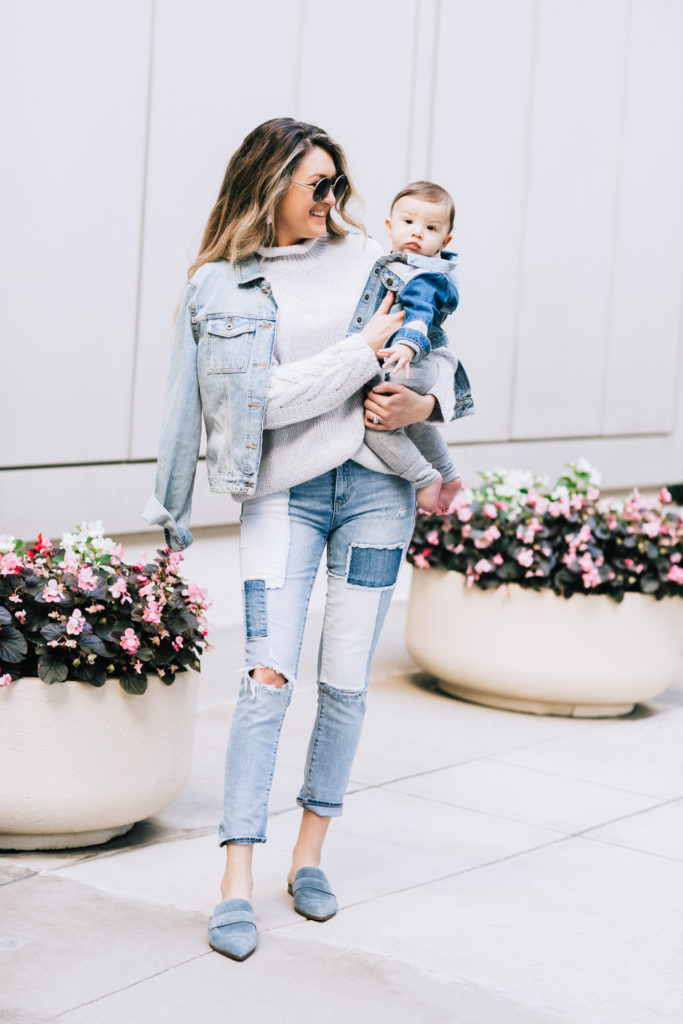 I could probably go on ladies, but I wanted to keep the list short as my explanations were long! Being a mama sure ain't easy, but it is 100% THE best and most rewarding job ever.
xo
Michelle