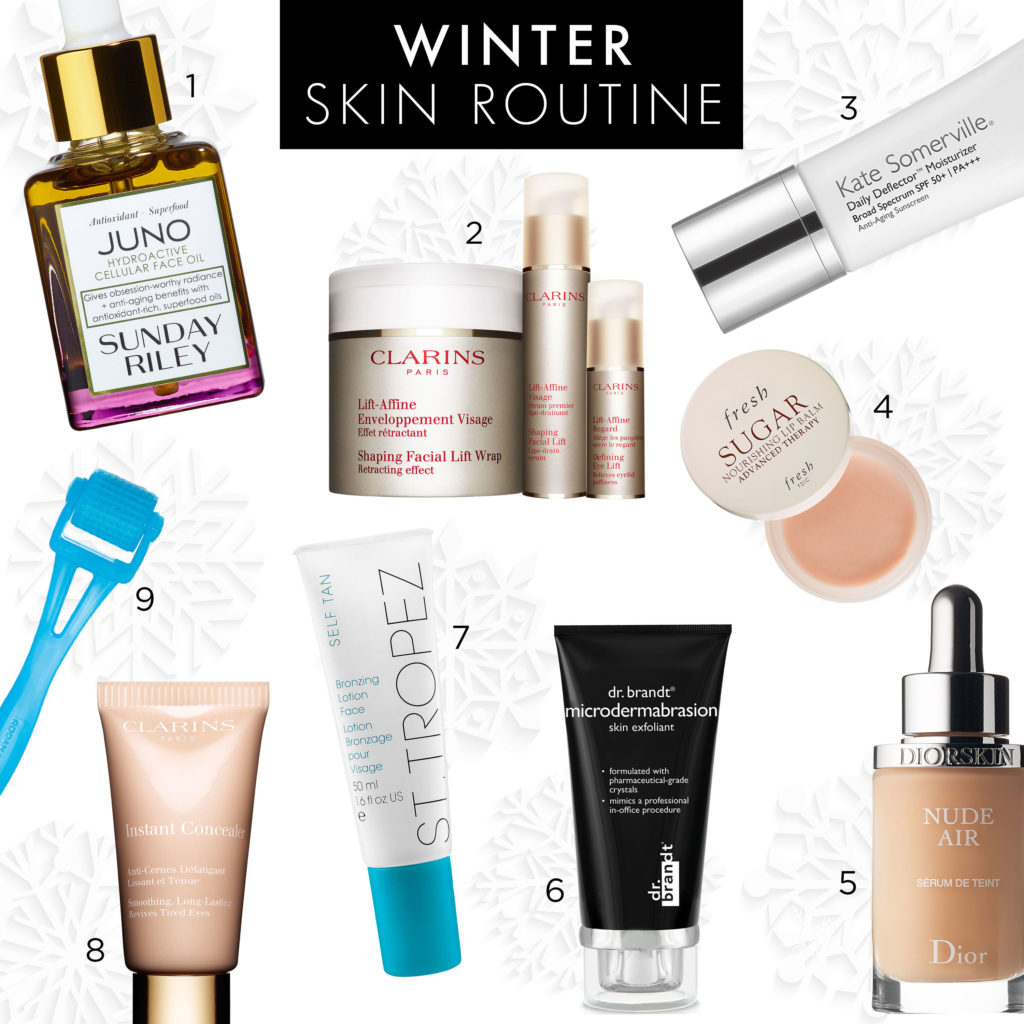 The winter months bring harsh, cold weather and this brutal season can bring damaging effects to our skin. While it may be tempting to hibernate all winter, another major culprit credited with drying out our skin is the central heating systems keeping our toes warm inside. In order to make sure our readers take the necessary precautions to protect their skin, we have rounded up some of our favorite products to help you stay glowing all winter long. 
Shown above is a collection of our favorite products that will help you take special care of your skin this winter. My favorite product right now is the AMP MD Derma Roller by Rodan + Fields. This anti-aging tool may look strange and a bit scary at first but this little gadget does all that it says it will and then some!!  Now if I could just find a product for lightening age spots, I'd be set! Another favorite is Kate Somerville's triple duty moisturizer. This Daily Deflector Moisturizer combines sun protection and an anti-aging formula that is perfect for normal to combination skin types. The moisturizer features a new "reservoir" system which ensures the moisturizer's ingredients stay where they belong- sunscreen on the surface and hydration underneath your skin. Your skin will be thanking you for adding this daily moisturizer to your routine!
Just as important as mixing up a wardrobe every season, every girl should also mix up her beauty routine. If you want your skin glowing through winter, try products like Sunday Riley's Juno Hydroactive Cellular Face Oil. This sulfate-free face oil is made from a blend of non-fragrant, superfood seed oils to treat dry skin keeping it protected during the chilly months. 
In addition to these at-home products, every girl should treat herself this holiday season to some professional skin care. Since everything we do affects our skin, regular facials prepare our skin for a change in season. So do your skin a favor this season, pamper yourself and try out some Fifty-Two Thursdays approved products to keep your face feeling fresh and hydrated. 
Juno Facial Oil: Super hydrating and fights off signs of anti-aging with it's antioxidant rich formula. We both love using this oil before bed each night because when we wake up our skin is hydrated and radiant! Perfect in those dry winter months!
Clarins Shaping Facial Lift: After devouring way to many bloat worthy foods this holiday season, its time to refine our bodies and our faces! This mask and serum by Clarins helps clear up any facial bloat you might have going on, perfect to use before NYE or any night out for that matter!
Kate Somerville Daily Moisturizer: This moisturizer is a go to in Sarah's beauty routine, its light, hydrating and keeps your skin plump and primed for any makeup that will soon be applied.
Fresh Sugar Lip Balm and Scrub: Dry winter lips are the worst! That is why using a lip scrub is super important in the dry/cold months to slough off all the dead skin that is lingering around. This scrub and balm will keep your lips buttery smooth and ready for smooching come NYE!
Dior Skin Nude Air: Forget about all the other foundations out there because this stuff is the real deal! It goes on as thin as air but keeps your skin super hydrated and has the best coverage we have seen in quite a while. If you hate cakey makeup or despise feeling like you are wearing makeup at all, then I highly recommend trying this foundation!
Dr. Brandt Microdermabrasion: Exfoliating your skin is always important but in the winter, it is essential to get that glowing skin we all want so desperately! Try exfoliating with a microdermabrasion paste like this one at least twice per week.
St. Tropez Bronzing Face Lotion: If you love the way your skin looks with a tan, then
Clarins Instant Concealer: This brilliant concealer instantly erases any signs of fatigue under your eyes. It brightens and lightens up any darkness and doesn't cake up in any creases you may have under your eyes. Love this stuff!
Rodan + Fields AMP MD Roller: If you are looking for younger skin sans wrinkles, fine lines or crows feet then take a walk on the wild side and try this derma roller. This noninvasive tool uses teeny tiny needles to prep the uppermost layer of the skin. It creates many tiny channels to condition your skin more effectively and help your products to work a little harder for you. The result…firmer skin, less visible lines and pores, decreased appearance of wrinkles. Think of it like an aerator for your skin! Roll this baby over your skin a few times a week before bed and you will start seeing your smoother skin in just two months. It was even voted the "Anti-Aging Must Have" by the Today Show! It is indicated to be used with Redefine regimen by Rodan + Fields. (Contact R+F Rep, Sarah Becker for more info)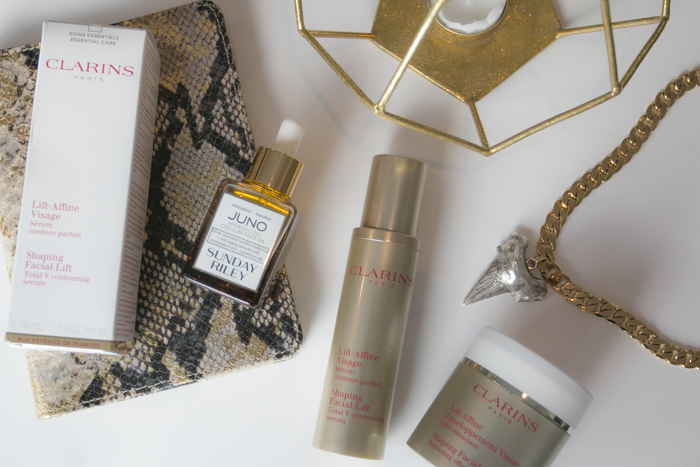 Cheers!
Sarah and Michelle