Girls Who Grill
Everything tastes better when its cooked on the grill. That's a fact. So if my husband and I are cooking up a nice cut of meat, you can pretty much guarantee that we will be cooking it on the grill, no matter the season.
I usually leave the grilling to my husband, he was raised on a cattle ranch, so meats and grilling are kind of his thing. But when I created this video, it was time for me to take charge, since he so graciously filmed it for me (thank's babe!). And since I was manning the grill, that meant that Mexican would be the theme of the night and that tacos and street corn would be on the menu.
We spent the weekend on the family farm, so I thought I would take over and make dinner for my family and friends that evening. First, I whipped up some guacamole for everyone to snack on while I figured out how the heck to turn the grill on. Then it was time to prep the lime jalapeño steak tacos and Mexican street corn. We finished off the meal with Grilled Chili Pineapple slices and washed it all down with pomegranate and mango margaritas that our friends brought over!
We enjoyed our meal al fresco with a view of the horses grazing and the lightning bugs flickering. Things that are so simple but that really take me back to my summers on the farm as a kid. I wouldn't say I'm a total grill master after my experience manning the open flame but I think I could sizzle up a decent dinner if I was in a pinch! Find my recipes below and be sure to click on the recipes titles to order your groceries through Peapod. It makes entertaining so much more enjoyable when your groceries are delivered to your doorstep!
Guacamole – Serves 4
6 ripe avocados
1 jalapeño
1/2 onion, finely chopped
3 garlic cloves, finely chopped
1/2 cup of fresh cilantro, chopped
2 limes, juiced
salt to taste
Mix together in a bowl and stir until smooth with some chunks. Salt to taste. Add chips!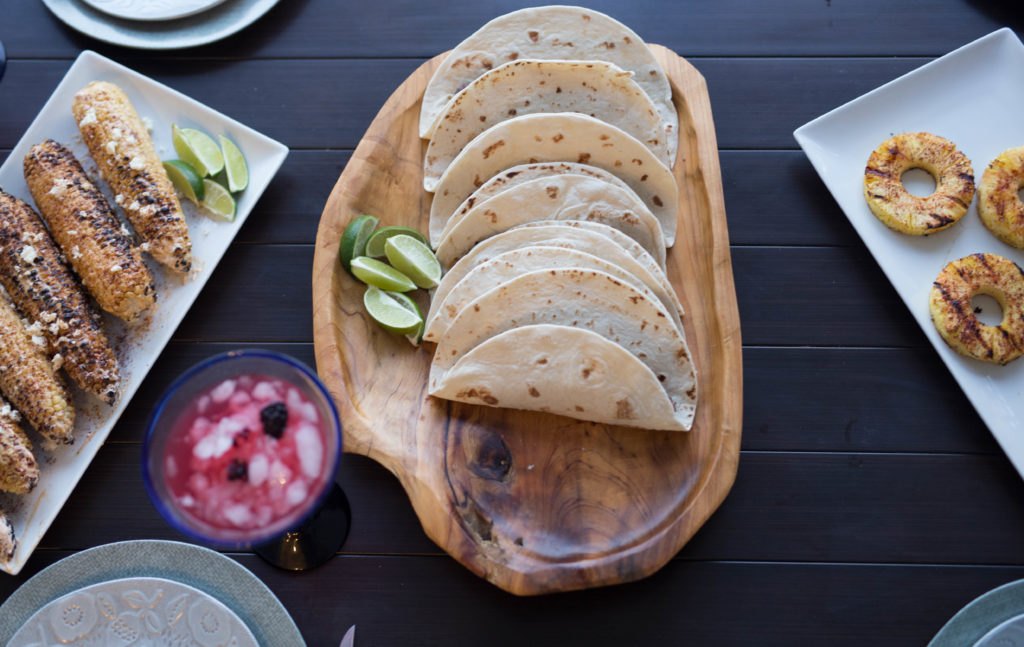 Grilled Skirt Steak Tacos – Serves 4
Jalapeno Lime Steak Marinade
1 medium jalapeño, thinly sliced
2 garlic cloves, finely chopped
1/4 cup coarsely chopped cilantro
1/4 cup fresh lime juice
1/4 cup olive oil
1 teaspoon kosher salt
1/2 teaspoon freshly ground black pepper
3/4 teaspoon chili powder
1 pound skirt steak
Mix ingredients together and cover steak in marinade. Cover and let it marinate overnight. Once ready to grill, let come to room temperature and remove excess marinating liquid. Grill steak over direct heat until char lines appear, and meat is done to taste, 3 to 5 minutes per side.
Green Salsa
1/2 onion
1 jalapeno
2 cloves garlic
1/4 cup cilantro
1 lime, juiced
Salt and pepper to taste
Roughly chop all ingredients and mix together.
Taco Assembly:
Soft flour taco shells
Skirt steak cut in thin slices on the bias
Green Salsa
Warm the taco shells up in a pan or in the microwave and then start assembling your tacos with skirt steak and the salsa. Add on any additional toppings such as sour cream or cheese.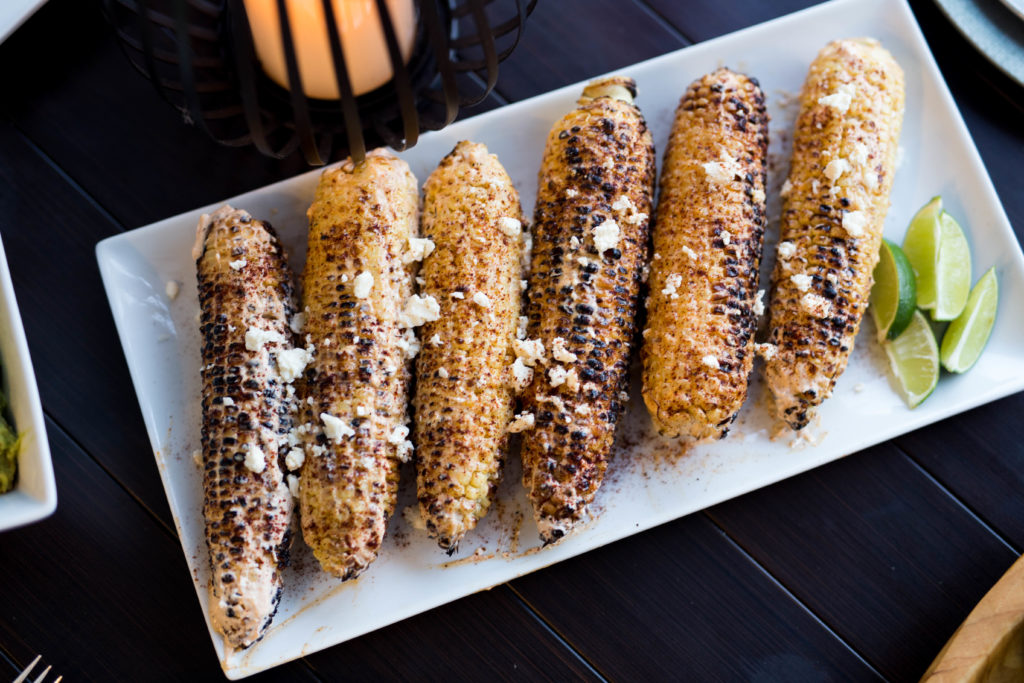 Mexican Street Corn – Serves 4
1/4 cup mayonnaise
1/4 cup sour cream or Mexican crema
1/2 cup finely crumbled cotija or feta cheese, plus more for garnish
1/2 teaspoon chili powder, plus more for serving
1 medium clove garlic, finely minced (about 1 teaspoon)
1/4 cup finely chopped cilantro leaves
4 ears shucked corn
1 lime, cut into wedges
Mix mayonnaise and sour cream in a bowl. Add in cheese, chili powder, cilantro and garlic to mixture and stir. Grill corn until cooked through and until it has slight char marks. Let corn cool for a few minutes before dipping the corn into the mixture. Spread evenly and sprinkle with additional cheese and cilantro. Serve with lime wedges on the platter.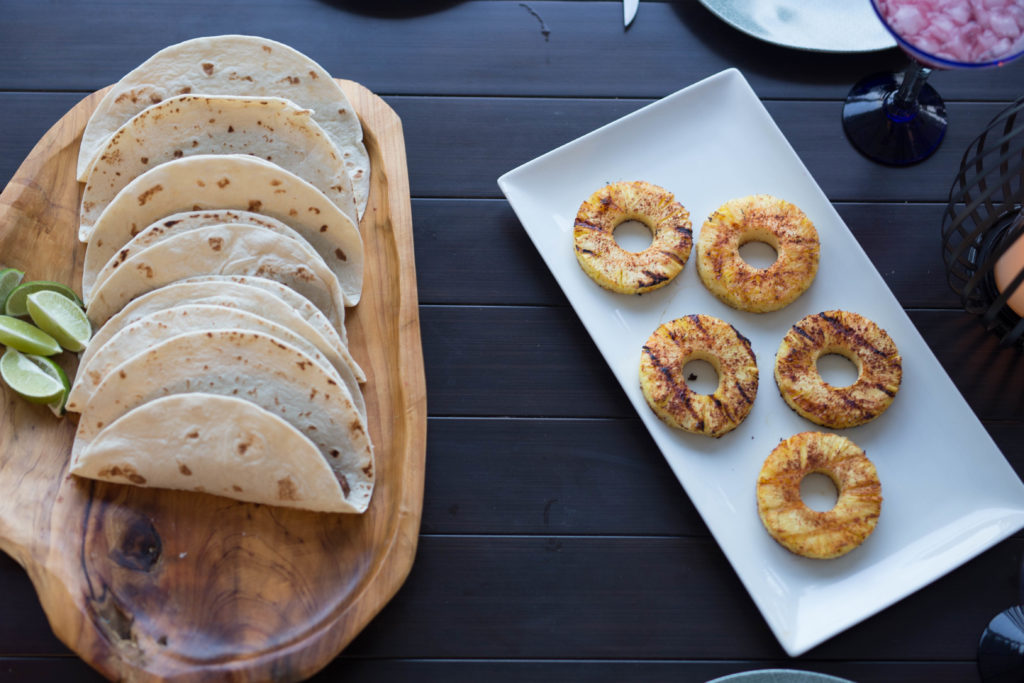 Grilled Chili Pineapple – Serves 4
1 pineapple cored and sliced into rings
1 tablespoon of sugar
1 tablespoon of chili powder
Slice pineapples into 1/4 inch rounds and sprinkle with sugar and chili powder mixture on each side. Grill for 2-3 mins on each side and until you see grill marks. Then enjoy!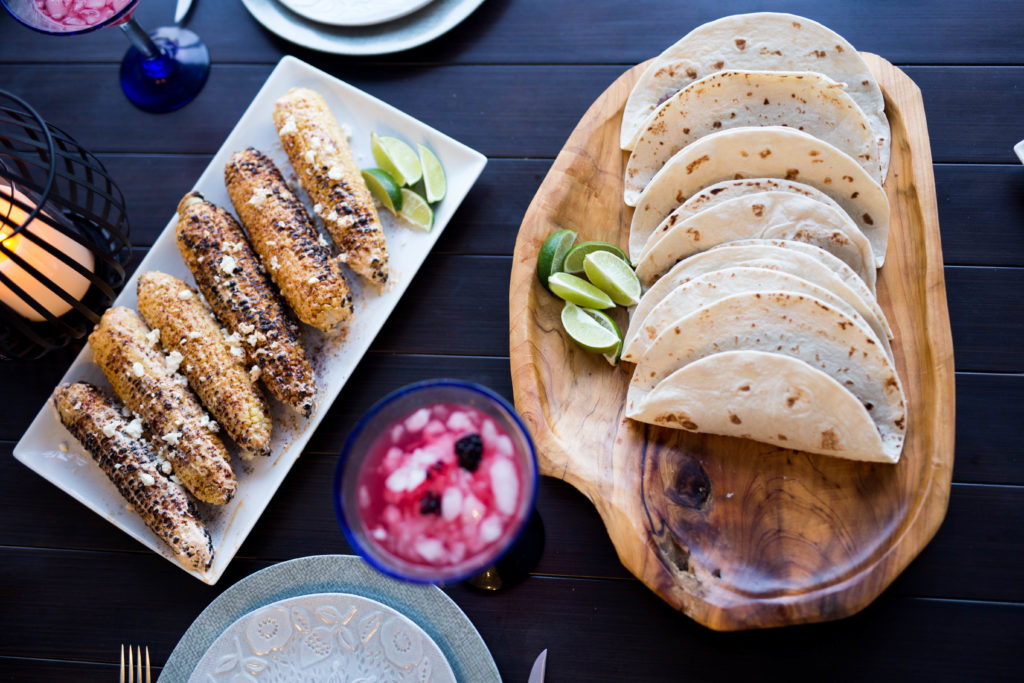 This recipe and post was done in collaboration with PeaPod Delivers. All recipes and thoughts are my own.
Happy Grilling!
xo
Sarah