Hello Third Trimester!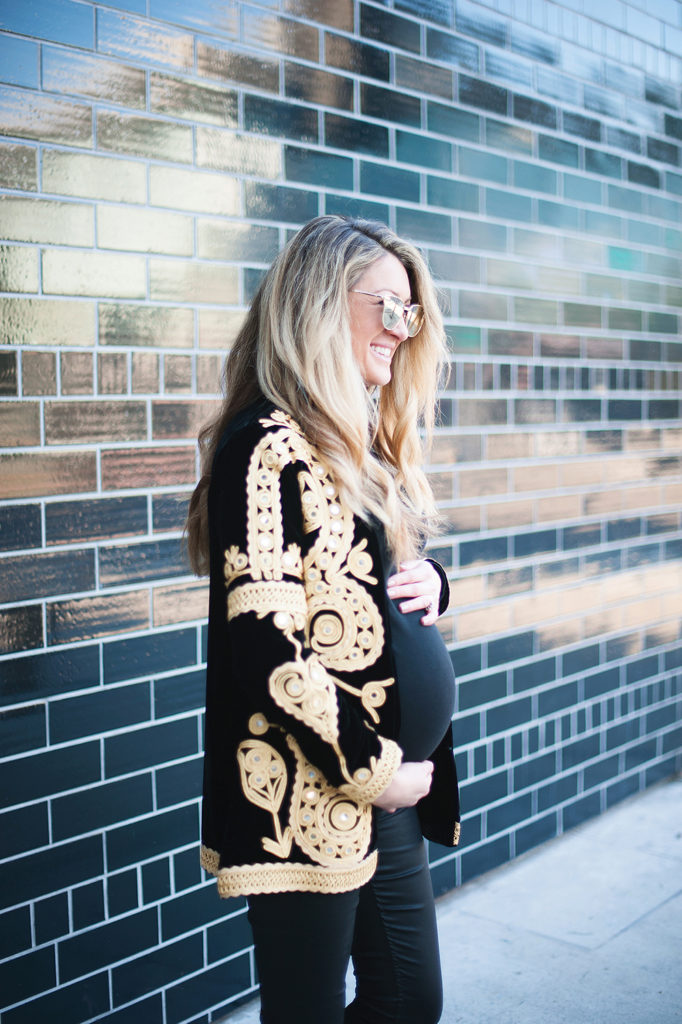 I'm in the final stretch, the trimester that ends with meeting my baby girl! I can't even begin to explain how excited I am to meet her, to hold her in my arms and kiss her tiny little nose. This journey has been an adventure to say the least. I have had plenty of highs and of course some lows which I wanted to share with you. Now of course my lows aren't anything really to complain about because there is nothing I wouldn't do for this little girl, but everyone has got them, right?
I just recently had my baby shower back home in DC, and the question I was asked more than I could count was "How are you feeling?". My reply to all was that I couldn't complain. I don't always feel great, that's for sure but it's hard to complain when you know what it's worth. That and boy have I heard some terrible pregnancy stories. Friends that couldn't keep a meal down their entire pregnancy or those dealing with preeclampsia, swollen ankles, diabetes, bleeding gums, the list goes on. This week I go in for my glucose screening to check for diabetes, but knock on wood things have been good so far!
With all that being said like mentioned earlier, "I can't complain," but here are my 5 highs and 5 lows that I have experienced up until my Third Trimester. Now let's hope this ship keeps sailing on smooth, calm waters. For those expecting, I would love to hear your highs and lows! What challenges have you faced or what is your favorite thing about being pregnant??
Highs
Feeling her kick! And she kicks a lot. I try to follow her little motions with my hand in hopes she knows I'm there.
Planning the nursery. By all means, her room is no where close to being ready but the process and planning has been so much fun and such a memorable experience seeing it all come together.
In chill mode. I believe that if you are stressed than your baby feels that stress and comes out in a stressed environment. Because of this, I'm in complete chill mode. If you know me (especially my co-workers and hubby) then you know I easily stress out and get worked up very quickly. However, knowing my new priorities, I have entered a new state of zen.
My Marriage. I swear my husband and I have never been in such a better place in our relationship. I can't recall the last time we fought and we just seem to work better together. Maybe because we know our lives are about to change forever and we are embarking on this new chapter in our lives, not alone but together. As cheesy as it sounds, it's really magical.
Watching my belly grow. I remember when I was about 14 weeks pregnant and wishing my belly would show a bit more instead of feeling just pudgy and fat. Now that I am at 29 weeks I have completely popped and actually feel like I'm bigger than some of my soon to be mama friends that have been cooking their bun longer than mine. But every pregnancy is different and I have loved watching my body grow as my baby develops.
Lows
Heartburn! It has been the worst. I started my second trimester sleeping with 2 pillows under my head to combat the reflex to now fully propped up at a 75 degree angle just so that I can sleep at night.
Restless Nights. The heartburn doesn't help in this matter, but I don't get much sleep now a days. I get up to go to the bathroom every 2-3 hours and toss and turn what feels like every 30 minutes because I can't seem find a comfortable position with the million pillows I have stuffed under my head and in between my legs with what feels like a basketball in my belly.
Baby Brain. I've read that baby brain is really due to lack of sleep but it feels like my baby girl is taking some brain cells away from me. Hoping she gives some back in the end, for the time being I'll continue to struggle with my choice of words and in complete sentences. Any grammatical errors found in this post just blame it on my baby brain 😜
Choosing a name. I never knew why some individuals kept the baby's name a secret until birth. It's not just meant to be a fun surprise but to keep away from any negative feedback and comments. We were pretty set on one name, but after a few un wanted reactions we decided against it. "It's a girl, right?", "That's the same name of a really annoying girl at work" or "Oh, that's different". So we are going to stay on the low low till she arrives.
Getting Dressed! I have become such a homebody. Not necessarily because I don't want to be in public or out and about, it's truly because I would prefer to be in my cozy pjs. I procrastinate each morning before getting dressed. The struggle of putting the clothes on, bending over to put shoes and socks on, all of it is no fun.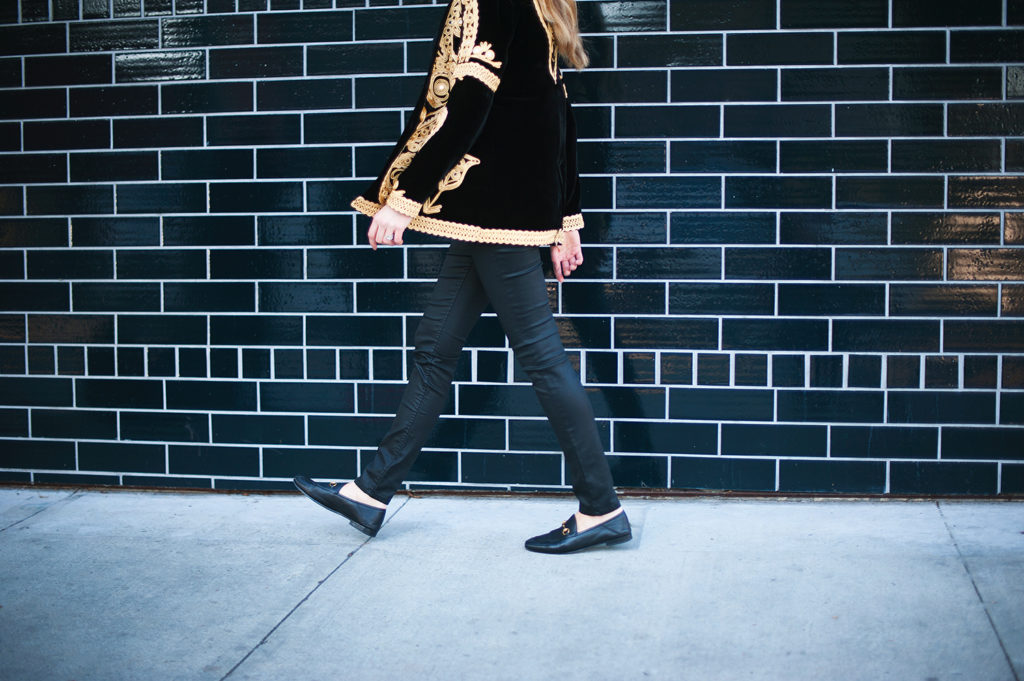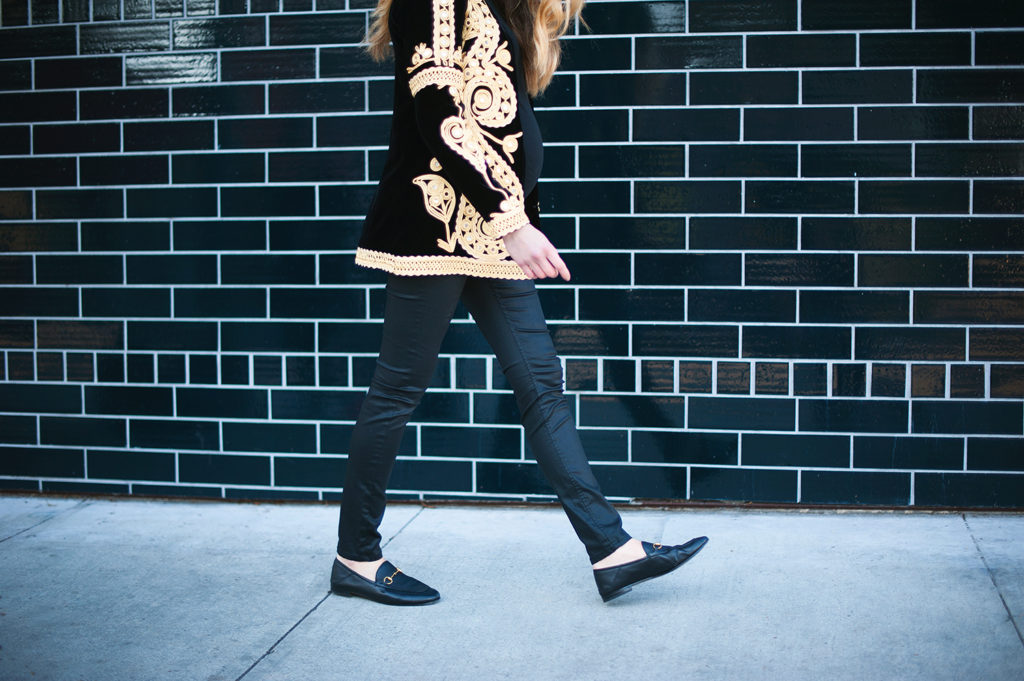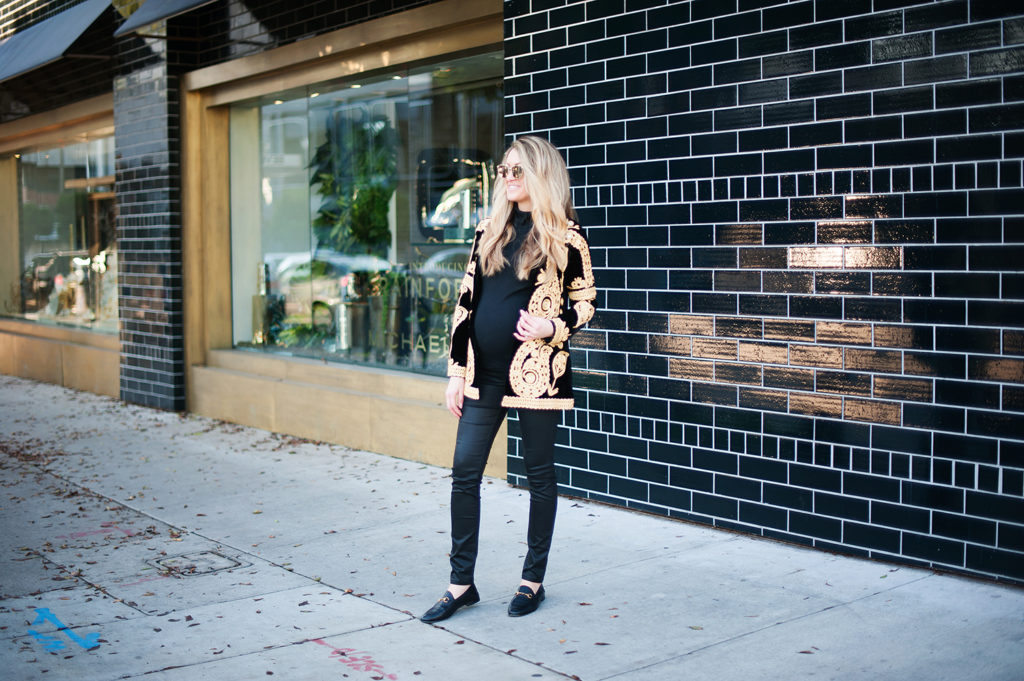 Wearing – Jacket (For Love & Lemons via Whiskey x Leather); Turtleneck (Cuyana; similar here); Pants (h&m; similar here); loafers (Gucci); Sunglasses (Le Specs).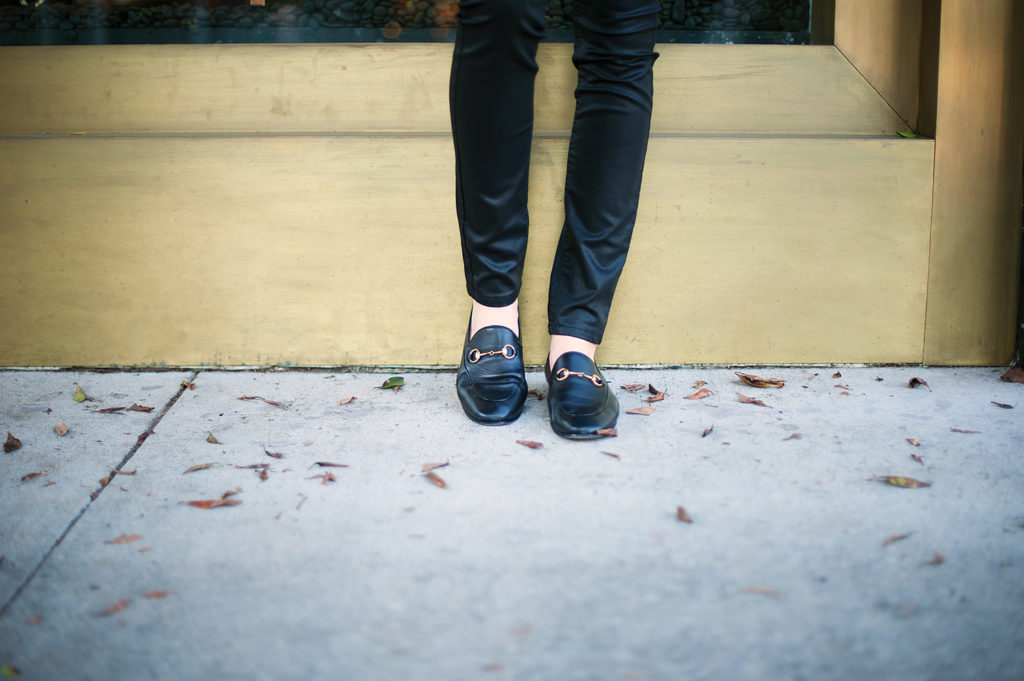 xo
Michelle
Hair & Makeup by Morgan Yates, Photos by Laci Havens