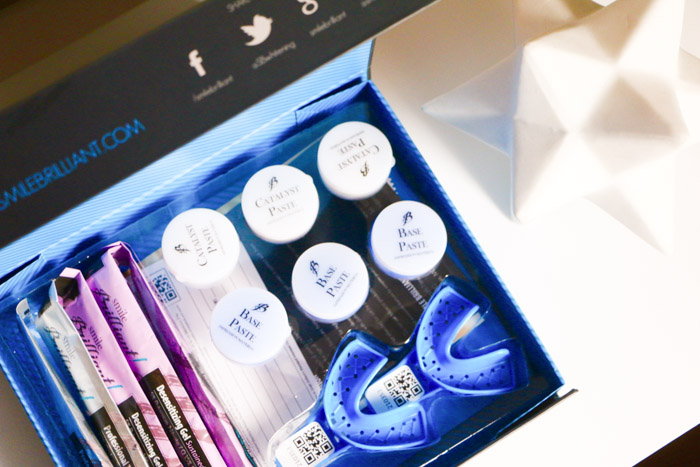 We all want the perfect, pearly white smile with the confidence to shine in every photo. Both being avid coffee and wine drinkers this seems far from realistic at times. We have tried store bought packages along with professional teeth whitening services with our Dentist but have yet to find a good balance. That is until we discovered Smile Brilliant, an affordable way to have your teeth whitened professionally.
The difference between one whitening gel to the next lies in the simple device holding the gel to the tooth. To achieve the results you are looking for you need a device that is custom to your own personal dental structure. And that is where Smile Brilliant excels. They have come up with an efficient way to to create custom fitted trays to hold the whitening gel as close to your teeth like wine to your lips. Speaking of wine… we tried to lay off of the wine and coffee during the first few months to maximize our results. A straw comes in quite handy as well 😉
We created a quick video to show you guys the convenient steps to making your own imprints and using Smile Brilliant.
Now to get that pearly white smile, we must remember that "NO dentist or teeth whitening brand can guarantee a bright white smile including Smile Brilliant". What they can do is guarantee a stain free smile… exactly how your teeth were born to shine.
The natural color of a tooth lies in the dentin which is right below the enamel, our natural protective coating. The natural color of our dentin differs per person. Most of us have off-white, greyish or yellowish coloring, unfortunately very few of us have naturally bright white dentin. In conclusion, whatever the natural color of your dentin is… that is exactly how your teeth will appear once all stains have been lifted.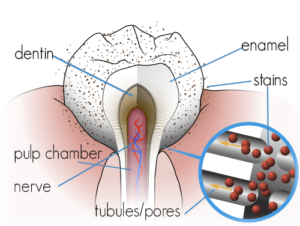 So now that we understand the process and the expected results, let's talk more about the benefits of Smile Brilliant! The maintenance is super easy which is always helpful in our busy lives. After using Smile Brilliant daily for about 1-2 weeks, anywhere from 1-3 hours per day, you will then only need  1-2 additional applications once every 3-4 months to remove any new stains. Your custom fitted trays will last for several years so all you really need to do is re-order the gel for as little as $8 a syringe. This means a lifetime of low maintenance, easy up keep, confident bright smiles.
Our first question when trying out a new product like this is… what are the side effects?? Don't worry, we did our research for you! Like all teeth whitening products, you may encounter both tooth sensitivity and/or gum irritation. Both are side effects to some degree however both can easily be managed. We used the desensitizing gel after each treatment which completely eliminated any and all sensitivity. It helps accelerate the rehydration process of the teeth after the whitening gel thus preventing and minimizing tooth sensitivity!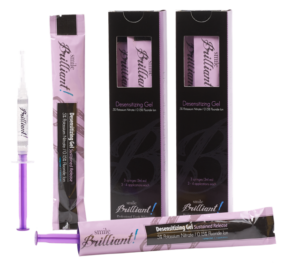 One thing we did notice during the process was small parts of the gum turning white. Naturally we freaked but don't fret, this is just part of the gum tissue still attached to the healthy gum and will go back to normal shortly. You can read more here. There are risks for using teeth whitening below the minimum age so if you have questions you will find all your answers on their page.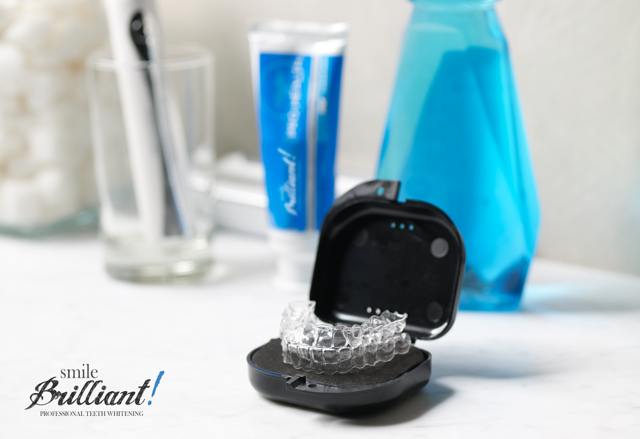 Before and After Pics
We are excited to offer our readers 5% off to try out Smile Brilliant yourself, using the referral code fiftytwothursdays. And even more exciting news… one lucky reader will have the opportunity to win their very own at home, professional, teeth whitening kit themselves! Simply follow the requested steps below for the chance to win and don't forget to sign up for our weekly newsletter where we will be announcing the winner next week. Good luck!