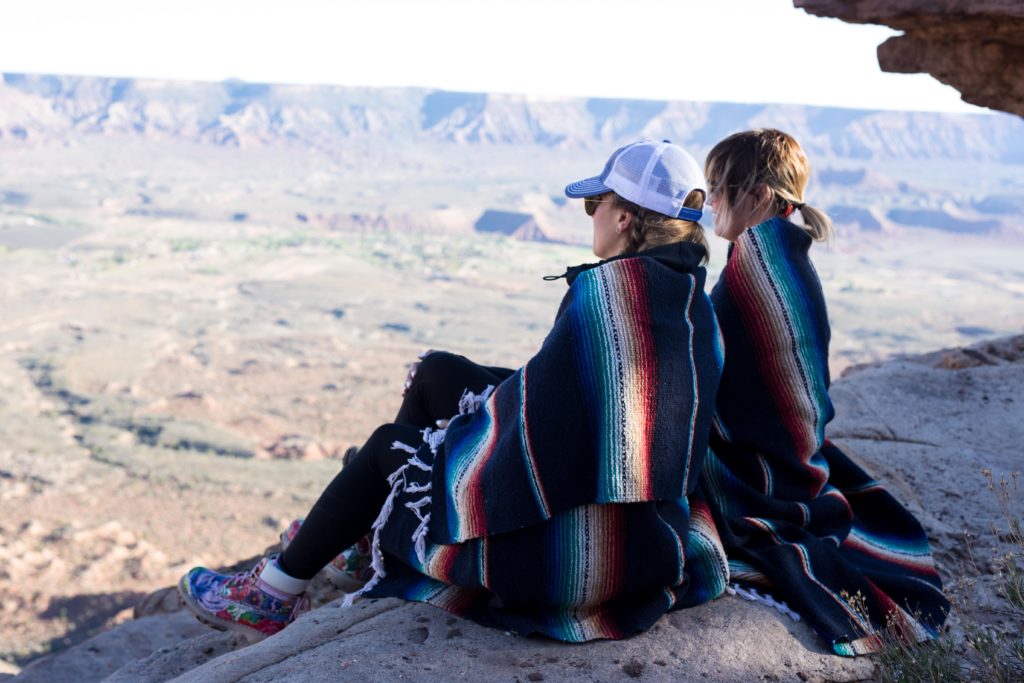 All fun. No Stress. And more importantly, no boys. That's what a girls' getaway is really all about anyway, am I right? If "turning up" is the last thing you and your girls want to do on your gal pal getaway, then Zion Nation Park in Utah might be the place for you.
Don't get me wrong, I'm all for a wild weekend getaway with my girls to Miami or NYC but lets be honest, two days is about all I am good for these days. I think as we all have grown up and gotten older, the club scene becomes less and less appealing and relaxing trips have become more our cup of tea. Ladies in your thirties, you feel me.
While Utah might not come to your mind immediately when planning your next girls trip, it should be a place to consider if you and your girls appreciate the great outdoors. My friends and I are far from being hiking aficionados and we also wouldn't be pegged for the outdoorsy type either but we thought that visiting Zion National Park would be a nice change of pace for us and boy were we right. Not only were we in complete awe with the beauty that Zion brought but we were able to connect, relax and also had a little fun too. Here are my tips and tricks to get the most out of Zion.
Stay:
Springdale is a town in Washington County, Utah that is located immediately outside the boundaries of Zion National Park. Which is super convenient to people visiting the park for multiple days at a time. The town is full of gorgeous resorts, great restaurants and cute gift shops. It's no wonder why Springdale was named one of the 20 'prettiest towns' in the United States by Forbes Traveler.
We stayed at Cliffrose Lodge & Gardens which is nestled in the heart of Zion Canyon bordering Zion National Park along the Virgin River. The rooms were spacious, comfortable and the views out our balcony were beyond epic. After our daily hikes we would enjoy the heated pools and hot tubs that the resort had to offer. They also serve a pretty awesome continental breakfast each morning to help fuel those long hikes. Highly recommend staying at this resort!
Eat:
If you love Mexican food, you will love this town. I think there was a mexican option at pretty much every restaurant we visited. Hands down the best place we ate at was Whiptail Grill. It's an old converted gas station that serves up some of the best Mexican food I have ever had. You have to try the stuffed avocado salad and then spaghetti squash enchiladas. TO. DIE. FOR.
A few other restaurants that were high on our list were: The Spotted Dog for dinner, Cafe Soleil for the Mexican scramble, Bit and Spur for drinks and bar food, Brew Pub for beers, Baby Sumo if you are having a sushi craving, and Cliffrose Café & Bar had amazing food as well (I'm actually still drooling over their pesto nachos).
Do:
Where do I even start? There is so much to do in Zion! I recommend to spend the majority of your time hiking and exploring Zion National Park but there are many other things you can do while recovering from your hikes as well. A few hikes you should hit are: Angels Landing (for the adventurous hiker), Observation Point for amazing views (8 miles), Emerald Pools, Canyon Overlook, and Weeping Rock to name a few. There are tons of trails and difficulty levels to choose from, so there really is something for everyone.
Tip: You will need to buy a pass to get into the park for your group that will last you the entire week. You also will need to hop on a shuttle to take you into the park, so make sure you plan ahead and get to the shuttle earlier rather than later or you may stand in an hour long line during peak season. If you aren't an avid hiker, you can take a jeep tour around the park where you will see some pretty amazing sites all while learning the history of Zion.
Other relaxing things you can do while in Zion include yoga, spa services, hot tubbing and lounging by the pool. These are all things we did after our hikes each day which helped us unwind and relax. We also stocked our suite with copious amounts of wine, so that also helped with the unwinding!
Wear:
This was a hard trip to pack for because Utah's temperatures change so drastically during the day. What you pack also really depends on the time of year that you visit Zion as well. We were there in early April and we experienced mornings in the 30s and then afternoons in the high 70s. So you really need to pack for all seasons! I suggest bringing many comfortable layers that you can wear and then shed as the day goes on. I packed a ton of yoga pants, tank tops, long sleeve thermal tops, sweatshirts, a light weight jacket, a pair of running shoes that I didn't mind getting dirty, my camera and a camel bak to keep me hydrated on those long hikes. I also brought a pair of jeans, a pair of shorts and some casual shoes to wear around town. Don't plan on getting dressed up in this town because you will look out of place. Yoga pants are welcome pretty much everywhere and when you go out to dinner at night, a pair of jeans and a sweater or top will do the trick.
Wearing: Top (Koral), Shirt (Rails LA), Leggings (Vipe), Boots (CAT Footwear), and Watch (Timex).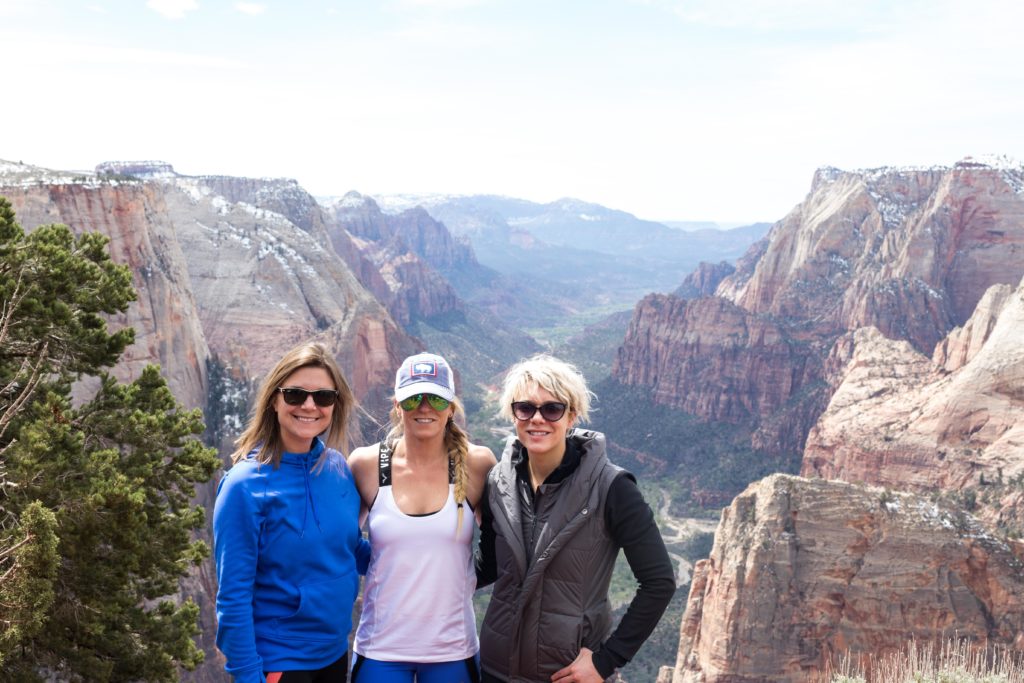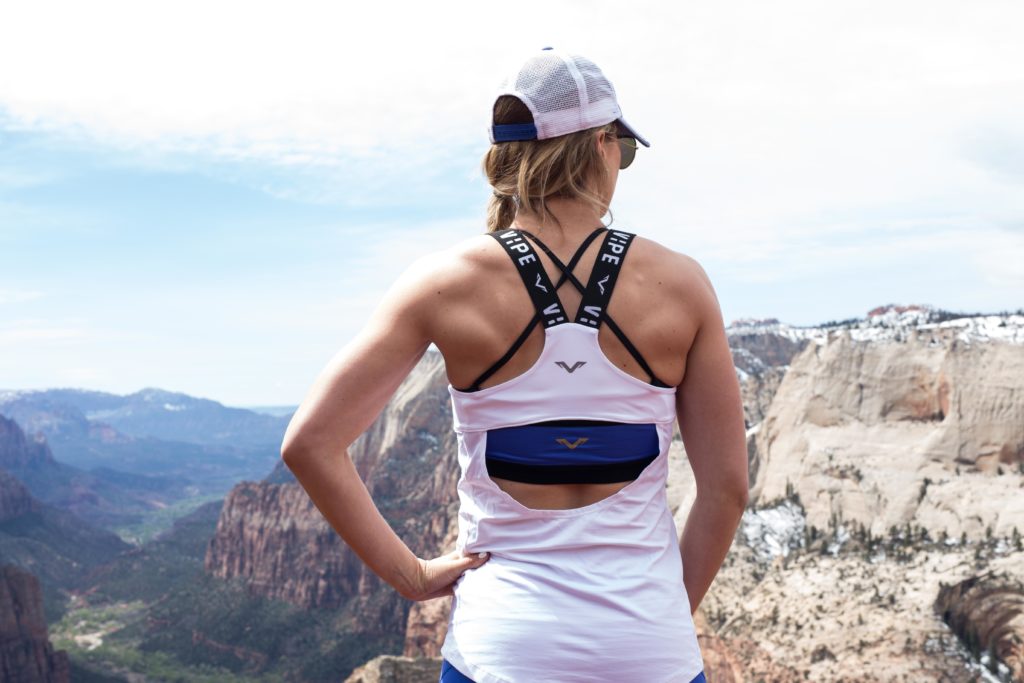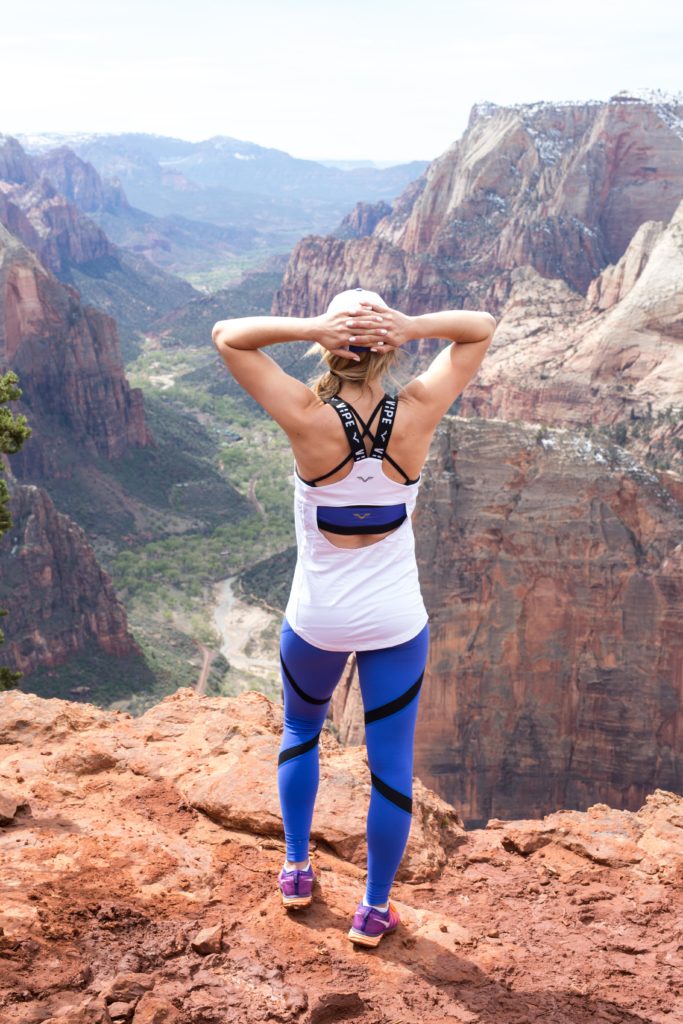 Wearing: Top (Vipe), Bra (Vipe), Leggings (Vipe), Sneakers (similar Nike).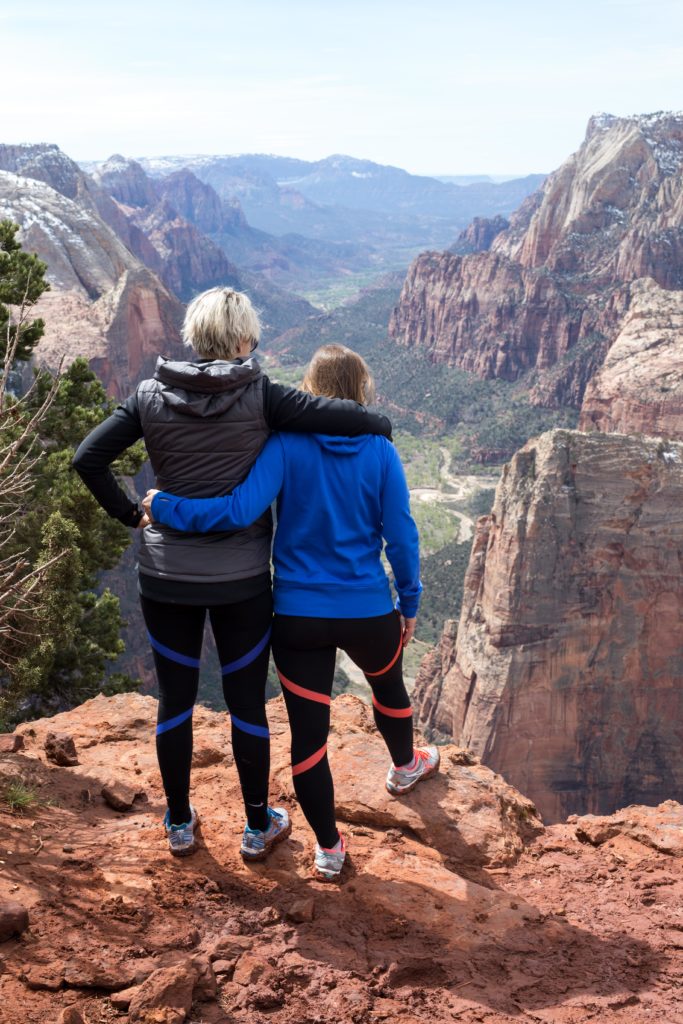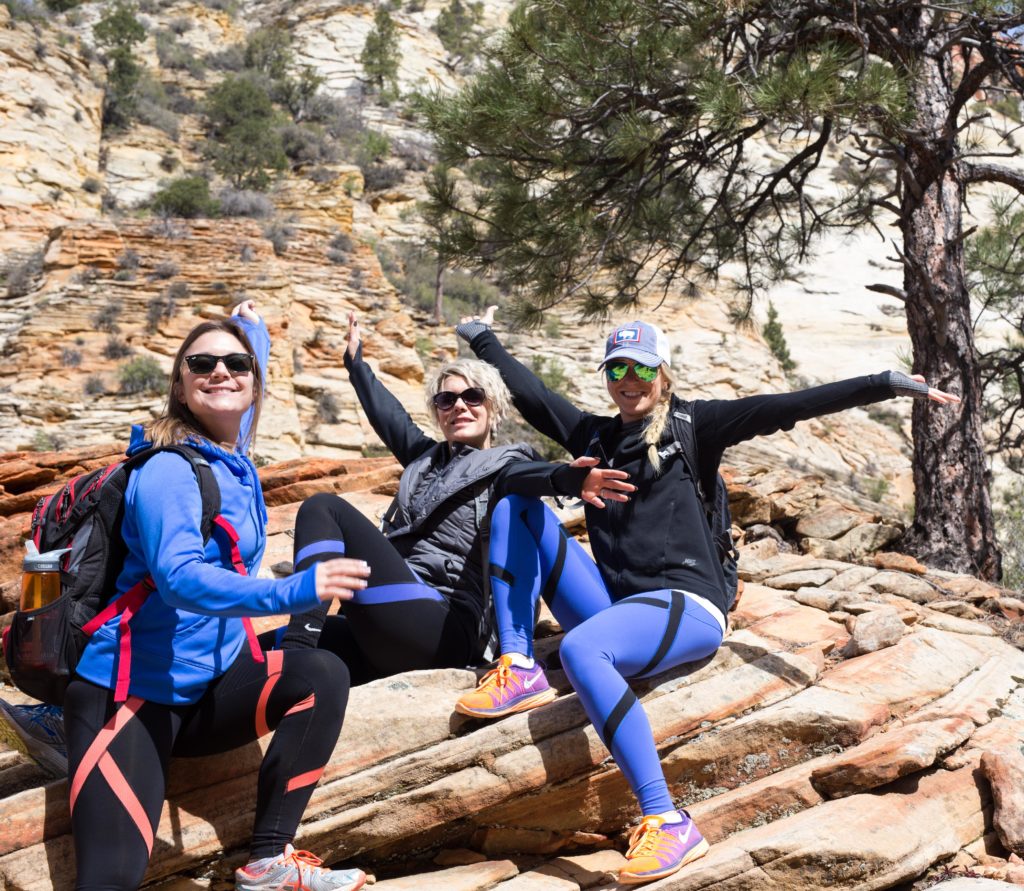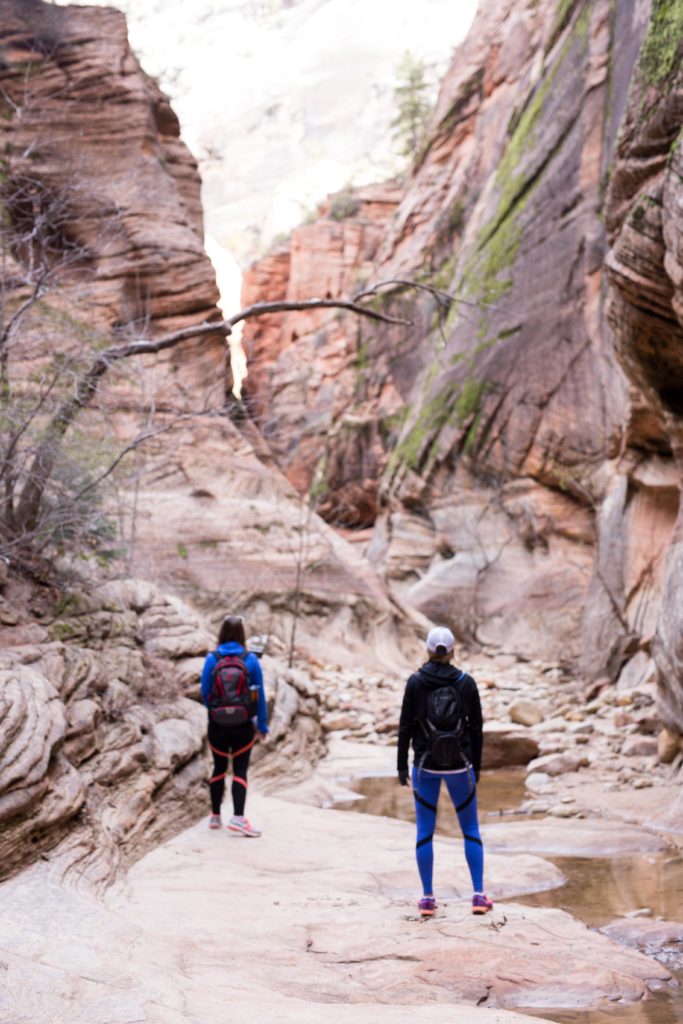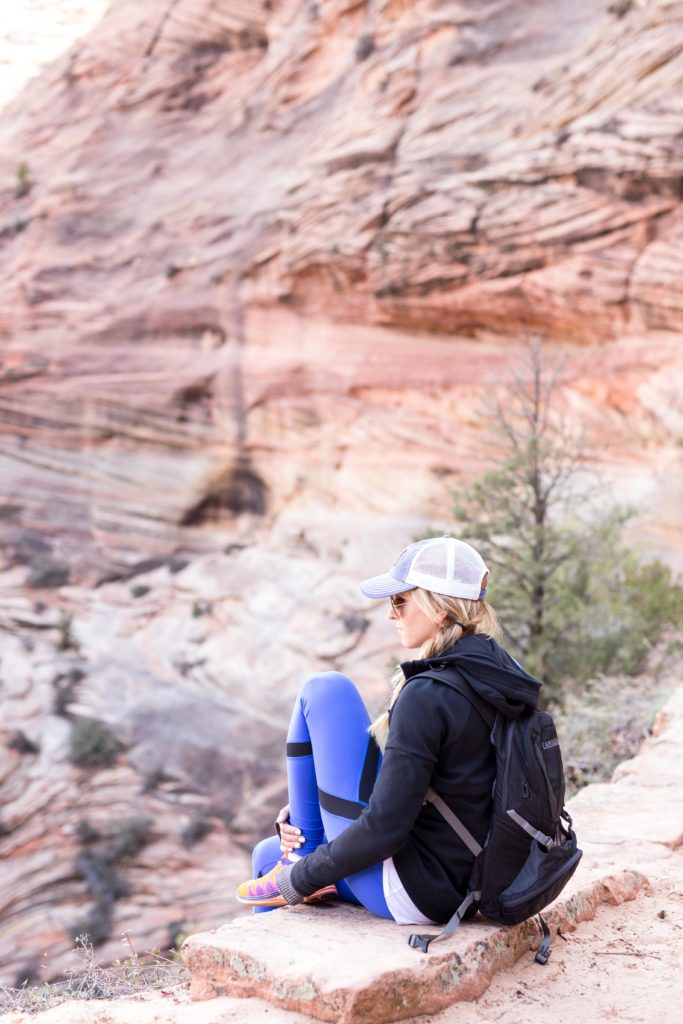 Wearing: Top (Vipe), Jacket (Nike), Leggings (Vipe), Sneakers (similar Nike) and Backpack (Camel Bak).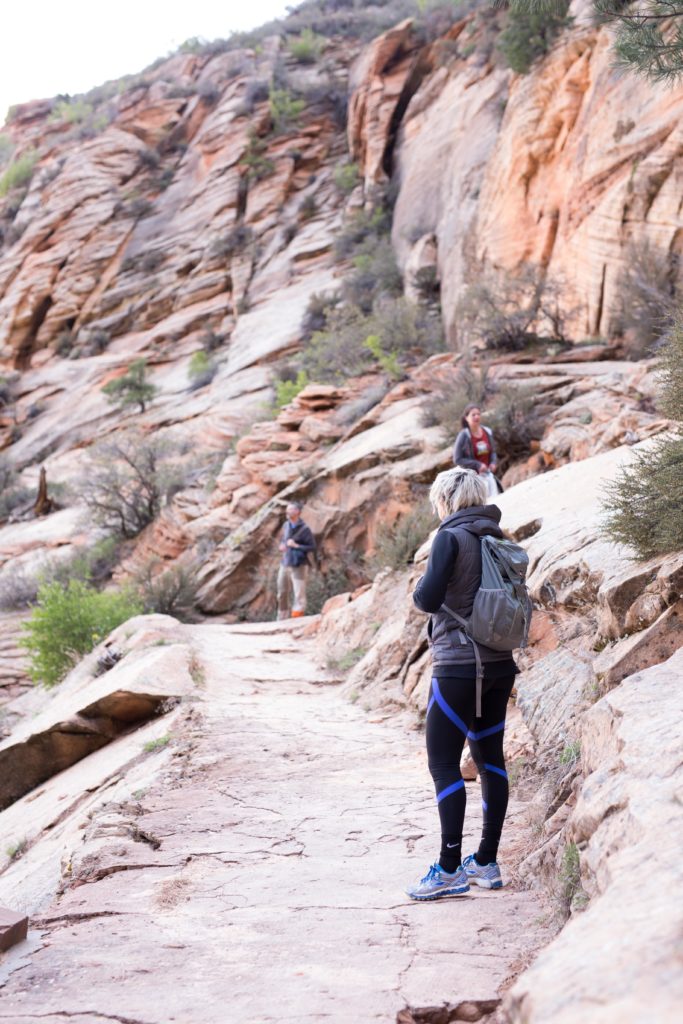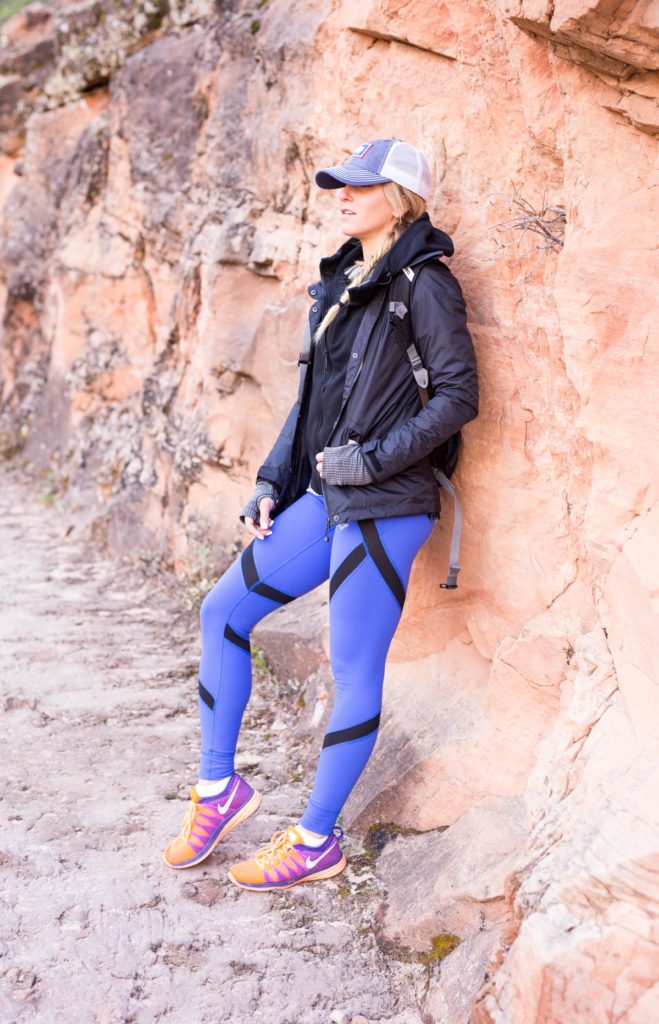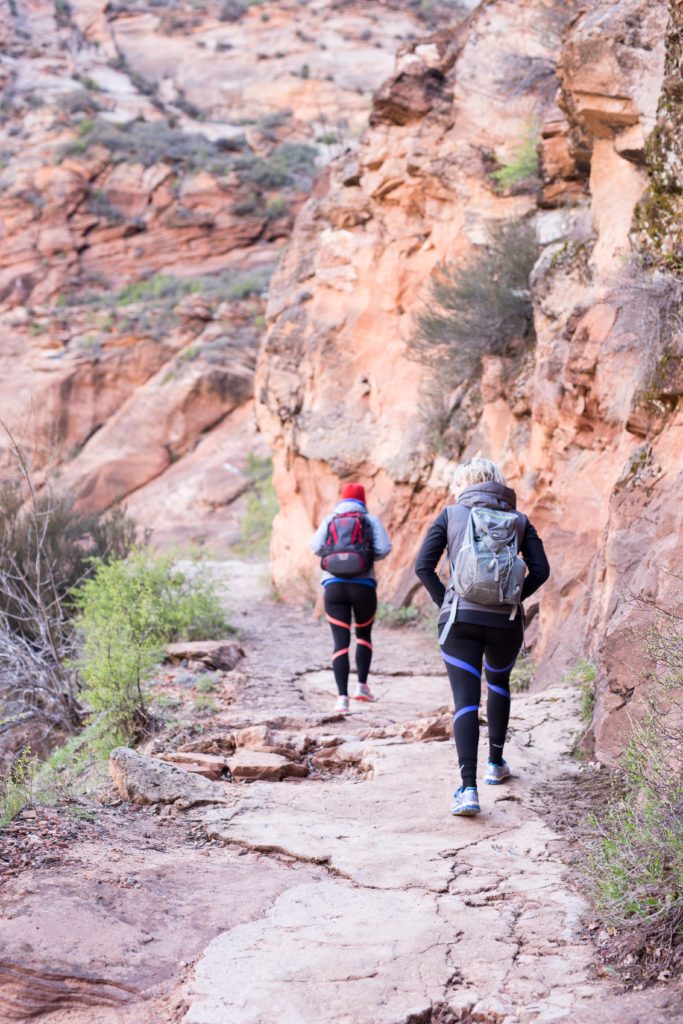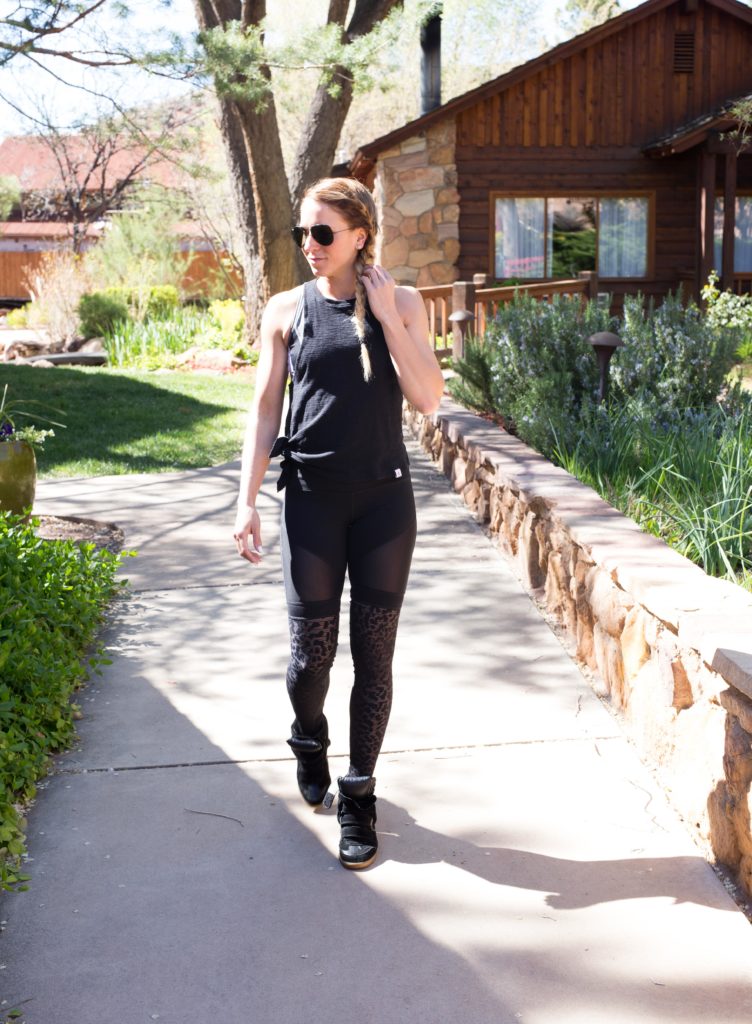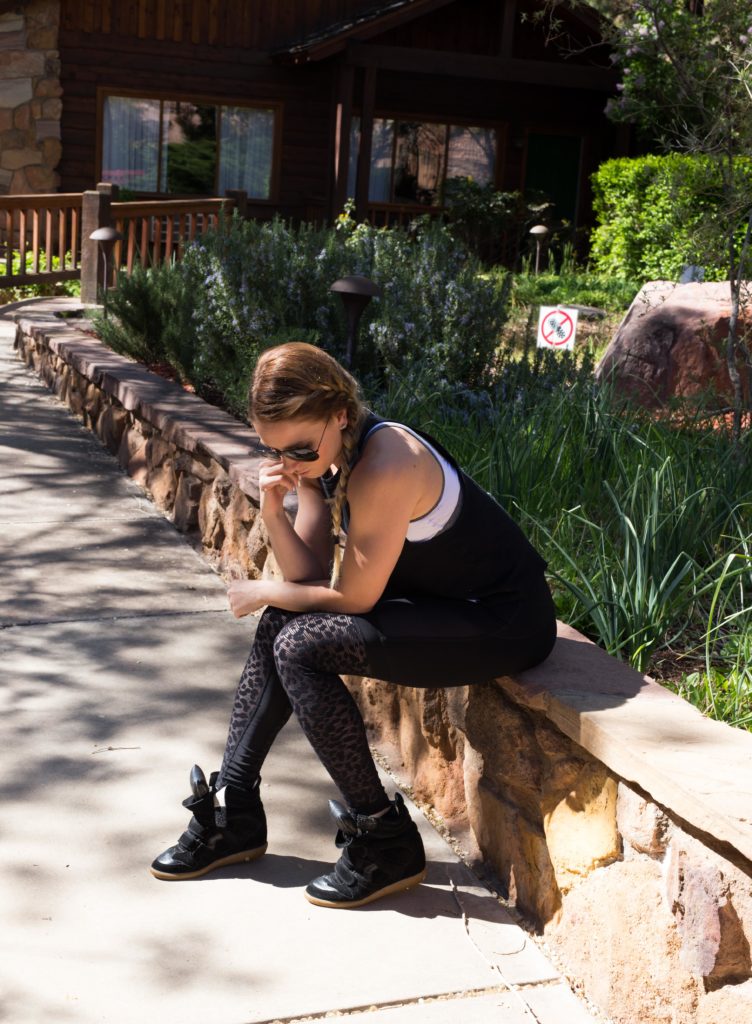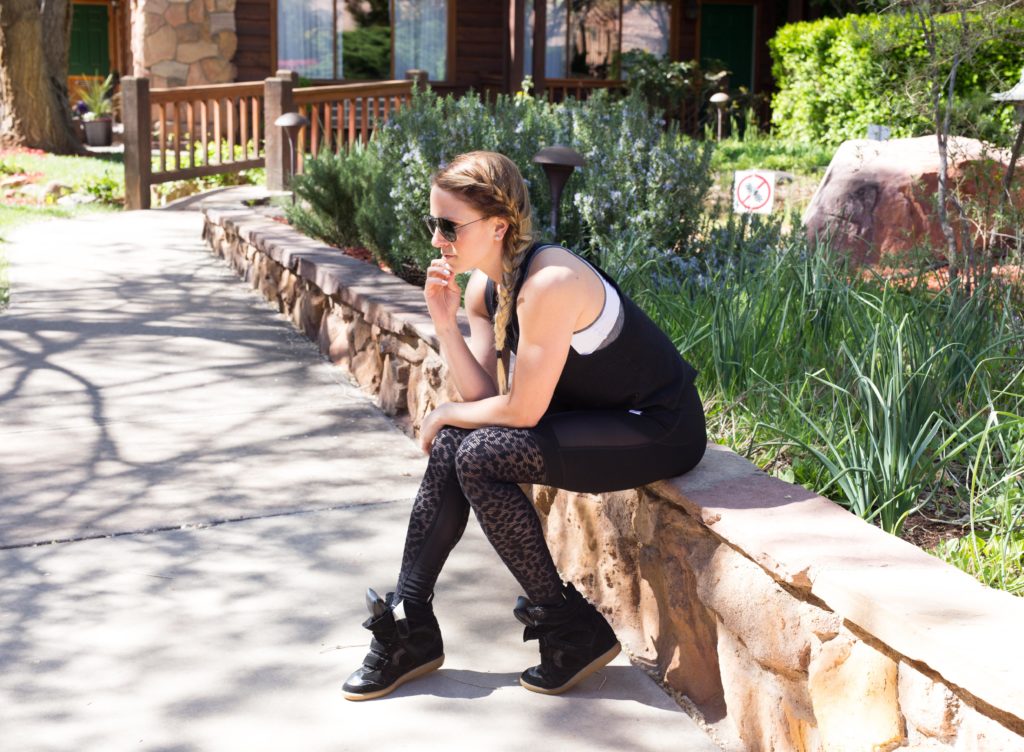 Wearing: Top (Vimmia), Leggings (Vimmia), Sneakers (Isabel Marant) and Sunglasses (Ray Ban).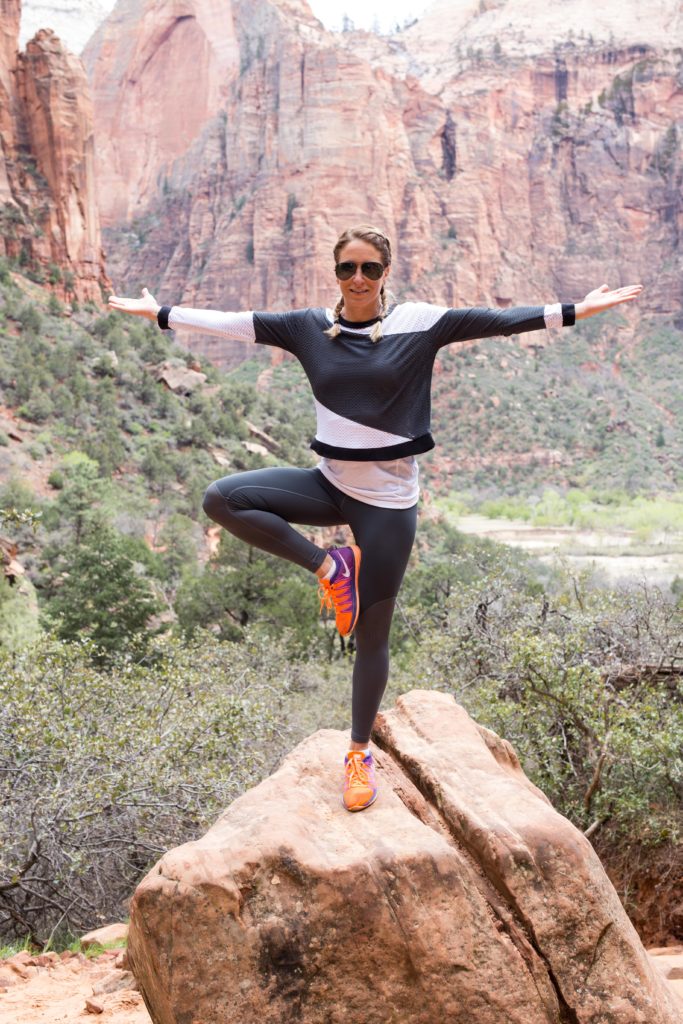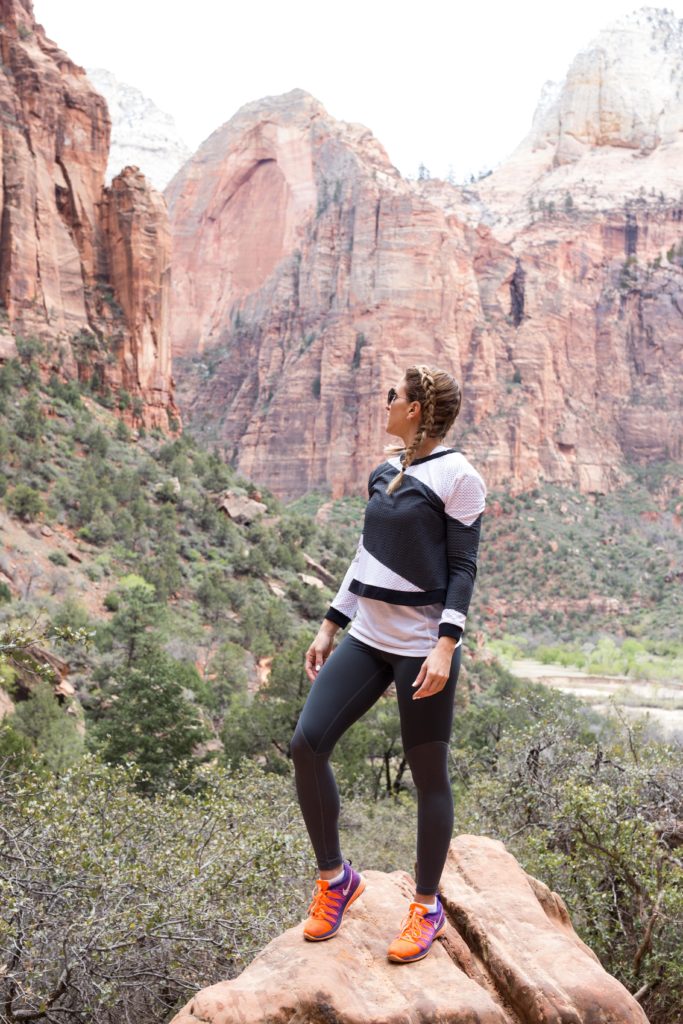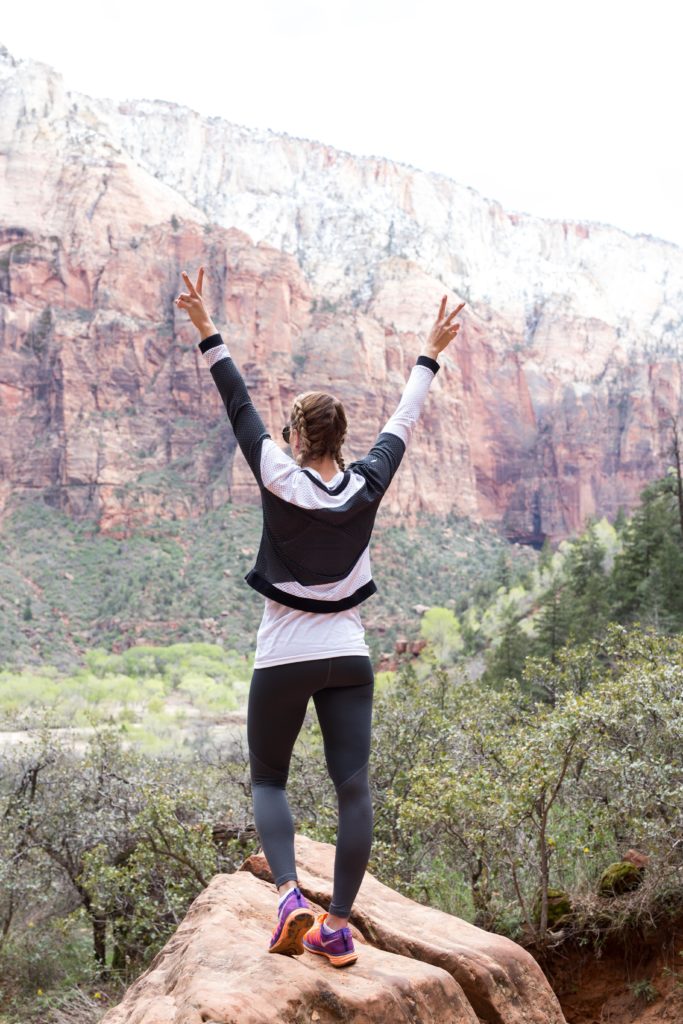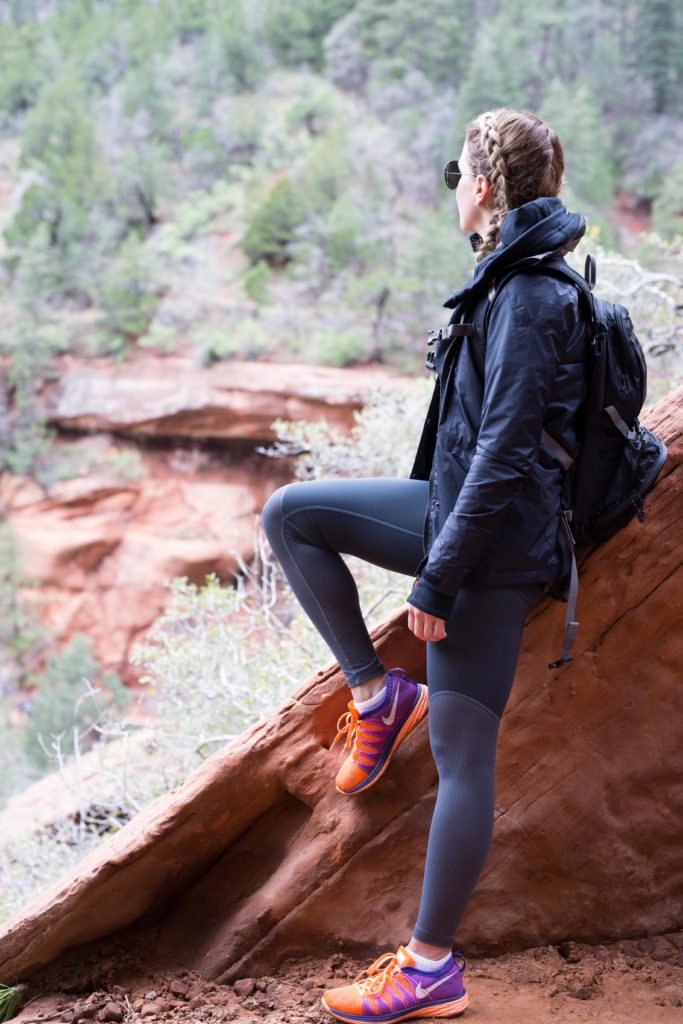 Wearing: Top (Pheel), Jacket (Crane and Lion), Leggings (Pheel), Sneakers (similar Nike), Sunglasses (Ray Ban), Backpack (Camel Bak).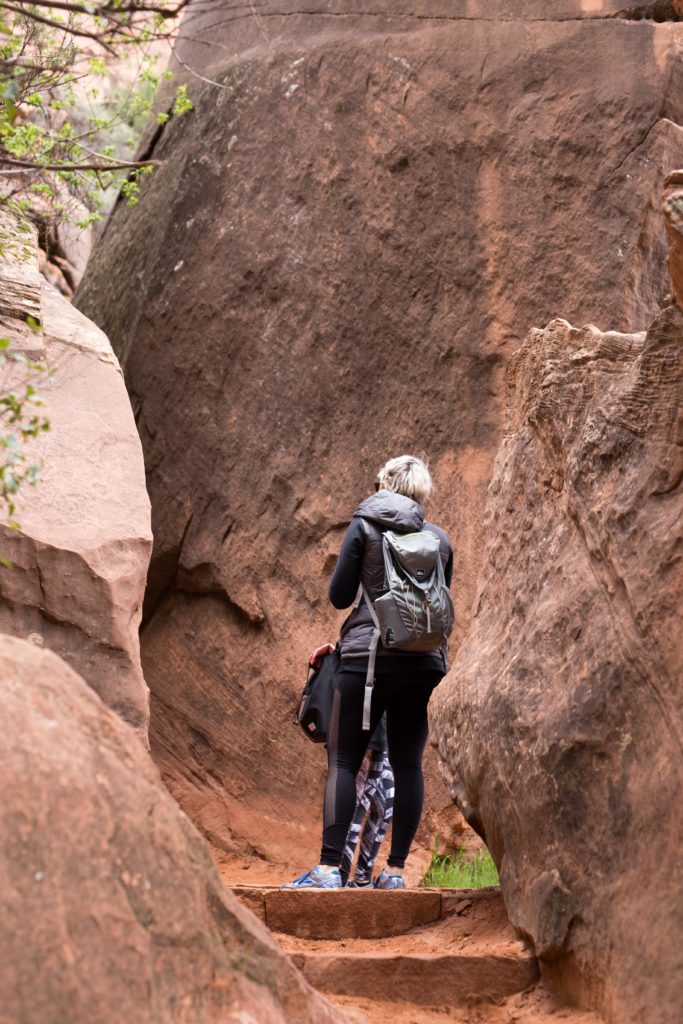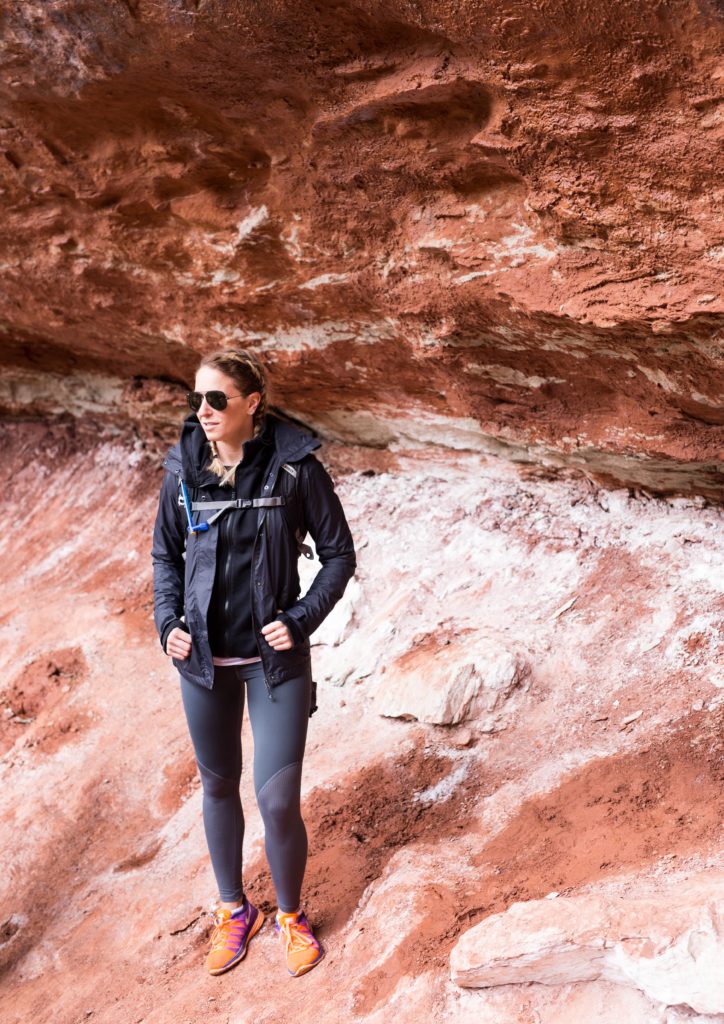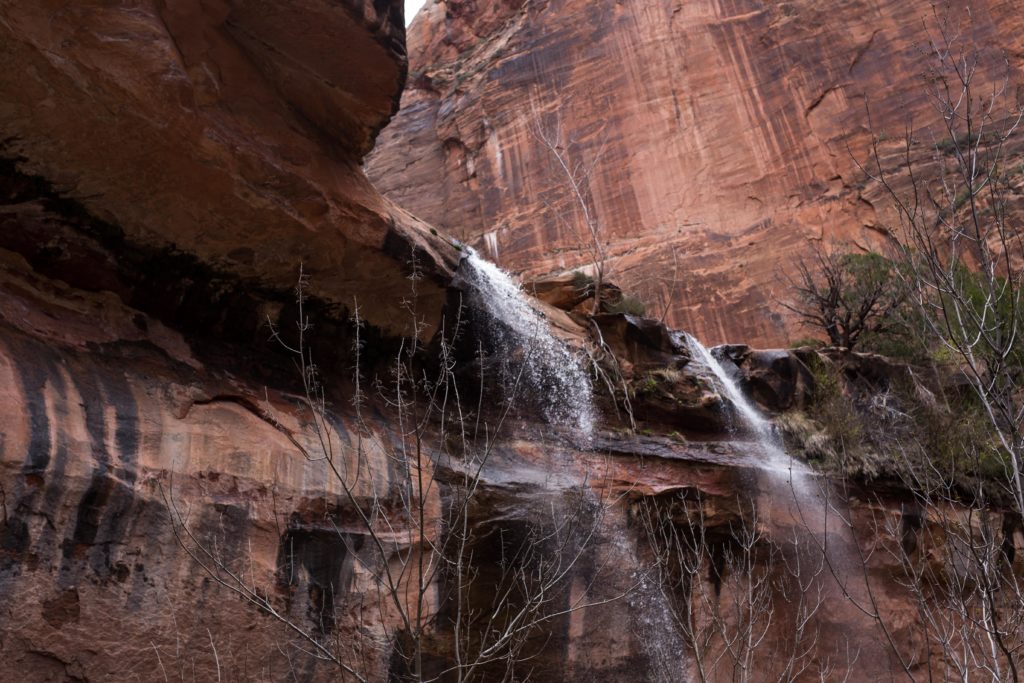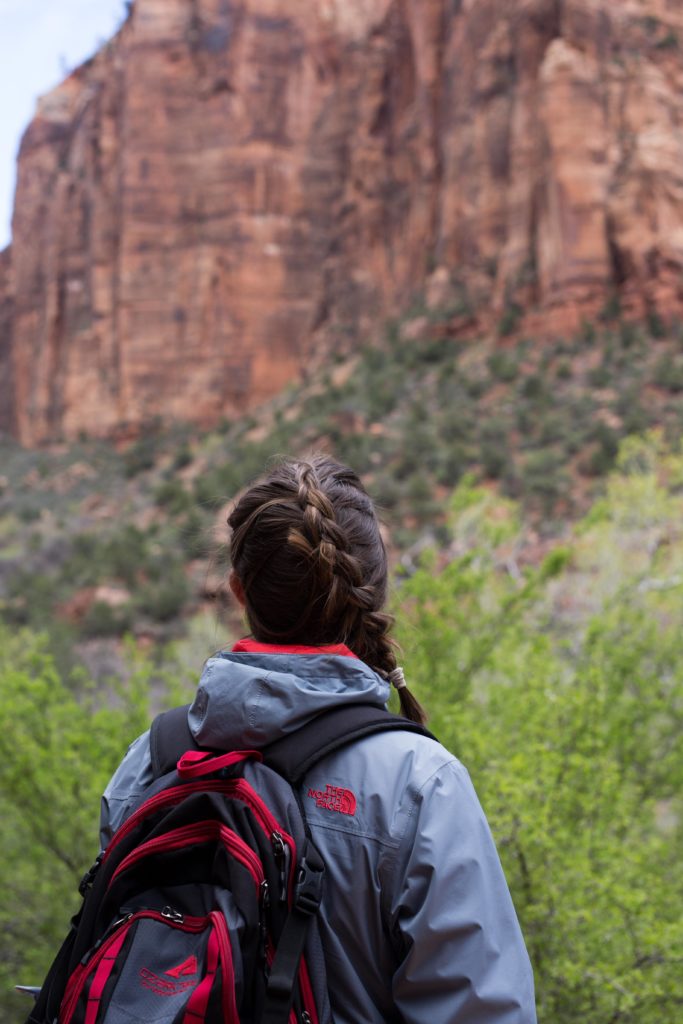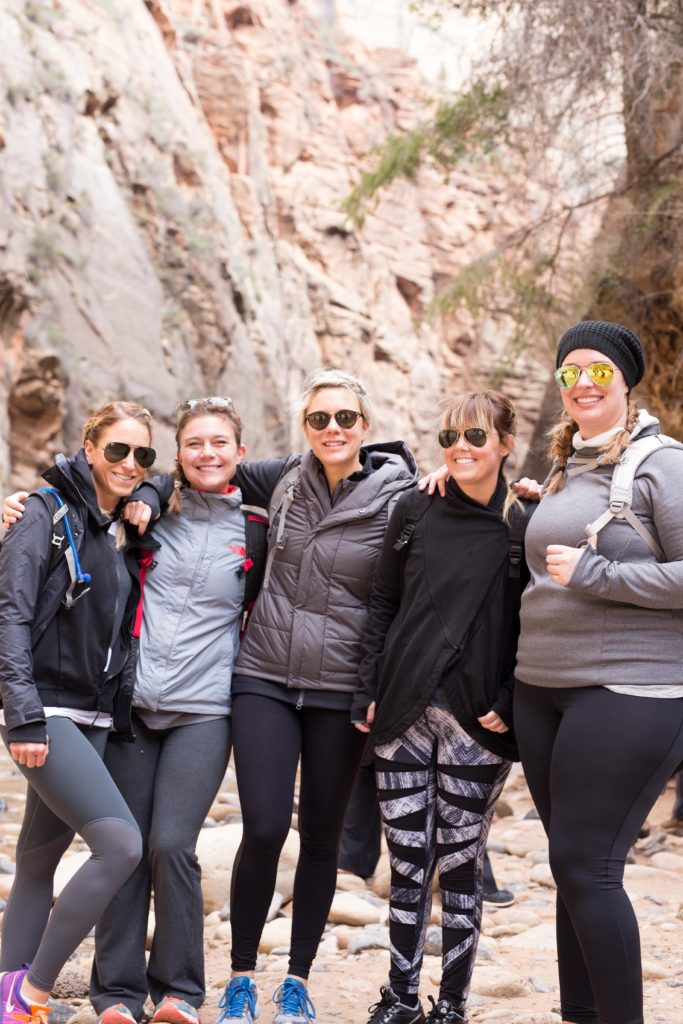 I hope you are able to experience the beauty of Zion, like my friends and I did. And if Zion was never on your list before, might be worth checking out! Happy Exploring!
xo
Sarah